Become a 'God Magnet'
Whitney Hopler

Crosswalk.com Contributing Writer

2007

7 Feb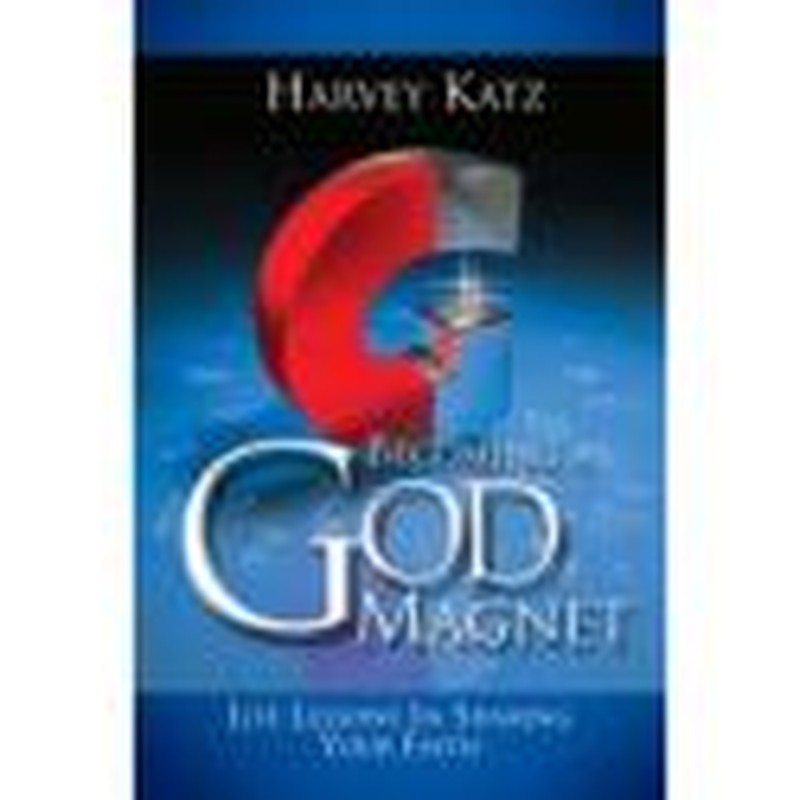 Editor's Note: The following is a report on the practical applications of Harvey Katz's new book, Becoming a God Magnet: Life Lessons in Sharing Your Faith, (Believe Books, 2006).

Evangelism shouldn't be a chore or something you dread. It can be something that just happens naturally as you live out your faith.
That's because your life sends a message to everyone around you. Like a powerful magnet, your life's message either attracts people to God or repels them from Him. If others can see God at work in your life, they'll be drawn to Him through you.
Here's how you can become a God magnet:
* Focus on your job and leave the rest to God. Understand that it's God – not you – who does the work of saving people. Recognize that your job is simply to be faithful to minister to people as God leads you to do so. Leave the results up to God. Never try to push, manipulate, or force someone else into coming to faith in Jesus. Realize that people sometimes need plenty of time and space to think through a decision that will determine their eternal destinies. Rather than pressuring people into making decisions when they're not ready, encourage them to work through all the issues they need to deal with, so their faith will be genuine. Relax and trust that God Himself is at work in the lives of everyone you're trying to reach for Him.
* Speak to people's hearts. Try to understand who people truly are and what needs and desires are in their hearts. Identify the ways they're trying to find fulfillment apart from God – such as through food, alcohol, sex, gambling, excessive work, or other addictive behaviors – and keep that information in mind when helping them discover God. Whenever you encounter someone is suffering in ways you have suffered yourself, identify and empathize with them, and use what you've learned in your own life to minister to them with compassion.
* Build real relationships with those you want to reach. Recognize that, to be effective, you need to build meaningful relationships with the people you want to reach with the Gospel. Be willing to invest the time and energy needed to build those relationships. Instead of looking at people as projects to work on, view them simply as people to love. Ask God to help you love people unconditionally, as He does. Make sure your love has no strings attached. Let people know that you'll still care about them even if they don't agree with you or fit into your agenda. Accept them for who they are, in spite of their faults and needs. Listen carefully and respectfully to them. Ask the Holy Spirit to give you the wisdom to understand them well.
* Pray for people. Humble yourself before God in your regular prayer times, asking Him to show you specific ways He wants you to intercede for people you're trying to reach. Trust God to reveal when and how to talk with each person about Jesus. Consider writing down what you sense God telling you in your prayer times. Share some prayer requests with some other people you can trust to help you intercede for the people for whom you're praying. Choose some Bible verses that pertain to certain people or situations, and apply those verses personally to your prayers for them by reading them back to God while you pray about those people or situations.
* Invite the Holy Spirit to guide you. Realize that God is the only One who can see inside people's hearts to know what they truly need, so you should ask His Spirit to pray through you as you pray for other people. Be sensitive to how the Spirit leads you as you talk with people about the Gospel: If you have a sense of God's peace, then proceed. But if you sense God's restraint, stop and wait for His better timing or His change of direction. Remember that only the Holy Spirit can reveal Jesus to others, and if the Spirit isn't leading you, your evangelism efforts won't be effective. Trust the Spirit to guide you so you will be effective.
* Respect people's boundaries and read their spiritual barometers. Be sure to respect people's personal boundaries when evangelizing, so they don't feel threatened or pressured. Rather than jumping in with too much too soon, earn their trust over time. Read people's spiritual barometers – where they are with God. Pay attention to the cues people give you that indicate how ready they are to respond to the Gospel. If they don't show any interest, don't push. Be patient and sensitive as you watch for a better time. Feel free to ask them open-ended questions to encourage them to think more about spiritual matters, but be gentle when doing so, and don't keep asking if they change the subject. Avoid arguments; simply state what you believe quietly and confidently, and show respect for what others believe, even when you disagree with their beliefs. Know that others will likely be willing to listen and seriously consider your beliefs if you're not combative. When people share their needs with you, ask if they would like you to pray about those needs. Make it a high priority to establish loving relationships with people.
* Build godly character. Remember that your life communicates a message to everyone you encounter. Make it your goal to live a life that reveals your faith loud and clear. Repent from trying to run your own life and give God control over every aspect of it. Invite God to transform your character so that you become more and more like Jesus, so other people can recognize Him at work in you and be drawn to Him themselves. Whenever you suffer, trust Jesus in the process to inspire others to trust Him during their own times of suffering. Whenever you struggle with sin, pursue God's healing so that you can then point others toward the hope that only God can give. Break your bad habits by replacing them with good habits. Whenever you fail, turn to God for His help so others can see that they can rely on His help in their own lives. Ask the Holy Spirit to renew your mind so you can get rid of negative attitudes and thought patterns that don't align with God's Word. Pray for the Spirit to fill your mind with positive, truthful thoughts. Remember that, while God accepts you as you are, He loves you too much to leave you that way. Welcome His discipline when it comes, trusting that He is fulfilling good purposes in your life. Understand that character is much more important than charisma, because God values the type of person you are on the inside more than your outward appearance. Instead of worrying about impressing others with your natural abilities or credentials, focus on pleasing God by becoming the kind of person He wants you to become.
* Ask the Holy Spirit to empower you. Remember that without God's power helping you, you can't accomplish anything. Rather than relying on your own limited power, depend on God's unlimited power. Pray for God to evangelize people through you. Ask God to fill you with the Holy Spirit. Make sure that you aren't blocking the Spirit through unbelief, fear, or sin that you haven't confessed. Instead of being self-conscious, keep your thoughts focused on Jesus and worship Him, trusting that God will answer your prayer to fill with you His Spirit.
* Don't make assumptions. Don't assume that people already know the Gospel. Be willing to explain it to them. Give them time to process the message on a personal level.
* Don't let criticism distract you. If people criticize you as you try to evangelize, don't let that cause you to lose your motivation or focus. Value God's opinion more than other people's opinions, and choose to please God, no matter what others think. Remember that only what Jesus does through you will last; everything else (how much money you make, how famous you are, what possessions you have, etc.) will mean nothing in the light of eternity. So invest your life in eternal purposes. Ask God to help you bold in sharing your faith.
* Build relationships. Find common interests (sports, hobbies, business, etc.) with people you're trying to reach, and spend time together pursuing those interests. As you talk and earn their trust, you can gradually and naturally direct your conversations toward spiritual issues. Know that if you build genuine friendships with people, they'll be motivated to hear what you have to say about Jesus. Be open to building relationships with whomever God leads you to befriend. Pay attention to divine appointments He brings your way.
* Don't be afraid to discuss death. Talk with people openly about their fear of death and how they can be assured of salvation. Let people know that, as Christians, they can have absolute assurance of eternal life beyond physical death. Help them understand that Earth is just a temporary home, but that life in heaven will last forever.
* Show that the Gospel is relevant. Show people clearly how the Gospel is relevant to their lives and will give them the practical help they need every day. Let them know that they can apply its truths to their lives with confidence.
* Show that the Gospel is real. Explain how the Gospel's truth is universal. Help people understand why the Bible is God's Word, by discussing its fulfilled prophecies, historical evidence for it, the accuracy of how it presents the human condition, its moral wisdom, and other proofs.
* Show that the Gospel is relational. Point out to people that their relationships with others can't be healthy and fulfilling until they first have established right relationships with God through Jesus. Encourage them to be reconciled with God.
* Share your personal testimony. Understand that your personal testimony of how you came to faith is a powerful tool when evangelizing others. Write your testimony down, summarizing: why you believed, when you believed, and the circumstances that brought you to faith. Keep your testimony simple and make sure it clearly communicates the Gospel message. Don't sensationalize your story; remember that you're trying to draw attention to Jesus rather than promoting yourself. Be sure to back up your testimony by living out your faith (treating people well, working hard, making decisions with integrity, etc.) so others can see by your actions that you mean what you say.
* Use resources to help present the Gospel. Take advantage of books, tracts, CDs, videos, Bibles, New Testaments, or other materials that can help you share God's message. But be sure not to rely on materials alone; don't neglect building genuine relationships with the people with whom you're sharing materials. When people indicate that they want to explore faith further, consider inviting them to a worship service or event at your church, a Bible study or other small group, a course for seekers that explains the basics of Christianity (such as the Alpha Course), or a prayer ministry where people can pray about their needs with others.
* Help people grow. After people begin relationships with Jesus, do all you can to support them so they'll grow in the faith. Help them plug into a local church and begin reading the Bible. Be available to meet with them regularly to pray, answer their questions, and study the Bible together.
Adapted from Becoming a God Magnet: Life Lessons in Sharing Your Faith, copyright 2006 by Harvey Katz. Published by Believe Books, Washington, D.C., http://www.believebooks.com/.
Harvey Katz is the son of a Holocaust survivor. His father sent him to a Jewish day school when he was young, to learn the culture, customs and religion of his people. Yet at the age of 16, Harvey found himself inexorably drawn to Jesus. Today he is a successful businessman and popular Bible teacher living in London, Ontario with his wife, Diane, and their three children. Their home has become a haven where many people seeking a deeper purpose and meaning in life have found faith in God.