Can a Drug Dealer Be a Christian?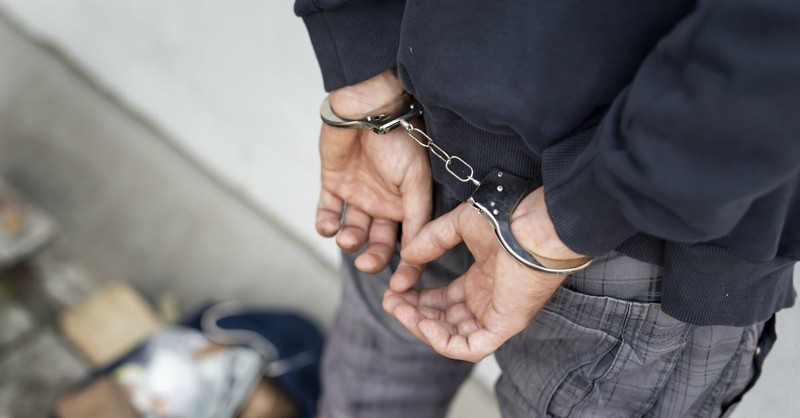 People who have gone to prison for committing spousal abuse, armed robbery, dealing drugs, or murder often believe they cannot change. These men and women think they are not good enough to become Christians, and the law-abiding world frequently agrees.
When a convicted criminal professes faith, society regards this person with skepticism. Is it possible for a drug dealer to truly be saved? Can a person earn salvation by being essentially good? Let's consider six critical truths:
1. It's possible to obey the law and still not be saved.
No one can earn salvation through good behavior. We might drift into the trap of believing in karma – that good actions will outweigh bad ones; that we aren't really sinners after all because we obey the law.
The world judges drug dealers' sinfulness against the righteousness of law-abiding citizens, but that standard is flawed. If we could guarantee our own salvation, we would get the glory. God sees our hearts and the sin found there. "I do not set aside the grace of God, for if righteousness could be gained through the law, Christ died for nothing!" (Galatians 2:21)
The law doesn't save us. Christ saved us.
He hung out with some seriously bad men and women who felt the weight of their sin and wanted to find relief from guilt and shame. Jesus had the answer then (and now) and they knew it."Now the Lord is the Spirit, and where the Spirit of the Lord is, there is freedom." (2 Corinthians 3:17)
When we accept this gift, He gets the glory.
2. No one is "good."
 In Mark 10:18, Jesus asked "Why do you call me good?" and He answered: "No one is good—except God alone." Jesus wasn't just telling the audience about His true, divine nature as Son of God; He was also making a point about the equality of everyone in His audience.
Not a single person listening – fisherman, tax collector, prostitute, or Pharisee – was better or worse than anyone else.
"Every man's way is right in his own eyes, But the Lord weighs the heart." (Proverbs 21:2) By Jesus' great love, His sacrifice, and His resurrection, He conquered every sin for all time and for all people.
Anyone who acknowledges his or her sin and accepts Christ's payment for that sin is saved for eternity. That is the one and only condition.
Living a good life prior to accepting Christ's sacrifice does not make a person worthy of salvation and living a bad life prior to accepting Christ's sacrifice does not disqualify a person from receiving salvation.
3. Accepting salvation changes people.
If an individual really believes in the saving power of Christ, he will hate his sin. Temporary earthly rewards like money and power mean nothing compared with the joy of following the one true God. True believers want to be like Christ, and they are changed by submission to the work of the Holy Spirit.
"Submit yourselves, then, to God. Resist the devil, and he will flee from you." (James 4:7)
Jesus says "produce fruit in keeping with repentance." Those who accept Him are radically altered. "Even though you do not see him now, you believe in him and are filled with an inexpressible and glorious joy." (1 Peter 1:8)
Outsiders are bound to wonder what happened to their angry, joyless friend or sibling who once led a dangerous and unpredictable life of violent crime. The fruit of the Spirit is made manifest not in lawfulness but in outlook. It reveals itself in a new fervour and respect for life. It bears new fruits which are "love, joy, peace, forbearance, kindness, goodness, faithfulness, gentleness and self-control. Against such things there is no law." (Galatians 5:22-23)
4.  Jesus helps us to distinguish true faith from good acting.
Victims of crime are right to withhold their trust from a person who has betrayed them. Christ knew His disciples would face potentially violent opposition to their message: "I am sending you out like sheep among wolves. Therefore, be as shrewd as snakes and as innocent as doves." (Matthew 10:16)
He recognized the foolishness of blind trust. That is why we are encouraged "if any of you lacks wisdom, you should ask God, who gives generously to all without finding fault, and it will be given to you." (James 1:5) If we don't know what to believe, then God will speak to us through the Holy Spirit as we pray, read scripture, and wait for direction.
5. The truly repentant truly forgive.
The fact is, we are all sinners. Do we really believe our sin was bad enough to send Christ to the cross?We don't do anything that hurts other people, so why shouldn't we be saved on our own merit? Not one person has the right to judge another person because Christ had to die for every sin, including the ones we think are harmless. They aren't harmless. Christ died because, without His sacrifice, our little sins would have separated us from the Father forever.
Do we believe in the power of Christ's victory over all sin? That He has the power, through His Spirit, to change anyone? Remember how Saul persecuted Christians, going from house to house and dragging them to prison before his miraculous conversion? If we believe in Christ's power, then we must not withhold forgiveness from the violent criminal or from ourselves, no matter what we have done.
Hebrews 7:27 says "He sacrificed for their sins once for all when he offered himself." The old self is dead once we accept Christ as Savior. One man hanging on a cross beside Jesus spoke for all of us when he declared "we are getting what our deeds deserve. But this man has done nothing wrong."
We all deserve judgement, but Christ took our punishment. That crucified criminal recognized Jesus as Messiah, finding freedom from sin at last in his dying hours. It was in Christ's power to answer that criminal's faith thus: "Truly I tell you, today you will be with me in paradise." (Luke 21:41, Luke 21:43)
Christ offers forgiveness to anyone who truly repents, and it is never too late. No one is too sinful to receive grace because no one earns grace; it's a gift.
6. Be patient when others are slow to trust.
After leading a life of crime, a person can expect to be greeted with fear or rejection. Acts 9:26 recounts how Saul of Tarsus had to contend with the disciples' understandable suspicion immediately following his conversion. "When he came to Jerusalem, he tried to join the disciples, but they were all afraid of him, not believing that he really was a disciple." (Acts 9:26)
A true Christian will forgive the person whose crimes affected him. He must forgive, because Christians are called to show love and mercy, but not to trust indiscriminately. Outliving a bad reputation can take some time. People who knew the old you will need to see evidence of fruit. Saul had to demonstrate his spiritual conversion in order to convince the other apostles.
Meanwhile, the "Lord of hosts […] judges righteously" and "tries the feelings and the heart" (Jeremiah 11:20). He alone knows the heart of a man and He has judged believers righteous on account of His son.
That goes for all believers. No matter what wickedness is lodged there, your past died on the cross. 2 Corinthians 5:17 puts it this way: "if anyone is in Christ, the new creation has come: The old has gone, the new is here!"
---
Candice Lucey is a writer and counsellor living in idyllic Salmon Arm, BC, Canada with her family. She is thankful Jesus has found a way for her to combine her love for Him with her love for writing and learning. 
Photo Credit: ©GettyImages/vladans