Creating a Gospel Community in Your Own Backyard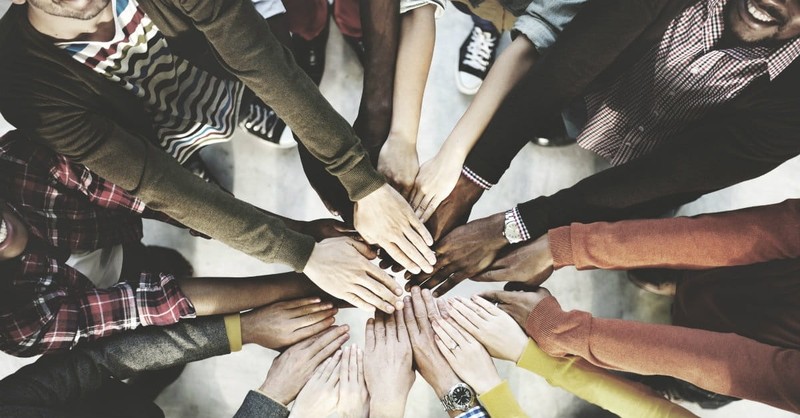 If you feel your life is random and your existence inconsequential, you're wrong. Scripture verifies again and again that if you're breathing, you have purpose. You are uniquely created, hand-crafted, and lovingly equipped to do two things: reflect Christ and point others to Him, and to do so in ways only you can. 
I often lose sight of this. I can get so consumed with my personal agenda, I forget God's big-picture plans of reconciling man to Himself. I engage the lie that missions occur overseas and consequentially miss all God wants to do, daily, through me, right here at home. 
In Matthew 18:19, Jesus told us to "Go therefore and make disciples of all nations, baptizing them in the name of the Father and of the Son and of the Holy Spirit". These are our marching orders, given to all who call themselves followers of Christ. 
Therefore, barring extreme life circumstances, if we're not executing Jesus' command, we're living in disobedience. And yet, most of us long to honor Christ in everything we do. So how can we heed God's heart in this area?  How can we create an atmosphere of outreach that has the capacity to transform lives, families, and communities?
There are numerous ways one can share Christ, but often our most important and immediate mission field begins with our sphere of influence. By centering our lives in Christ and growing closer to Him, prayer, focusing on relationships, and taking time to be strategic, we can create thriving gospel communities in our own backyard. Teaming up with others who share our vision will help us maintain the focus and endurance necessary to change lives and transform communities.  
But first we must define precisely what that is. When many of us think of the gospel, our mind jumps to the proclamation of salvation. While that's part of it, God's saving mission encompasses so much more. Through Christ, God is bestowing life-giving grace and bringing everything under His Lordship. In other words, the gospel is about moving from independence and rebellion against God to complete surrender and intimacy. 
We help facilitate this journey when, through Christ, we point others to Him and encourage them to live under His Lordship. This creates a gospel community that radiates the love, power, and truth of Jesus Christ. 
Reflect Christ
Our interactions and reactions should stir a longing in others. Our lives should reveal a supernatural joy and peace, and that joy and peace in turn should point others to Jesus. When others see us, they should catch a glimpse of Christ, His power at work, and His love for them. The closer we remain to Jesus and the more our lives reflect His truth and grace, the more accurate that image will be. Considering this vital role each of us play, we should make character growth a top priority.  
We do this through practicing spiritual disciplines like Scripture reading, growing in community, and living out our unique, gospel-centered role within our sphere of influence. 
Begin with Prayer
In our rushed and over-committed culture, it's easy to chase one problem or catastrophe after another, but doing little of eternal value. God knows our schedules, including all we've committed to outside His will. He also has the perfect solution to any problem we might face. We can spend hours enslaved to our agendas, most likely solving little, or we can devote a few moments each day to seek His counsel. 
This, of course, rests on a very important truth—if God commands us to do something, then through Him, we have the capacity to obey, regardless of our limitations and to-do lists. Therefore, if our schedule doesn't allow time for connecting with others, then we've probably embraced responsibilities God never assigned. In that case, our first and perhaps most important act of obedience involves prayerfully eliminating whatever isn't of Him. 
Form Relationships
In our rushed, Hollywood-ized world, we often expect transformation to follow pre-planned scripts. We forget that change takes time, worldviews don't shift overnight, and that hard truths are best received in the context of relationships. 
1 Corinthians 13:1-3 tells us our most eloquent words, deepest truths, and generous acts have little effect if not rooted in love. If we don't take the time to build and maintain relationships with others, our "wisdom" and eloquence will likely push them away. 
Be Strategic
There are countless ways one might form connections, but some are more effective and consistent with our demographics' unique culture. Taking a few minutes to brainstorm neighborhood outreach ideas and then a few moments further to evaluate those can maximize our time and effectiveness.
For example, in my neighborhood, though dessert socials and informal get-togethers bring a handful of couples, newcomers have yet to join us. There could be numerous reasons for this, from interests to time constraints—hindrances a bit of research, experimentation, and forethought can reveal.  
Finally, Link Arms with Others. 
Living "on mission" is challenging, often discouraging, and susceptible to burnout. This is why it's imperative we learn to lean on one another. Throughout Scripture, we see God uniting His servants before sending them out on assignment. He sent Aaron to Moses, the Hebrew turned Egyptian prince who freed God's people from the Pharaoh. When Jesus sent His disciples out to serve for the first time, He paired them together (Mark 6:7). Paul, one of the world's first and most effective evangelists, always brought at least one believer along on his missionary journeys, as did many of the other disciples. They knew they'd need encouragement to stay strong despite setbacks, emotional ups and downs, fatigue, and persecution.
The same is true of us. No matter the call and the passion behind it, over time, enthusiasm wanes and clarity can become clouded by insecurities. Partnering with others can provide the endurance and strength necessary to persevere. Plus, great ideas arise when we brainstorm with others.
God longs for us to create gospel communities right in our own backyards. There are numerous ways we can do this, but our efforts will be strengthened when we focus first on intentional growth so that we can reflect Christ accurately, bathe our efforts in prayer, and focus on building relationships. When we take time to develop a strategy for outreach and link arms with others who have similar passion and focus, our efforts will be more effective and longer lasting. Together, we can strategically point others to Christ and help them discover the freedom He offers. 
Photo credit: ©Thinkstock/Rawpixel
Editor, Novelist, and speaker Jennifer Slattery has a passion for helping women discover, embrace, and live out who they are in Christ. As the founder of Wholly Loved Ministries, she and her team partner with churches to facilitate events designed to help women rest in their true worth and live with maximum impact. She's spoken to women's groups and at conferences across the nation, is the author of six contemporary novels and is the managing and acquisitions editor of Guiding Light Women's Fiction, an imprint with Lighthouse Publishing of the Carolinas. When not writing, reading, or editing, Jennifer loves going on mall dates with her adult daughter and coffee dates with her hilariously fun husband. Visit her online at JenniferSlatteryLivesOutLoud.com.