Dennis Rainey Says, 'Give Them the Gift of You at Christmas'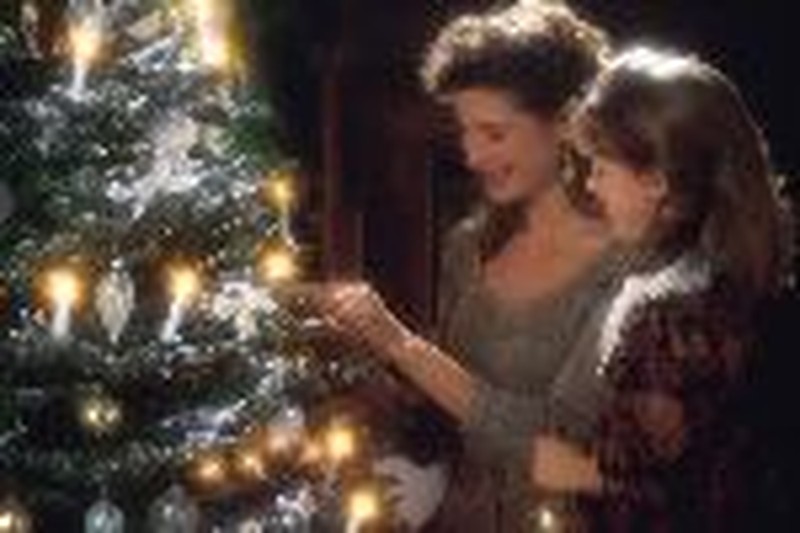 Pageants, parties and shopping. Decorating, caroling and more shopping. In the midst of holiday busyness and rampant commercialism, how do you keep your family grounded in Christ? "Give your children the gift of your time and your faith, rather than the gift of your stuff," recommends Dennis Rainey, author and president/co-founder of FamilyLife.
According to Rainey, children desire special Christmas memories with us, not just gifts from us. "They need parents who will be purposeful in passing on convictions and a system of beliefs. The faith we give our children should be alive and vibrant, not stale or cold," Rainey adds. "They need to see we're excited about our relationship with Jesus Christ."
To help sow spiritual seeds in your child's heart, FamilyLife created a resource called Adorenaments. Each uniquely shaped ornament is a mini-book that opens to reveal a name of Jesus in Scripture. The short devotions teach children about God's character qualities.
"At Christmas," says Rainey, "all families need to do something purposeful around who Jesus Christ is, and introduce kids to His qualities. Children get their first image of who God is from parents. We just need to be sure we are introducing them to the authentic Lord Jesus Christ, not a holiday imposter."

The Gift of You
In sharing practical tips for keeping families spiritually strong during the Christmas season, Rainey points out, "We are a very materialistic culture, top to bottom, and too much of our lives is defined by stuff." So, instead of a material present, give your children something they can look forward to throughout the year, like a trip or special event. Create something around your child's interests that will be a memory maker.
"Barbara and I have done this with our children over the years," Rainey shares. "I've taken my son to Alaska to go fishing. And my wife has taken a five-day road trip with our daughters to go antiquing. It wasn't so much what they bought as what they experienced, spending a chunk of time together just hanging out."
Another gift you could give your child would be a date night once a month. "I would take my daughters shopping, which is the equivalent of taking my sons hunting," says Rainey, laughing. "My daughters like to bag a clothing item or two, and I like to spoil them a bit. It was always a battle, though, to take them shopping because as clothing has become more and more immodest, I had to be careful that the shopping date didn't turn out negative and undermine the very relationship I was seeking to build."
On other occasions, Rainey would take one or two of his children aside and go to a local restaurant. They would order some donuts and read through the Proverbs together. "That proved to be a real valuable time in terms of providing a spiritual wheel alignment for our kids."
The Gift of Common Values
Predetermining values is crucial in keeping your family strong at Christmas and throughout the year. While many Christian couples talk about values, says Rainey, often husbands and wives "are not singing off the same song sheet."
He recommends going out on a date or getting away for an overnight strategic family planning time, where both husband and wife write down spiritual values for their family. The husband writes down 10 and prioritizes them from most important to least important, and the wife does the same. Then they come back together and their assignment is to come up with a combined "Top 5 list" of their family's most important values.

"The reason I suggest five," says Rainey, "is because a lot of families will spiritualize the project, and the first things on their list will obviously be about loving God, obeying God, and being a part of what God's doing. But the next two or three values that you embrace and agree upon as a couple will be the values that most determine how you make decisions, where you spend your time, and what you do as a family."
When Rainey and his wife, Barbara, went through this exercise, they learned that one of her values was hard work, while one of his values was building relationships. That helped the couple say "no" at times to allowing a child to participate in too many outside activities.


The Gift of Prayer
A key discipline, especially during the Christmas season, is daily prayer. During this hectic time of year, says Rainey, there undoubtedly will be those moments when things feel out of control. Money is low, but the demand for all the right toys is high. Decorating and baking eat up extra time. Out of town guests drop in unexpectedly.
It doesn't matter if the husband or wife prays first, Rainey says. Just be sure you each lift up your marriage and your family, and mention specific needs by name.

"Barbara and I conclude every day as a couple in prayer together and, personally, I know of no more important spiritual discipline for couples than praying together every day. I don't know how we would have raised our children, nor have stayed married, without inviting the presence of God into our marriage and family on a daily basis."
Anyone building a family of spiritual strength must develop offensive and defensive tactics against the enemy, he adds. Scripture teaches that we must put on the full armor of God. "Dress your kids for battle. The enemy of our souls wants to destroy our families one inch at a time."
Is your family observing the Sabbath together? According to Rainey, that's a key component to thriving during a busy holiday season. "One of the most powerful and profound principles in all of Scripture is that spiritual rest precedes spiritual growth."
The Gift of Your Marriage
Finally, says Rainey, slow the pace down, and find some "islands of clarity that enable you as a couple to connect heart-to-heart, soul-to-soul, around the issues of life." Whether you're making a marriage work or raising children, both demand a deliberate series of choices. "If you're not spending time together communicating and singing off the same song sheet, then you're not going to be in harmony."
One problem arises when a morning dove marries a night owl, and it may take a while to hammer out a workable solution on a daily basis. Rainey challenges couples to find time during the day to attempt to have a discussion – even if it's only 10, 15 or 20 minutes. Find a time when you can connect with your spouse.

Perhaps it's around the dinner table. "One of the things we did early on – and I credit my wife for doing this – but she turned the TV off when we ate dinner and I think that contributed to conversation. You have to remove the competition. That's why a date night is so important. It's just mom and dad and no competition. There are no kids tugging at the pant leg or the skirt."


A special note to fathers: "The way God has wired men, most have no idea of the weight of parenting that a mom carries in raising children today. Because they don't have an idea, if they don't communicate with their wives, they'll never be able to address the issues and the needs that are there with their wives."
The best Christmas gift for the entire family, Rainey concludes, is to get off the treadmill and make sure you are living according to your values. "Be sure you are making decisions that represent your faith and the Scriptures – living life on purpose and not just gritting your teeth."