Does "Rest in Peace" (RIP) Have a Christian Origin?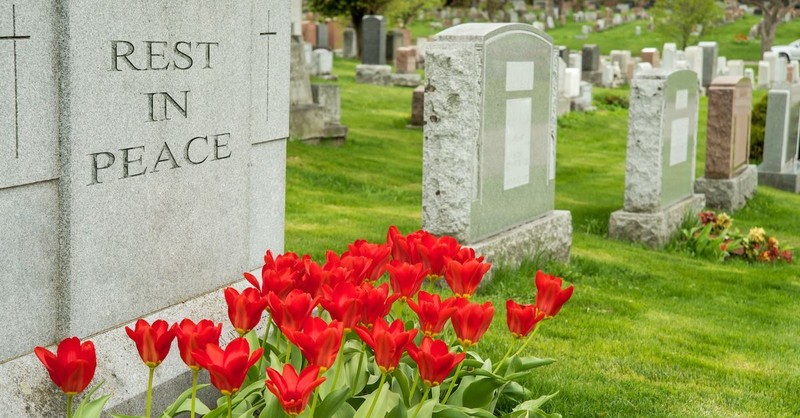 RIP, an acronym for "Rest in Peace," is a common condolence at funerals and a general response to someone's death. But RIP has also become a pop culture catch phrase with many different connotations. Though the term occasionally drifts from its original use, RIP is still widely used in conversation when someone has passed away. Secularly, it communicates a general respect for the one whom has died and condolence for friends and relatives who were close to that person. For Christians, we are reminded of the peace God brings from the pain of death for those who follow Christ.  "There is no 'R.I.P.' without the 'R'or 'P,'" wrote Barnabas Piper of Ligonier Ministries "and Jesus is the only way to both."
Origin and History of "Rest in Peace"
The phrase began as a prayer, wishing those who died had found right standing with God, and were now resting eternally with Him. According to dictionary.com, "The Latin phrase (as requiescat in pace) began appearing on Christian gravestones in the 8th century, and became widespread on Christian grave markers by the 18th century." Biblical roots of "rest in peace" appear in Isaiah 57:2: "He enters into peace; They rest in their beds, Each one who walked in his upright way." (NASB) This verse is promising relief in death, an "escape from turmoil" as the NIV Cultural Backgrounds Study Guide notes. "This may either refer to the peaceful rest of the grave," notes Barne's Bible Commentary, "or to that which awaits the just in a better world."
As Christians, we believe death is the beginning of eternal life in heaven with Jesus Christ, our Savior. Paul wrote in 2 Corinthians 5:8, "We are confident, I say, and would prefer to be away from the body and at home with the Lord." This recognized both the immortality of the human soul, and the coming resurrection of our physical bodies when Christ returns (NIV Cultural Backgrounds Study Bible). RIP represents the heart of the Christ follower, in that our true peace does rest in Him, and in death we are finally able to be home to heaven to be with Him. Death is often referred to as "going home to heaven, or "going home to be with Jesus."
"For those not in Christ, death is only enemy," wrote Dane Ortlund of The Gospel Coalition,"This life is the best it will ever get. For those in Christ, death is also, and more deeply, friend. This life is the worst it will ever get."
"Paul called death 'gain,'" said John Piper, founder and teacher at desiringGod, "not because he will be unconscious, but because he will be in the presence of Christ."
The Bible reminds Christians that we are citizens of heaven, not of earth. "We often associate the phrase 'rest in peace' with death and the loss of a loved one," wrote Mary Sutherland in May She Rest in Peace, "When we enter into a personal relationship with Jesus Christ, we enter into true peace."
Why Do People Still Say "Rest in Peace" Today
"Rest in Peace" is still used in the traditional sense, but also in a wide variety of other ways throughout modern culture. Catholics still use the original Latin verbiage at funerals, and many other Christian denominations use the English "Rest in Peace" in funeral and memorial services. In memorandum, the term is still widely used to wish those who have passed from this earth well, and to extend condolences to the friends and relatives they have left behind. 
The term has taken a sharp secular turn as the Western commercialized Halloween holiday increases in popularity. "RIP" litters fake gravestones and decor, as a quick and recognizable reference to death in order to cast a spooky or scary mood. The National Retail Federation predicted $8.8 billion in retail sales centering around the Halloween Holiday in 2019.
RIP is also used as a pop culture term to express feeling overwhelmed by everything from an overload in homework, the cancelation of a favorite TV series, or to express embarrassment or frustration."RIP me" can also mean we've been absolutely wrecked by how good looking or put together someone appears in their social media post. "Fangirls"  often hashtag "RIP" when talking about their favorite famous people. 
Should People Say RIP So Casually?
We live in a society brimming with creative hashtags, each day full of new expressions and fresh definitions of phrases and words. RIP may be one of the most meaningful phrases in the English language, but it's often hidden within culture and all its trends and lost traditions. "Rest in Peace," though now widely used with a more casual tone, still communicates two very important aspects of the Christian faith. God created rest when He was done creating the earth, everything in it, and us. And the Peace that surpasses all understanding is found in Christ Jesus.
Christians shouldn't look to micromanage the used of "RIP," rather, look for opportunities to share the gospel of Christ because of it. This doesn't mean starting a comment war on social media or losing all sense of tact in the presence of someone's deep sense of loss.  "The Bible tells us to weep with those who weep," wrote Dane Ortlund of The Gospel Coalition, "not provide theological reminders." However, we can speak "Rest in Peace," knowing the Author of those words is honored by our recognition of its true meaning. When given the opportunity, we can explain the true sentiment behind RIP. To find true rest in peace is to walk with Jesus Christ until the day we get to greet Him in heaven.
"Rest in Peace" is most commonly associated with death and sadness. "Death itself is a devastating and horrible thing," wrote John Bloom of desiringGod, "But God promises to work all things - including death - for good for those who love him and are called by him (Romans 8:28)." We live in a world desperate for rest, in peace. There are horrible things happening all around us that we cannot control. Things that grieve the heart of God. Happenings that cannot be explained away by simple platitudes. However, there will be rest . . . in peace . . . for those who know Him. Because Jesusis Peace. And until He returns, we can rest in knowing the pain of this world will eventually pass away, as He promised.
---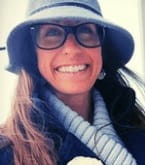 Meg writes about everyday life within the love of Christ. She stepped out of her comfort zone, and her Marketing career, to obey God's call to stay home and be "Mom" in 2011. From that step of obedience her blog, Sunny&80, was born, a way to retain the funny everyday moments of motherhood. Meg is also a freelance writer and author of "Friends with Everyone."  She loves teaching God's Word and leading Bible study, being a mom, distance running, photography, and the Cleveland Browns. Meg resides in Northern Ohio with her husband, two daughters, and Golden-Doodle. 
Photo credit: ©GettyImages/MarcBruxelle