Encouragement to 'Be Still and Know' God's Love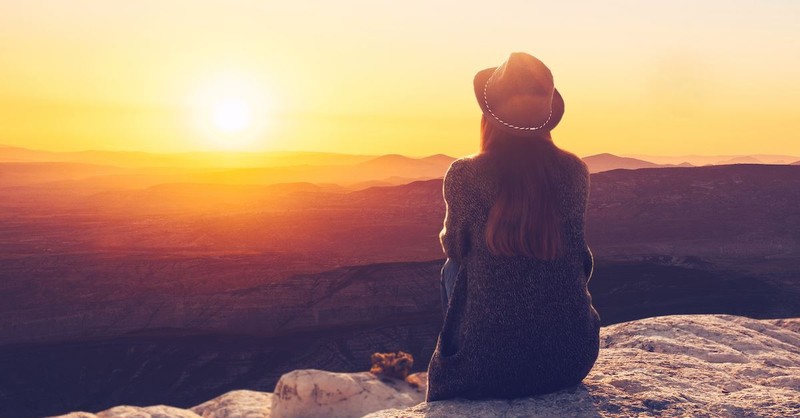 "Be still, and know that I am God; I will be exalted among the nations, I will be exalted in the earth." – Psalm 46:10
Reflect for a moment. What times of quietness do you value most? Do you take time for quietude in your life?
Throughout the day I like to find times of peace and silence. It is a time to reflect and rest. It's a time to create. It's also a time to remember my Creator, when I can read from his Word and pray. 
When I travel, I like to find new places where I can enjoy God's creation all around me. A few years ago when our family was vacationing in Florida, I took notes of the sounds around me. I sat outside alone and listened. The palm leaves rustled gently in the breeze. There were chirping crickets and croaking frogs. Seagulls called out in the distance. I heard the voices of people walking by.
In our busy lives, how often do we take the time to be quiet and still?
Be still. For some people stillness may be easy to achieve. For others the mere thought of holding still and being quiet can make them uncomfortable. Yet, we must not dismiss the importance of calming ourselves and focusing on our Creator if we desire to commune with him.
David Found Rest in Stillness with God
In Psalms, David spoke of spending time alone with God. He waited with expectation and confidence. He stated, "Be still before the LORD and wait patiently for him," (Psalm 37:7) and"My soul finds rest in God alone; my salvation comes from him." (Psalm 62:1)
He said, "Many, O LORD my God, are the wonders you have done. The things you planned for us no one can recount to you; were I to speak and tell of them, they would be too many to declare." (Psalm 40:5)
David was fully aware that God was the Omnipresent One. David praised God for the many wonderful things he has done and for all his wondrous plans for us.
Jesus Spent Time Alone with God
Jesus is an example for us, too, on the importance of alone time with our Father. After Jesus had ministered to crowds of people, he departed to a solitary place. In Mark 1:35 we read he would pray early in the morning. Finding it necessary to retreat to a tranquil place, he often went to the mountains or the seaside. Jesus, our Advocate and Deliverer, continually communed with his heavenly Father. He gained the sustenance and strength he needed.
If Jesus needed to have time of solitude with his Father, how much more must we need to spend time alone with him.
For some of us quietness comes naturally in our lives. For others, serenity can be uncomfortable and uneasy.
When you need private prayer time, where do you go? What do you do to remove distractions?
Two Steps for You to 'Be Still' and Silent:
As we become silent, we have two aims:
1. Remove external distractions.
First, it is important to remove distractions. Life can be fast-paced. We may be overwhelmed with busyness and activities. We may feel we can't slow down. Our busyness can get in the way of having time alone.
Find a specific time and place for solitude. Turn off any distracting noise in the background. Take the time to experience God's presence.
2. Silence internal distractions.
Second, besides removing outside distractions, it is essential to silence our inner being. That is, banish all the thoughts within us that pull our attention away. If something needs to be taken care of later, write it down and then forget about it for now. 
The pressures of life too easily divert our attention from focusing on the things of God.
Tune out the inner noise of worries and distractions. Tune out the inner cacophony of diversions.
We not only seek to be still, but we also want to know him better. "Be still, and know that I am God," he said. (Psalm 46:10) By quieting ourselves, our body and mind, we can better commune with him. We become tranquil because we can sense God is near. His promptings are gentle.
Be receptive to him, willing to listen. He speaks to us by his Holy Spirit. We learn of his righteous ways. We receive his assurance of how he wants us to live. "I will instruct you and teach you in the way you should go; I will counsel you and watch over you." (Psalm 32:8)
When we prepare our heart, we may need to examine our inner attitudes that hinder our prayers. The psalmist David said, "If I had cherished sin in my heart, the Lord would not have listened; but God has surely listened and heard my voice in prayer." (Psalm 66:18–19)
Could it be that our prayers are empty and lifeless because of our disobedience? Or maybe there are bitter or resentful feelings toward others. Quietly, God shows us where we have been found lacking in our Christian walk. We humbly confess our sins to him.
Set Aside Time for Prayer in Stillness
For us to grow and mature as Christian disciples, we must set aside time regularly for prayer and reflection. Let's examine our daily and weekly routine. Look for habits that waste time and habits that don't help our intentions.
Which of the following gets in the way of having our personal devotional and prayer time? Is it setting aside time, being consistent, finding a quiet place, or another obstacle?
When we commit to change our routine and take time to sit in silence before God, we will grow to be more spiritually mature believers.
To 'Be Still and Know' is Nourishing to Your Soul
In silence, we are nourished as we read and meditate on God's Word. In silence, we begin to understand the depth of God's love. Consider that Our God is:
-Creator God
-God of all Power and Wisdom
-All-Wise and All-Knowing God
-God of Tranquility
-God of Love and Grace
Our God is the God of Abraham, Isaac, and Jacob. Our God is the God of Israel. He is our deliverer. There is no one like him. "I, even I, am the LORD, and apart from me there is no savior. I have revealed and saved and proclaimed." (Isaiah 43:11–12)
God is our peace, our shalom. The priestly blessing God gave to Moses for his people is powerful. We can ask for God's blessing as we read the words:
The LORD bless you and keep you; the LORD make his face shine upon you and be gracious to you; the LORD turn his face toward you and give you peace. (Numbers 6:24–26)
Feel the Father's love. He loves us with an everlasting love. The Lord alone will be exalted in the earth.
As we are still and quiet we are ready to learn of him. We want to know him better. He is the Almighty God.
A Prayer of Praise in the Stillness:
Awesome God, thank you for your continual presence. You, alone, deserve my praise and adoration. In times of quietude speak to me. Teach me to listen to your still, small voice. Grant me experiential knowledge of you. Amen.
Scripture for Further Meditation
Isaiah 2:11, 17; Isaiah 30:15; Colossians 4:2; Revelation 3:20
Remember, when you trust in God, he will reveal himself to you.
This adapted excerpt is from Chapter 6 of Grow in Faith toward Maturity: 31 Days to a Closer Walk with God.
---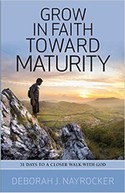 Deborah Nayrocker, an award-winning author, is the author of Grow in Faith toward Maturity: 31 Days to a Closer Walk with God (Credo House). Perfect for young people and new believers, the book has thirty-one brief chapters ideal for daily devotional use. Grow in Faith toward Maturity is available in e-book and paperback at Amazon and Barnes and Noble. Her website is www.DeborahNayrocker.com
Photo Credit: ©GettyImages/franz12