How to Cling to the Truth When God Appears Apathetic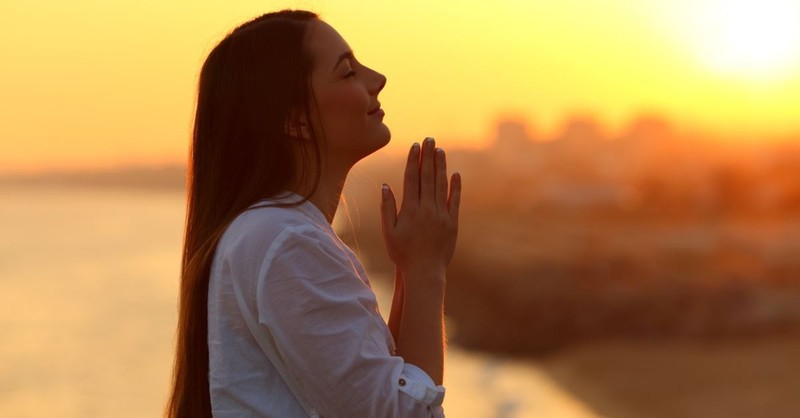 Think back if you will to a time of great struggle. Maybe it was a time of great loss. You just finished saying goodbye to one of your loved ones. As you stood on their grave, you felt so alone.
Or maybe your marriage has just dissolved and you've learned that your spouse has chosen someone else to love.
Perhaps you are standing at the bedside of a family member who is not getting better, but slowly slipping away.
At any of these moments we will be sorely tempted to believe that God is apathetic.
Apathetic is defined as showing or feeling no interest, enthusiasm, or concern. In great struggle, we can lose our faith that God is for us.
Who wants us to believe God is apathetic?
Just know that when we are in a place of struggle, the enemy is close at hand to get us to doubt God. Satan knows his destiny is a sure thing, so he devotes all his energy toward trying to get believers to take their eyes off of their Savior. He wants to discredit God.
He does this when we are at our weakest.
God knows that Satan will try to get us to doubt, so God warns us in 1 Peter 5:8. He talks about how Satan is prowling around, seeking to devour us. God wants us alert. And I love how John calls us little children. Children whom the Father loves so much and wants to keep safe.
When do we believe lies?
Satan knows when to strike. He loves to catch us when we're being tested, or we are weary, because it's easier for us to drop our guard.
Satan likes getting us to focus on what things look like now. However, In 2 Corinthians 4:17-18, we learn that our momentary light affliction is producing something in us for eternity. Yet surely, our trials do not feel momentary, or light. In Hebrews 11:1, God tells us to use our eyes of faith (Faith is the assurance of what we hope for...), not what our eyes are seeing at the present.
We believed in God by faith. We trust him by faith. And that's what we are to do, no matter how many lies the enemy tries to get us to believe.
How does worry fit in?
We start to worry when we stop believing the truth, and instead we believe how things look. When our daughter-in-law was told the baby she was going to have had Trisomy 18, Heather could either believe everything the doctors and books said, or she could choose to trust God. Someone in the medical field even suggested she terminate the pregnancy. Believe me, all of us were tempted to worry. And sometimes we did give in.
But January 7th, instead of the baby dying before she was born, which is what Nathan and Heather were told, Olivia Jane was born. And instead of dying her first week, as they were told, we kept praying. We looked at the things which were not seen.
Every time Live got sick, we prayed. God is sovereign and he is the only one who holds the keys to life and death.
We thanked God for Livie's life all 14 months. Satan tried his hardest to convince us that God didn't care. But we felt God's love and concern through so many people, in so many ways.
God isn't apathetic.
I remember reading about Jesus when his friend Lazarus died in John 11:17-45. Mary and Martha were tempted to believe that Jesus didn't care when he didn't show up immediately. In fact, they both told Jesus, that if he had been there, Lazarus would not have died. And what did Jesus do? We know what he was about to do. He was going to raise Lazarus from the dead.
But Jesus had compassion, and he wept. Why would he weep when he knew he was going to raise him up? He wept because his friends were weeping. Because Jesus had genuine empathy, we know his Father isn't apathetic, either.
God has many feelings. In scripture, we can all think of examples of God's wrath. We have even read of God having regret when he saw his people choosing their own way of worshipping idols.
God is loving.
Have you ever received a special gift you knew was from God?
I once worked as a cashier in a grocery chain. One day the cashier next to me was excited because one of her customers had just brought her some flowers. I told her they were pretty, and that my favorites are Lilies of the Valley. Not more than 10 minutes later, another customer came in. Someone I had never met before. She walked right up to me, with her hand extended and said, "These are for you."
In her hands were some Lilies of the Valley. I sighed, tucking them in my name tag so I could smell their soft fragrance. God gave me flowers. Flowers I kept for years because they were from him.
God loves us so much he gave his most precious Son. We see this in John 3:16 as well as in John 15:13. There is no greater gift than the one God gave us. When we think that God is uncaring, we are forgetting his great love. And the enemy of our souls smiles big.
God is interested in his children.
One of my favorite verses that I often quote is 1 Peter 5:7. God wants us to cast our cares on him because he cares for us.
I pray about everything. Every tiny thing I need, I tell God about it. Whether it's help finding something I misplaced, or a parking spot, or wisdom. God encourages us to let our requests be made known. Why? Because he is interested in us.
God tells us in Matthew 7:11, if we know how to give good gifts to our children, how much more does he know how to do it?
God gets enthusiastic.
When I became a Christ follower, I was given what my Bible teacher referred to as the birthday verse. I was born a sinner, and when I accepted Christ, I was born again. So she gave me the verse Luke 15:10. It talks about how the angels in heaven rejoice over one sinner who repents.
Before I trusted in my own good works, but when I trusted Christ and what he did on the cross, I had a change in mind. She said there was a party going on in heaven for me, that night, September 12, 1971.
And I'm quite sure if the angels were rejoicing, so was my heavenly Father.
God is concerned.
When someone is apathetic, they are not concerned at all. I know my Father God is concerned because he's a God of details. Because he responds to my little requests which may seem insignificant to anyone else. And because he didn't start a work in me and then just leave me. He started the work, and he'll complete it.
In Philippians 1:6, Paul said he is confident about this. Paul saw God's hand in his life. Paul...who once hated Christians and then became one. Yes, God is concerned. Loving fathers are.
God tells us in Proverbs 3:5-6 to trust him wholeheartedly and he will direct our paths. Then he tells us in Matthew 6:33, when we should seek him.
You can be sure: God is concerned with every part of your life.
You can cling to the truth.
We will be tempted to stay focused on our problems. To worry and doubt that God can work things out for us. To even get angry when he's not working things out the way we had hoped, or as fast as we'd like him to work. Believe me, I have been tempted in this area.
When we were in my sister's murder trial and the judge said, "Not guilty,"  the temptation was there. As Satan whispered, "See, God doesn't care." Or when I prayed and Olivia still died.
Yes, there will be times we are tempted to turn away from God, or maybe even give him the silent treatment, like I did when I miscarried.
But God was still there when I called on him again. He never stepped back. It is us who move away in doubt, instead of clinging to truth of His higher plan.
A prayer for those who are struggling:
God, I come before you right now, asking for help for anyone who is reading this and struggling with their life circumstances. God, you know what's going on in their life right now. You are sovereign and not surprised by anything. God I pray you give this person wisdom. Show them where to go to get help. Encourage their faint heart. Let them know how much you care, Lord, even though the evil one is trying to tell them otherwise.
I lift them up and ask, in your Son's precious and Holy name. In Jesus' name, Amen.
---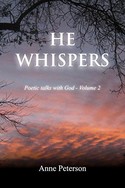 Anne Peterson is well acquainted with suffering. She is a poet, speaker, published author of 14 books, including her memoir, Broken: A story of abuse, survival, and hope, as well as a volume of 3 books, He Whispers: Poetic talks with God. Sign up for anne's newsletter at www.annepeterson.comand click on free Ebooks to choose one. Or connect with Anne on Facebook.
Photo Credit: ©GettyImages/AntonioGuillem