Eric Metaxas on Why Dietrich Bonhoeffer, Why Now
Kelley Mathews

Crosswalk.com Contributing Writer

2010

4 Jun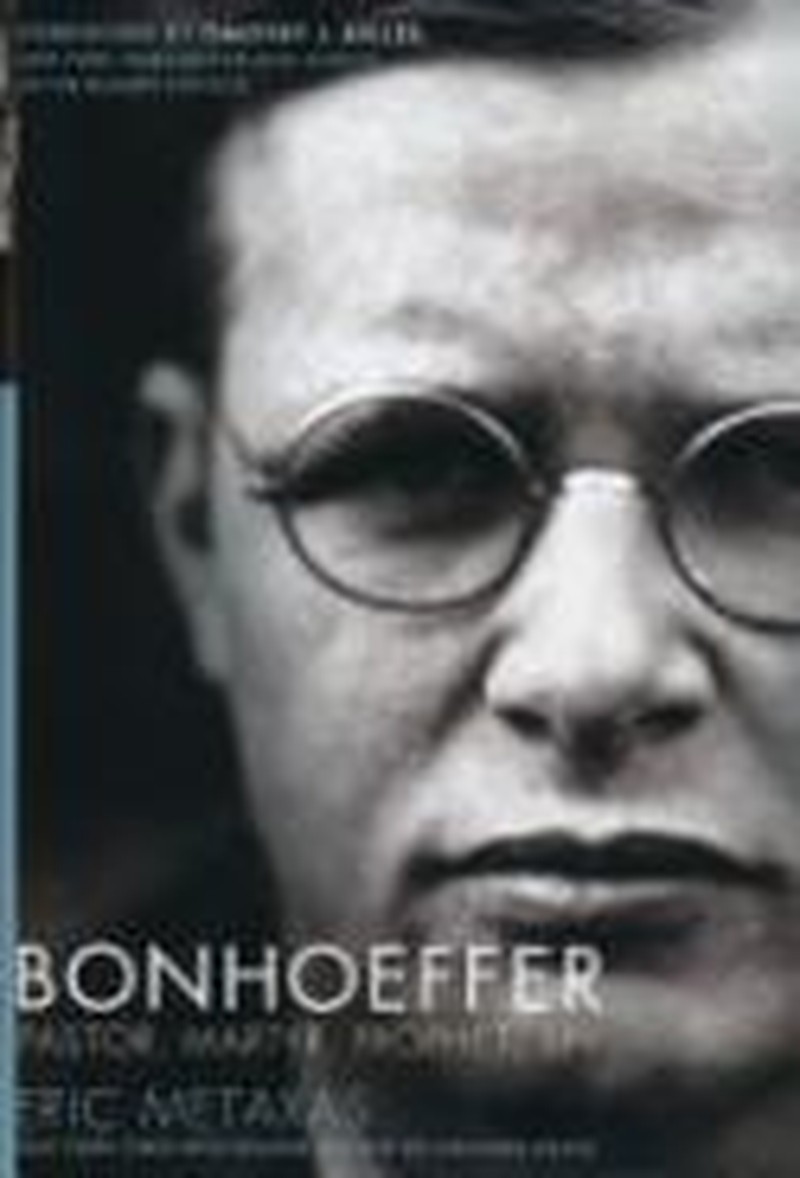 Editor's Note: The following article is crafted from an interview with Eric Metaxas, author of the new book Bonhoeffer: Pastor, Martyr, Prophet, Spy (Thomas Nelson, 2010).
In the most comprehensive biography of Dietrich Bonhoeffer since 1967, Eric Metaxas introduces to a new generation the life and times of arguably the greatest theologian of the 20th century. Surprisingly readable and packed with details—some unpublished until now—the 542-page tome offers readers fascinating insight into Bonhoeffer's personal life, his theological prescience, and his involvement in the conspiracy to kill Hitler.
Born in 1906 into a family of intellects, theologians, and scientists, Dietrich Bonhoeffer came of age during Germany's recovery from its devastating loss in World War I. He knew as a teenager that he would become a theologian. Able to study and travel widely, his international perspective influenced his politics and theology. As Adolf Hitler rose to power, Bonhoeffer's rhetoric and writings exhorted the church to remember its purpose. His work drew the attention of the Nazi regime, culminating in his imprisonment and eventual execution just weeks before Germany surrendered in 1945.
"The singular thing about Bonhoeffer that recommends him to this generation is that he calls us to a closer, authentic walk with Jesus, not just a merely religious walk, but one of true obedience to Jesus Christ," says Metaxas. "His life asks us, 'How do we live as authentic Christians all the way, in the face of struggles and evil?'"
Dietrich Bonheoffer: the man, the model Christian
Affable and often humorous, Metaxas argues earnestly that Bonhoeffer matters to believers today. "He is a model for living the authentic Christian life. Bonhoeffer is the ultimate example of someone who is discerning and obedient to Jesus in the deepest way. I believe that God gives us illustrations from history, and the life of Bonhoeffer is one of those. He is an example to believers of what it looks like to negotiate the difficulties of life, to deal with evil as a serious, devout, mature Christian."
"Bonhoeffer's cosmopolitan background allowed him to see the church beyond the German Lutheran Church. He was thinking about what was God's idea of the church, what is it really. In Rome he saw the Catholic expressions of faith, and though not moved to join it, he was able to appreciate some aspects of Catholicism. He could say, 'Have we missed out on some things, have we forgotten about something in the Lutheran church, and how do we bring these back if they are authentic Christianity?' He was very original in his thinking, trying to ferret out what is Jesus Christianity as opposed to German Christianity."
American Influence
One of the major influences on Bonhoeffer's ideas about the church came during his 1930 sojourn to America. He visited Union Seminary in New York and found it singularly unappealing. "He was not impressed at all with the school or students, considering them immature, baseless and liberal," says Metaxas. But one weekend he accompanied a student to Abyssinian Baptist Church in Harlem, and there he discovered a different kind of worship.
"He was blown away," says Metaxas. "The negro spirituals, as he called them, completely captivated him. He scoured the record shops of Manhattan to find recordings to bring back to Germany, having never heard anything like it. He was moved by the experiences of the suffering African-Americans of his day. And he went to Abyssinian Baptist every single Sunday thereafter to teach Sunday school and to worship. He was quite changed by it.
"He saw people who knew Jesus in a very personal way, something he had not experienced before. This was a transformative experience, and he went back to Germany in 1931 changed. He was theologically straight before that, but this time in Harlem affected his heart. His whole being turned toward Jesus in a personal way where it had not been so before."
Evangelical?
In fact, Metaxas describes Bonhoeffer's beliefs and practices as personal, devotional, having a high view of Scripture—terms very recognizable to evangelicals today. Metaxas says he was just reporting it like he saw it.
"Anyone who's a truly mature Christian, who has their eyes on Jesus, will recognize Bonhoeffer as a brother in Christ. Attempts by mostly liberal theologians to portray him as humanist or post-Christian are really off the mark," the author asserts. "One of the reasons I'm glad my book has been published is to set that record straight. We need to see Bonhoeffer for who he was and not try to make him in our own image. Bonhoeffer was a robust, devoted servant of Jesus Christ. Whether you want to call him 'evangelical'—that's kind of like saying St. Paul or Augustine was evangelical. Anyone who devoted his whole life to Jesus, worshiping the living God, transcends categories. I was surprised by how 'evangelical' he was, and how obscured that has been by previous works about him."
Such a perspective on God went against the liberal theological traditions of Bonhoeffer's era. His studies at Berlin University were versed in the tradition of Schleiermacher and other theologians who studied the biblical texts but were not convinced that God was behind the texts, that He had spoken. Bonhoeffer, asserts Metaxas, "believed that there is a God behind the text, who wrote the text, and who wants to speak to us today through these texts. The Bible is the living word of God, not just a collection of words." His voice rising with passion, Metaxas summarizes Bonhoeffer's perspective: "God, who is other, who is apart from creation, created creation, wants to speak into creation—that is revelation and Bonhoeffer believed in revelation."
Recovering the meaning of "the Church"
When the Nazi regime began legalizing the oppression of Jews, Bonhoeffer's leadership helped create the Confessing Church, a movement of believing Germans who rejected the government's new demands. He and other leaders crafted the Barmen Declaration, which defined the true German Church as that which followed the teachings of Jesus.
"Bonhoeffer helps us negotiate what it is to be the Church. In a culture that has begun to move away from a biblical worldview, he challenges us to think about the limits of the State, and where does the Church tell the State that they can't come further and this is a line in the sand," Metaxas asserts. "The Barmen Declaration was a case of German Christians who had to reassert some truths in the face of anti-Christian opposition. We are living in a day where the Church has to say the same thing."
Metaxas compares Barmen with the recent Manhattan Declaration. "We have to reassert some things and draw a line in the sand, saying as Christians that we have to stand for certain truths, and encourage each other, and to tell the State that to be a Christian means that we won't allow you to push us off this biblical line in issues of life or sexuality. We must have a clear reassertion of what it means to be a Christian."
Church Father?
Greg Thornberry, dean of Christian theology at Union Seminary, calls Bonhoeffer "a church father for the postmodern era." Metaxas wholeheartedly agrees. "There's something about Bonhoeffer's depth of faith, his witness and his theology, that speaks to us unlike no one else. You see a deeply Christian human trying to live out his obedience to Christ in the midst of incredibly difficult circumstances. I would argue that no one else speaks to us like Bonhoeffer does for his impatience with religiosity and dead religion. He was zealously looking for God and stripping away fig leaves, saying in essence 'I want God, no religious covering. The only covering I want is the blood of Jesus Christ, only Jesus can suffice in the face of evil, only Jesus can defeat evil and death.' Bonhoeffer understood that early on, but he lived it out year after year. As the evil encroached, he grew closer and closer to Jesus."
A Personal Connection
Metaxas confesses to a personal motivation for investing three years to the research and writing of Bonhoeffer. His family is German and the War has special significance to them—his grandfather served under Hitler as a reluctant soldier and was killed at age 31. "My family lived through this in Germany," says Metaxas, "and that connection was very important for me."
Raised in the Greek Orthodox tradition, Metaxas admits to "drifting away" during his college years at Yale, and by 1987 he "was just lost, then had a dramatic born-again experience in 1988." It was about that time he learned about Bonhoeffer, and since then the two have been connected for him.
For more information on Bonhoeffer: Pastor, Martyr, Prophet, Spy and the other works of Eric Metaxas, visit his website: www.ericmetaxas.com.
Original publication date: June 4, 2010