Evangelicals Remember Lent
Whitney Hopler

Contributing Writer

2005

24 Feb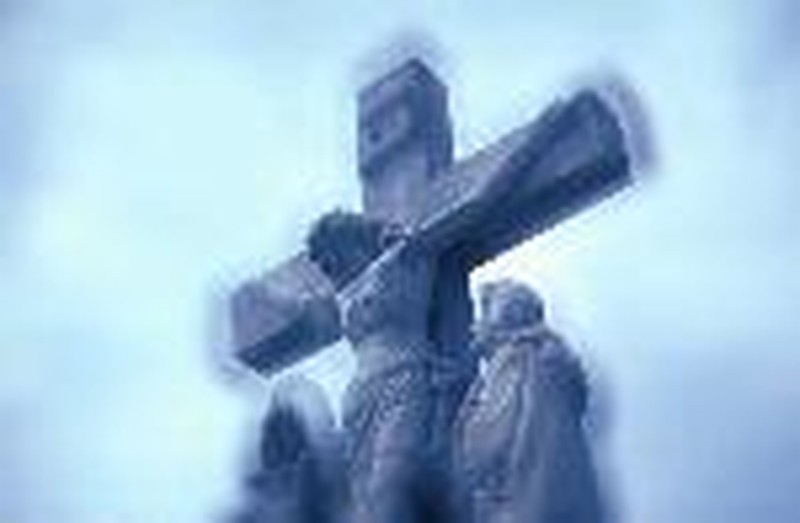 Kathleen Otchy grew up observing Lent in traditional ways through her Catholic church - such as fasting and attending worship services filled with solemn ritual. Everywhere in church, she was surrounded by reminders of the 40-day season of reflection and penitence leading up to Easter. Yet now that she's a member of an evangelical church that barely mentions Lent at all, Otchy's Lenten seasons have actually become more meaningful for her.
For all the beauty of the Lenten rituals in her childhood church, "There was really no explanation of why we were doing them, or a sense of any real biblical support for them," Otchy recalled. 
In her current church, Fairfax Community Church in Fairfax, Virginia, a Maundy Thursday footwashing service is the sole reminder that Easter is approaching. But Otchy spends time regularly during Lent reading the Gospels, and finds that doing so helps her connect with God more than any traditional ritual.
"Even though it's not called Lent in my church and there are no special rituals, it's a very special reflective time," said Otchy. "You're more on your own to decide what God would have you do during that time, and I've found that very freeing, and even closer to what I believe is God's heart. God directs the time according to how He wants to speak.  Reading the Gospels and concentrating on Jesus' life - how He was both the son of God and the son of man - really puts the heart of my faith before me as I get ready to celebrate Easter and the salvation He gave us."
Lent is often overlooked by evangelical churches that eschew the liturgical calendar in favor of following their own themes for sermons and activities.  And evangelical churches that do follow liturgy sometimes give short shrift to Lent.  Still, many evangelicals do observe Lent, and often do so in ways that they find lead to significant spiritual growth.
Every year, members of Church of the Good Shepherd in Vienna, Virginia, produce an approximately 60-page Lenten devotional filled with their original essays, poems and drawings. Each church member - from children through seniors - is invited to participate.  Then a copy is mailed to every household within a five-mile radius of the church - about 28,000 homes.
The effort has proven fruitful for community and church members alike, said the church's pastor, James Noland.  "In sharing it with the community, it helps us express our faith in a way that genuinely moves other people. And in our own congregation among those who have contributed, I've seen a greater willingness to talk about faith with other people."
Church members also share a Lenten supper of soup and salad each Wednesday evening during Lent, while listening to a brief devotional message.  And sometimes, Noland said, he will focus his sermon messages on Lent.
Investing the time to observe Lent is spiritually worthwhile, said Noland.  "Time is a very scarce resource for many people today due to the frantic pace of life and all the distractions. Lent gives us a way of setting apart time to focus on the cross, and the cross goes to the heart of what our faith is all about.  Reflecting on what Christ did on the cross, on our salvation - that's so important to take the time to do."
Celebrating Easter wouldn't be the same without observing Lent first, Noland said. "Everything we do during Holy Week [Maundy Thursday and Good Friday services] has taken on a much deeper dimension because we've gone just gone through Lent.  Then when Easter comes, it seems even more significant since we've prepared for it.  We've spent lots of time thinking about what our faith really means."
Lent is an important time for people to discover more about Christ and forge stronger relationships with Him, said Phil Ashey, pastor of South Riding Church in South Riding, Virginia.  During Lent this year, his church will host an "Alpha" group for seekers to explore whatever questions they have about Christianity.
"I see Lent as a door - an entry way - for people to connect or reconnect with Jesus," Ashey said.  "Our culture is so focused on an event rather than a process. Even as evangelicals, I think we've been trapped by the idea that salvation is a one-time event, like a sale that we've got to close. But often, it's a process in which people ask questions again and again and again and approach God again and again and again to consider faith.  We're hoping to use Lent as a way to help people consider Jesus and take the time they need to process all He's done for us, so they can discover a faith that's real."
Unlike the joyless deprivation some people think of when they think of Lent, the season can actually be a quite rewarding and exciting time, said Ashey.  "There's a sense of preparation, of anticipation, and a sense of savoring what Jesus did for us.  The church calendar invites us to take our time and conform it to Jesus' time. We take a season like Lent and we enter into Jesus' life and all that He dealt with on Earth, and then we can better deal with everything in our own lives because we've connected with Him."
A positive attitude helps make Lent meaningful, he said.  "Sometimes people will focus on the negative during Lent, but it helps to focus on the positive.  Rather than focusing on giving up something, you can focus on embracing something - a spiritual discipline, like prayer or Scripture reading.  That will help you develop a holy habit that can actually help you become more like Jesus."
Calvary Memorial Church in Oak Park, Illinois tries to incorporate some sort of Lenten reminders into its worship services during the season, even though it doesn't follow the liturgical year, said Pastor Ray Pritchard.  "Some years I have preached a short Lenten sermon series. Often we have music that focuses on the Cross as we draw near to Holy Week. ... It varies from year to year, and, in some cases, on the overall theme we are following for the whole year."
Although evangelicals don't generally express their faith through rituals, it can be powerful to participate in rituals when they're personally meaningful. Sometimes, God uses Lenten rituals as tools to speak to the faithful, said Betsey Mulloy, a member of Church of the Apostles in Fairfax, Virginia.  One year, while she was teaching a Bible study at a Greek Melkite church, she attended some of the church's Lenten services and encountered God's presence there.  "The services were so beautiful - so colorful, so mystical, and so ancient.  I really like rituals if they're meaningful.  Rituals can do such a beautiful job of expressing deep things about our faith."
Mulloy, who will lead a Lenten retreat for her church this year, said that no matter how she observes the Lenten season, she strives to live with attitudes of humility, repentance and thankfulness all year long. "I try not to get hung up on certain seasons," she said. "It's important to remember the cost of Easter, and I try to do that during Lent, but also every day of the year."

Lent begins this year on Wednesday, March 5th.