Failing to Meet Your Goals for the New Year Can be a Blessing in Disguise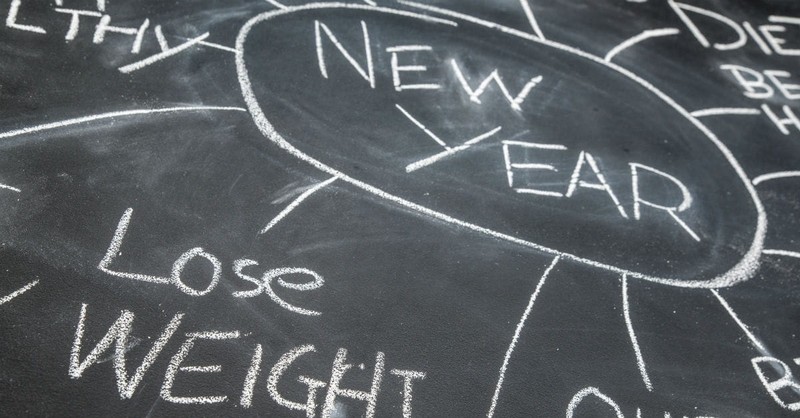 As we bring 2017 to a close, I confess to not reaching any of my New Year's resolutions, and I'm fighting the urge to be overcome with disappointment. This is the second year in a row I failed to meet my resolutions and I know I'm not alone in this. The majority of people who make New Year's resolutions fail to see them through. Like so many, the past two years just didn't look the way I thought they would. I've been fighting a health condition that causes chronic pain, and this pain, along with other symptoms, has kept me from accomplishing my goals. When I think back on this year and what I didn't accomplish, I'm reminded of Proverbs 16:9; "The heart of man plans his way, but the Lord establishes his steps." 
Why does Proverbs 16:9 come to mind? While we live in a broken world with broken bodies, we also live under the authority of a Sovereign God. My resolutions were no surprise to Him, nor were my health problems that kept me from seeing them through. I made plans in my heart for the 2017 year, but the Lord established my steps.
You could argue that God afflicted me with these health problems just as easily as you could argue that He has simply allowed my broken body to continue breaking down. Either way, the result is the same: God is Sovereign, and while I didn't accomplish the things I set out to accomplish, I learned valuable lessons this year that I otherwise wouldn't have.
Thanks to medication, which unfortunately didn't help my condition, I gained the same amount of weight I set out to lose. But, as my pants got tighter, I was forced to reflect on 1 Samuel 16:7; "For the Lord sees not as man sees; man looks on the outward appearance, but the Lord looks on the heart." My goal for the year should have been focused on my heart, not my body. As I've spent many days (and nights) crying out to the Lord for physical healing, I believe the condition of my heart has changed—a change that wouldn't have taken place had I not needed to cry out to Him.
I'm in a stage of life that I always assumed would afford me new found freedoms. Yet, due to chronic pain and fatigue, I've had to accept limitations and lifestyle changes that I thought I wouldn't face for many more years. But, as I've fought to accept the brokenness of my earthly body, I've also seen glimpses of ways that God might use me despite my limitations. Why am I so quick to forget that God can use me in my brokenness?  While I have a list of resolutions I didn't see through, I also have a list of accomplishments that I didn't have when the year started. God is so faithful and what I see as limitations are an endless sea of worth and opportunity in His eyes.
Chronic illness and pain often lead to anxiety and depression; one can even become resentful of their very life. But, what I've realized over the past year is that while my ailments may keep me from meeting some of my long-term goals, or from even getting through my to-do list for one single day, I can still live out the idea of the Proverbs 31 woman. I can be an example to my family and friends by continuing to praise the One from whom all blessings flow, even when I feel the blessings aren't flowing in my direction.
And that's the lesson for you and me. If we are children of God, the blessings are always flowing in our direction—abundantly so—even when this broken world and our broken bodies get the best of us. The abundant blessings flowing in our direction may not come in the current year or the next, but they will come, because we are children of God, "and if children, then heirs—heirs of God and fellow heirs with Christ, provided we suffer with him in order that we may also be glorified with him" (Romans 8:17).
There's nothing wrong with making New Year's resolutions and having personal goals—even weight loss, as we should take care of our bodies as they are the temple of the Lord (1 Corinthians 6:19). But, because so many of us fail to meet these goals, and because that failure can cut deep and cause our eyes to stray from the Lord, we must remind ourselves of what's important, things of eternal value.
As we prepare our resolutions for 2018, let's first remember Proverbs 16:9. Let us then remember the example of our brother Paul, who learned to be content in every situation (Philippians 4:11). Let us remember that our value is not found in our earthly accomplishments, in our pant size, or in the cleanliness of our homes. Our value is found in the One who created us, and in the life He gives us. For the year 2018, let us resolve to ask of the Lord Psalm 119:37, "Turn my eyes from looking at worthless things; and give me life in your ways."
Would you join me in adding Colossians 1:9 and Colossians 1:10 to your New Year's resolutions? Together, as children of God, let's resolve to "be filled with the knowledge of His will in all spiritual wisdom and understanding, so as to walk in a manner worthy of the Lord, fully pleasing to him, bearing fruit in every good work and increasing in the knowledge of God."
Photo credit: ©Thinkstock/PRImageFactory
Beth Ann Baus is a wife and homeschooling mom of two boys. She is a writer and blogger who pulls from her own experiences of abuse, anxiety, depression and OCD. Beth has a heart for women struggling with sexual sin and strives to encourage young wives and mothers by pointing them to the grace offered only by our Lord and Savior, Jesus Christ. You can read more about her at www.bethannbaus.com.