Faith, Hope & Above
Linda Sharp

Author of StretchMarks on My Sanity

2003

3 Feb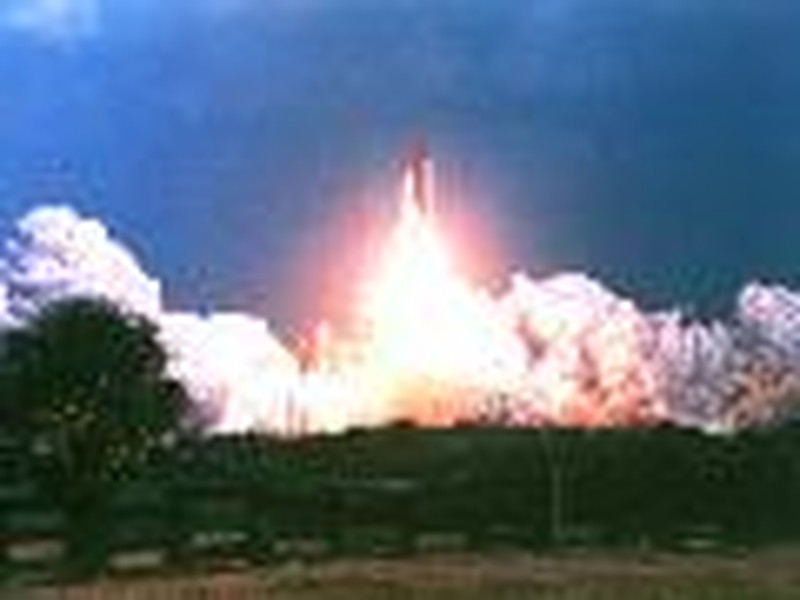 Like countless millions around the world, my morning coffee was cut short by the news of the Space Shuttle Columbia.  And like millions around the world, I began another television vigil, eerily reminiscent of 9/11.  CNN, FOX-News, NBC, ABC, CBS - continually flipping channels for the latest reports from NASA.
However, unlike the millions around the world, I found myself watching the terrible breakup footage while sitting in a hotel room not twenty miles from the Johnson Space Center in Houston, knowing that what I was seeing had been caught as it passed above my home in North Dallas, Texas.  Right place, wrong time or wrong place, right time?
Had I been home in North Dallas, I would have heard and possibly gone outside to see what was happening above. I am glad I was not.  The TV viewing is heart wrenching enough.  Yet by being in Houston, the emotional devastation was palpable. Houston may be the 4th largest city in the United States, but when it comes to NASA, the Space Center and the astronauts, the big town has the heart of a tiny village. 
That heart, so badly damaged when the Challenger crew was lost seventeen years ago, was ripped asunder, leaving emotional pieces strewn across the city, just as the shuttle was strewn across rural Texas.
The astronauts not only train for their missions in Houston, they live in the suburban areas surrounding Johnson Space Center. They are regular people, neighbors, going to church, shopping at WalMart, cheering at soccer games, cutting their grass.  They are admired as much for their grounded personalities as they are for their high flying profession.  Friends first, heroes second.
I was immensely touched, while driving north on the highway Saturday afternoon, to witness the lines of cars that stretched for MILES at the southbound exit for the Space Center.  The tributes being shown on TV, those people crying and laying flowers at the center's entrance?  I saw them and was overwhelmed by their generosity of spirit, their desire to comfort the families in any way they could - if only by laying a single rose.
Driving home on Sunday was surreal.  The highway connecting Houston to Dallas lies directly in the path of, and now the debris field containing, the Columbia.  We passed fields, knowing that they contain remnants of a mission uncompleted.  We passed search parties, methodically moving forward, surely apprehensive of what they may find, but more afraid of not finding vital evidence and remains.
My heart has been grieving for the families who lost these brave adventurers. The children, the husbands, the wives, the parents, the friends. How will they heal, move forward? 
This morning I found my answer. In an incredible show of strength, 

the wife of Shuttle Commander Rick Husband, sat with Katie Couric and spoke of the families, the need for NASA's missions to continue and of her husband.  She spoke confidently, her words not strangled by raw emotion, her eyes unblurred by tears. 

I marveled at her composure less than 36 hours removed from this tragedy, less than 36 hours after having her husband removed from her life -  surely I would not be able to coherently rub two words together were it me. 

Then she spoke of Rick's faith, her faith, and it became crystal clear to me how these people will move on. Her composure and strength is based not on numbing disbelief.  No, her strength stems from a rock solid, unshakable, undeniable, faith based belief.
They know, as does any one who has lost a loved one, that they may disappear from our sight, but they will never disappear from our souls.  They live on in a thousand memories, and will patiently wait for us to join them, until that one heartbeat and one breath that now separates us, has been taken.
The Columbia crew explored the "heavens" of outer space, they now explore the Heavens of their inner faith.
For Mrs. Husband, the families and for us all: Faith, Hope and Love abide, but the greatest of these is now Above.

Linda Sharp is an internationally recognized humorist who writes regularly on the joyous and frustrating world of parenting. Her work wraps around the globe to appear in print publications from Maine to Malaysia, as well as across the web. Her latest book, Stretchmarks On My Sanity: The Growing Pains of Raising a Family, has earned her rave reviews and comparisons to the late Erma Bombeck. As a mother of three children (four if you count her husband), she firmly believes that laughter IS the best medicine. Visit Linda at www.lindasharp.com.  Lighten up your load and visit www.sanitycentral.com