Faith of Two Astronauts Shines from Beyond Shuttle Wreckage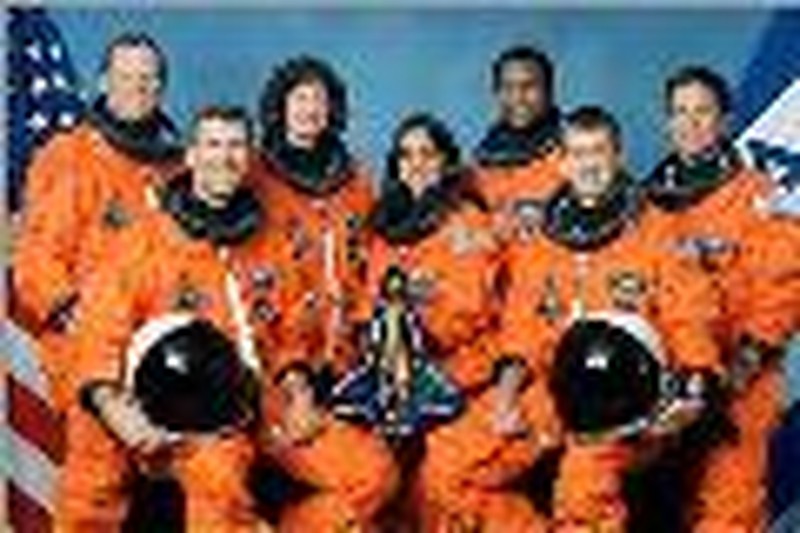 As people across the United States and Israel mourn the loss of seven lives, members of Grace Community Church in Houston will be remembering two of their own. Space Shuttle Columbia Commander Col. Rick Husband and Payload Commander Lt. Col. Michael Anderson were members of Grace Community - and men whose lives reflected the Lord they loved.
"Rick Husband is probably the godliest man I've ever met," Pastor Steve O'Donohoe of Grace Community Church told senior editor Janet Chismar during a phone interview Saturday afternoon. "He was such a lover of God and a worker for God, a kind person to everyone else. He's the type of person everyone wants to be like. His wife is the same way."
According to O'Donohoe, Husband and his wife, Evelyn, have been members of Grace Community Church for close to eight years. They have two children - Laura, who is 12 years old and Matthew, who is 7. The whole family is very involved in the church. Rick sang in the choir and did solos during special events. He was also active in the men's ministry. Both he and his wife were involved in the children's church.
"The only time Rick was not at church is when he was doing NASA business," said O'Donohoe, who shared that Husband was a very close friend. "I've been in his home with him and prayed with him. I am 64 years old, and I was here during Kennedy's assassination, and during the Challenger disaster and during September 11. This is the first time I've had a friend die in the tragedy and it's a big difference. He was a good Christian, as was Mike Anderson."
Mike and Sandy Anderson were "kind of quiet," according to O'Donohoe. They were members of Grace Community for about four years. The Andersons have two daughters, Sydney and Casey. 
"Just three Sundays ago," said O' Donohoe, "we prayed for both families in the service, and they both had something to say about what they were going to be doing. Our senior pastor Steve Riggle was in Guatemala when this happened - he'll be back shortly so he can do the Sunday services. We have six other pastors here, and he has made us all available for the families and we're just going to take it a day at a time."
The church has been open all day (Saturday) for people to pray. According to O'Donohoe, hundreds have come.
What will these pastors say to people from their congregation who ask, "Why?"
"Whenever I've lost a loved one or done a funeral for someone - perhaps a child - people always ask why," said O'Donohoe. "In this case, yes, it is going to be sad. For the Husbands and Andersons, they've lost their father and their husband. But I know these ladies are strong Christians and their children know the Lord also. They know that their Daddies and their husbands are in heaven. Tragic as all this is, that's just comfort that we have. We have that comfort in knowing that we, too, will be there one day.
"I know this much," O'Donohoe concluded, "I know that Rick and Mike are in heaven. I'm just sad because they are not with me. But we'll be together again someday. I know that it would have been better for us for Rick and Mike to live, but they're with Jesus now, and that's better for them."
In Their Own Words
Following are excerpts from NASA's official pre-flight interview for STS-107 that demonstrate how Husband and Anderson felt about their faith:
NASA: Outside of your time with NASA, what's been your most enjoyable time or experience in life?
Rick Husband: Well, I think apart from NASA, the most enjoyable 

part of my life has been my time with my family. And, if you think about, probably the pinnacle or the most exciting or memorable events, I would say probably my marriage and then the birth of our two children, and being there with my wife, and just the awesome experience of seeing a baby come into the world. And just being so overwhelmed with God's goodness in blessing us with two wonderful children.
NASA: One of your hobbies is singing. Was that something that you had as a kid? Or, is this recent?
Rick Husband: Well, I've been singing for a long time. Whenever I was growing up going to church, I sang in church choir as a real little kid. And then, I sang in choir in school, elementary, junior high, and high school. I sang in a barbershop quartet for several years with different groups of guys. And, when I went off to college, I was majoring in engineering but still was very interested in music because it was just such an enjoyable part of my life. I just really love music, and I love singing.
And so, while I was taking engineering courses, I was also a member of the Texas Tech Choir, with all these other music majors and everything. And so, I was very fortunate to be able to be in that choir. It served as a tremendous outlet for me, to kind of broaden my horizons and my experience in the different types of music that we sang. And then after college I primarily have spent my time singing in church choir. And sometimes in community choirs, depending on where we lived at the time. And, I continue to sing in a church choir today. So, it's something that I really, really enjoy.
NASA: What's the experience like? What does it do for you? Is it therapeutic?
Rick Husband: Oh, being able to sing, especially when you're singing a song just from the standpoint of if it's something that you really think is a beautiful song and you can really belt it out, or sing it with the kind of precision that's necessary to sing, just depending on the type of song it is. It, first of all, I think gives you a feeling of teamwork with the other members of the choir. It also gives you a feeling of almost release, in my particular case, because, it's, I'd say, very relaxing.

And then, especially with some of the songs that we sing in church, just being able to sing a song to tell God how much I love Him, it just feels great. It really does. And I think it's probably almost as good as exercising.
NASA: Can you talk briefly about some of the things or people that have, when you look back, have really inspired you to do what you're doing now? And just maybe how have those things or people inspired you?

Mike Anderson: Yeah, I think if I look back at my life there are just hundreds of people that have inspired and influenced me in a number of different ways. You know, first of all, you can't forget your parents. You know, and all they've done to help you to get here. But it's really the people that you don't think about every day that influence you. The people, your teachers, you know, the ministers that you worshiped under. The people that you just came into contact with at the right time that just may have said something that turned a light on in your head and led you down a certain path. You know, those people you really just can't thank enough. And as you look back at your life, there are just a million different things that have happened, just in the right way, to allow you to make your dreams come true. And you know, someone has all that under control.