Falling Into The Bible, Part 2: Mary's Well
Eva Marie Everson

Author & Speaker

2002

2 Oct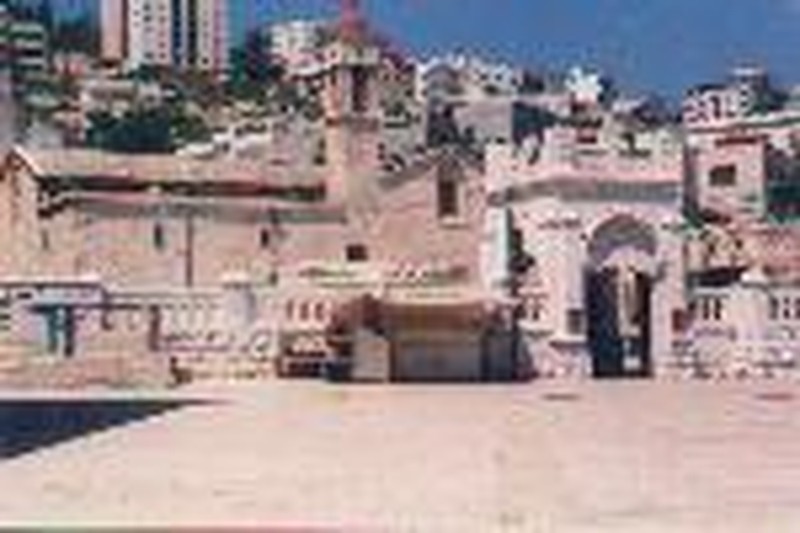 Editor's Note: In June 2002, author Eva Marie Everson toured the Holy Land as a journalist and photojournalist. For eight weeks Crosswalk.com will feature articles taken from her journal, as a Christian who "fell into the Bible."  Use them in your own study time or as a group, focusing on what the Bible says and what it means. Then, using the reflections at the end, think about what it means to you personally.
We were on our way to Nazareth, to a place called Mary's Well located at the northern end of Rehov Masqobia.  As our van wound along the curving roads and up along the rolling drives, I gazed out the window at the modern architecture and tried to remind myself this place had once been the boyhood home of Jesus.  It wasn't computing...and then we came to a stop and our tour guide said, "This is Mary's Well."  And just like that, I was transported to another time and a very different lifestyle.

Water is a vital part of my daily life, but fetching it isn't.  I get up in the morning, turn on the faucet in the bathroom sink and brush my teeth. I then pad into the kitchen, pour water into the coffeemaker and voila! Coffee.  During the day I shower in water, drink water, cook with water, saturate my lawn with water, and never give it a second thought.  Once a month my husband and I pay the water bill, but even that's not bad enough to make me ponder over the source of it.


But in Mary's day, a young girl or woman had to go to the town's water supply -- a well -- to draw water for the use of her family and for herself.  While we were in Hazor, we climbed into one such well, treading carefully down narrow steps that led nearly 135 feet into the earth.  Climbing down wasn't such a chore.  Climbing up was another story. 
"Now imagine doing this while carrying jugs of water," our tour guide, author Miriam Feinberg Vamosh (Daily Life At The Time Of Jesus, Concordia Publishing 2001) commented. I couldn't. I was too busy working at catching my breath.
Biblical History
The Hebrew word for well is "beer" and is the forename of places like Beersheba (Beer'Sheva) where Abraham's Well is located.  Many of the ancient wells found in the Holy Land were dug from limestone and oftentimes had steps that led into them. Some were supplied by springs. Women and young girls went to the wells to draw water typically in the early hours of the day, in order to have water to prepare bread that would be taken out into the fields. 

"The girls would have to be physically strong, in order to lift the skins or jars that were quite large," reports Miriam. "They would also have to be aware of their surroundings, especially if the well or spring were outside of the town, in order to protect their property and themselves from marauders and mischief-makers."

For centuries there was only one well in Nazareth.  During the period in which Mary lived there as a young girl and later as the wife and mother, she would have walked to this well daily, never dreaming, surely, that one day it would carry her name as a memorial.

According to tradition, Mary had gone to the well when the angel Gabriel visited her. "In the sixth month, God sent the angel Gabriel to Nazareth, a town in Galilee, to a virgin pledged to be married to a man named Joseph, a descendant of David. The virgin's name was Mary. The angel went to her and said, 'Greetings, you who are highly favored! The Lord is with you.' Mary was greatly troubled at his words and wondered what kind of greeting this might be. But the angel said to her, 'Do not be afraid, Mary, you have found favor with God. You will be with child and give birth to a son, and you are to give him the name Jesus. He will be great and will be called the Son of the Most High. The Lord God will give him the throne of his father David, and he will reign over the house of Jacob forever; his kingdom will never end.'" (Luke 1:26-33 NIV)
Of course the Bible doesn't tell us where Mary was when she received the news, but the traditional story of Mary's Well is generally accepted.  Scholars can argue about location, but they must agree this well was the only source of water during those days.


There are several biblical stories of women who went to wells to draw water and had life-altering experiences.  Rebekah's trip led to her marriage to Isaac (Genesis 24).  The Samaritan woman (John 4) came at an unusual time of day (noon, when fewer people would be present) and ended up confronting the Messiah.


According to the story, Jesus, who was resting at the well, asked the woman for water.  Because He was Jewish and she was Samaritan (bitter enemies), the woman questioned His request.  We can imagine the crinkle around His eyes as He said to her, "If you knew the gift of God and who it is that asks you for a drink, you would have asked him and he would have given you living water." (John 4:10 NIV)  Before their conversation had come to an end, He explained to her:


"Everyone who drinks this water will be thirsty again, but whoever drinks the water I give him will never thirst. Indeed, the water I give him will become in him a spring of water welling up to eternal life." (John 4:13,14 -- NIV)
Coming to the well for these two women meant life would never be the same.
Falling In
Today in a catacomb of an elaborate church known as St. Gabriel's Greek Orthodox Church of the Annunciation, a first century spring of water continues to flow.  One can walk from the square where Mary's Well stands, through the Grotto of St. Gabriel's and into the cool sanctuary of the church.  The architecture is rich and dark.  It's easy to feel transported within these hallowed walls and to imagine a young virgin coming to this very area to fetch water for her family.  But is it accurate?


Few viewers of Franco Zeffirelli's "Jesus of Nazareth" can forget the picture actress Olivia Hussey made in her portrayal of Mary the mother of Jesus.  Early in the epic film, the young Mary, sleeping soundly in her modest bedroom, is startled awake by the angel Gabriel.  She grips the sheets in her tiny fists as her hair cascades over her slender shoulders and her lips and eyes form a look of anxiousness.


Over the years many have held such a vision of the annunciation, that little sneak preview Gabriel gave to the virgin betrothed to a carpenter named Joseph, letting her know life would never be the same.  Tradition, on the other hand, gives us the story of Mary at the well.

If tradition is truth-and I have to admit to having my senses tantalized by such a story-then Mary came for water that would not satisfy and left knowing she'd be the mother of the One who'd one day say He was Living Water.


The question for me is not whether or not Mary was at the well or asleep in her bed.  The question for me is whether or not I look for God's purpose and plan for my life in the every day activities that I do. 

An additional question is whether or not I spiritually protect myself from my "enemy," that age-old mischief-maker himself, Satan.


Jesus has beckoned us to come, to drink, to be satisfied. Not because it's a daily chore, but because it's a daily desire.  Each day, as we seek to know God more intimately -- to reach His heart, even -- we draw from the well of His Word; we drink from His sustaining presence in prayer.


You never know whom you might meet when you come to the water.

And this is part of what I learned when I fell into the Bible.
Eva Marie Everson is the author of Shadow of Dreams & Summon the Shadows.  She is an award-winning national speaker and can be contacted at Bridegroomsbride@aol.com