Give...and You Will Receive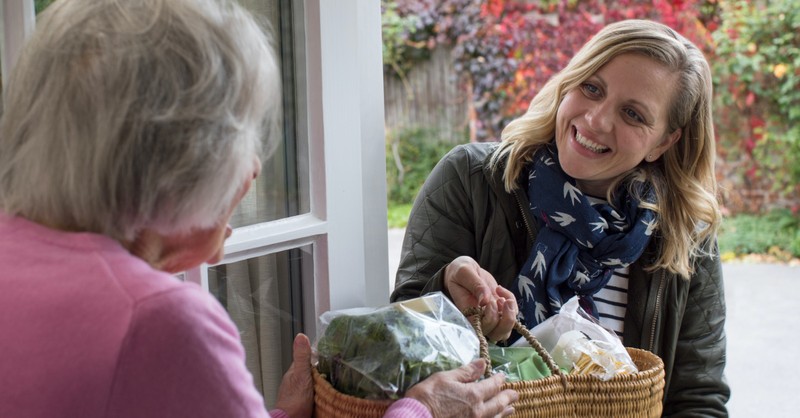 Give, and it will be given to you. A good measure, pressed down, shaken together and running over, will be poured into your lap. For with the measure you use, it will be measured to you (Luke 6:38, NIV).
My requirements for a car are simple and few. It has to run, have both heat and air, and that's about it. We have bought many used cars and have even been given a few cars over the years. We drive them until they die. And then God provides another car.
A few years ago, the car I was driving died. Since it was the beginning of summer and Dan was scheduled to have a month's sabbatical in addition to his month of study and vacation time, we decided to wait on making a car decision. We could make it a few months with one car. I had one last speaking event to do for a friend, but since it was within driving distance, we decided to combine it with a trip to Texas to visit family. It was one of those events the Lord told me to do for free. My friend was starting a women's ministry in her small church in a small Kansas town, and I really wanted to encourage her in any way that I could. The plan was simple – or so I thought.
Dan and I would drive his truck to Wichita, Kansas, and fly to Texas to visit family for several days. We would then fly back to Wichita, grab his truck, drive to Greensburg for my event and then drive home. Simple – right? Not so much.
When we arrived at the Dallas airport for our trip back to Kansas, we discovered that our flights to Wichita were booked for 10:00 pm instead of 10:00 am. Now, you need to know that my husband has booked literally hundreds of flights over the years and has never made that mistake – I mean not even once. Since I had to be in Greensburg that night, we rented a car and drove to Wichita where we returned the rental car and climbed in Dan's truck.
About an hour down the road, the air in Dan's truck went out. It was a hot summer's day, so the temperature in Dan's truck began to climb. When it reached 92 degrees, I began to boil.
I am already calculating how much this "free" event is costing. I have severe back problems. We had already stopped twice between Dallas and Wichita to buy giant bags of frozen peas. They really do work well as ice packs. So, my back is killing me, I am sweating like crazy, and well…let's just say that I am not a happy camper at this point of our trip.
We found an auto parts store in a small town and decided to see if they could help us. It was 4:50 pm on Friday afternoon. The store owner came out, raised the truck hood, shook his head, and said, "Freon is not gonna fix that!" Evidently, some belt had shredded, which meant some rocker arm had frozen. As I said, cars are not my "thing." With a smile, he said, "Pull her around back, and we will see what we can do." I thought he couldn't do much. The store was about the size of my kitchen and sat in the middle of nowhere. I am such a giant of faith – right?
But I did manage to let out a desperate prayer, "Lord, please send angels with the parts we need!" Only a few minutes had passed before the store owner came walking toward us with a grin on his face. As he blew the dust off of two boxes, he said, "Well, what do you know? I do have those parts."
God Always Comes Through!
And then the whispers of the enemy also came through. I could only imagine how much the parts and labor would cost. The expenses for this "free" event continued to add up--a rental car, two giant bags of peas, and the repaired air conditioner on Dan's truck. When the parts were installed and we were ready to leave, the store owner handed Dan the bill. A look of surprise and shock covered Dan's face. I couldn't bear to ask until we drove away.
"How much was it, honey?" I asked gingerly. Dan smiled and said, "About a fourth of what I expected it to cost." We drove in silence for a few minutes, basking in the perfect provision of God for every need of our lives, even when our faith is pitifully small. You just can't out-give God.
But that is not the end of this story! Despite a very shaky start, the weekend could not have gone any better. Dan and I finally made it to Greensburg for my speaking event and checked into our hotel only to discover that the air conditioning in our room did not work.
I. Did. Not. Care. I was so tired that I literally plopped on the bed and pleaded with my sweet husband to just deal with it. He did. I vaguely remember the maintenance man kicking the air conditioning unit in our room and the unit coming to life. Go, God! And God was all over the event from beginning to end. I totally forgot about my hurting back the minute I began to speak. Every time I gave an invitation, eternal decisions were made. I talked and prayed with woman after woman, all seeking God and His power to redeem, heal, and restore. It was an amazing day! I even managed to forget about the fact that this event had gouged an unexpected hole in our finances. I shakily chose to trust God.
The next day I spoke for the church where my friend's husband was the pastor. I noticed her look of concern when I hobbled in and assured her that I would be fine. I then turned to Dan and quietly pleaded, "Do you have a sermon in your pocket?" He smiled and said, "You've got this, honey." I did not care for his faith in me at that moment. But when I got up to speak, God did indeed come through again. It was a precious service.
Celebrating the Faithfulness of God
On the way home, Dan and I talked and laughed about the whole weekend--from the minute we stepped up to the airport counter to the air going out in his truck and that funny little auto parts store. We then celebrated all that God had done in the lives of the people who came to hear His Word and were forever changed.
"Oh, did you check your money pouch? I need to put your check for speaking today in it." Dan said. I had honestly not even thought about it. I had brought only a minimum number of resources and really did not expect much. And that was my problem - my pitiful expectations - my meager faith.
We serve a God who can do a whole lot than we expect Him to do. When I counted the money, I could not believe it. We had just enough to cover all of our expenses for the whole weekend! We partied all the way home!
The Circle of Giving
When we got home, pulled into our driveway, and opened the garage door, Dan said, "Uh, honey, I think you need to go in the garage."
Now that was strange. Dan had just told me to stay put while he unloaded the truck and opened the door. I had a frozen bag of peas that still had a little life left in it. But I got out of the truck and went into the garage. I stopped dead in my tracks. There sat a 2011 silver Honda Pilot. The car was in mint condition. The dealership papers said it had new tires, a new transmission, and a new timing belt. The car was a lease and had been perfectly maintained. And it had a third row that made the car big enough for all of our grandchildren.
The note on the windshield said it was a gift from the men in Dan's fireside group. Because he had given so much to them, they wanted to give me a car as a way of saying "thank you." Three months earlier, they had noticed the absence of my old car and asked Dan about it. That's all.
And now the note read, "It is unacceptable for our pastor's wife not to have a car. We want you to know how much we love you." And there were no names except for the one man who had to get the title for the car. I had no idea who to thank. Oh, but I did. My Father had worked through the willing hearts of some precious men to meet a need in my life. So, I named the car Gracie. And every time I get behind the wheel of Gracie, I am reminded that no matter how hard we try, we simply cannot out-give God.
I want to live my life with open hands, dusty feet, calloused knees, and rolled-up sleeves. I want to be a generous giver. I may not have much money, but I can give what I have. I can give my time and energy, my love and concern, a listening ear, and a caring heart. I can give my life.
The Antidote for Selfishness
And now, brothers and sisters, we want you to know about the grace that God has given the Macedonian churches. In the midst of a very severe trial, their overflowing joy and their extreme poverty welled up in rich generosity. For I testify that they gave as much as they were able, and even beyond their ability. Entirely on their own, they urgently pleaded with us for the privilege of sharing in this service to the Lord's people. And they exceeded our expectations: They gave themselves first of all to the Lord, and then by the will of God also to us (2 Corinthians 8:1-5, NIV).
My husband is a surrendered giver. I struggle with giving. I tend to blame my reluctance to give on the fact that I grew up in a shack on the edge of town. My mother often worked two and three jobs a day just to put food on the table. My husband, on the other hand, grew up in a middle-class family, lived in a very nice house in a beautiful neighborhood, and never had to worry about having his needs met. You can see where my rationalizations took me. Yep - to a place of sin.
God wants us to surrender everything we have to Him because giving is the antidote to selfishness. I can choose to be selfish or selfless. But I need to live in a way that searches for opportunities to be generous. Over the years, Dan has taught me so much about what it means to be a surrendered giver.
We need to look for opportunities to give. Love gives. For God so loved the world that He--gave! A surrendered giver gives out of gratitude for what God has done in his life and is willing to stretch and develop a generosity reflex when presented with a need. The reality is that if my checkbook does not reflect my faith, I have an immature faith. God does not need my money. He wants me to give so He can bless me!
How about you? What kind of giver are you?
Photo credit: ©Getty Images/Daisy
Mary Southerland is also the Co-founder of Girlfriends in God, a conference and devotion ministry for women. Mary's books include, Hope in the Midst of Depression, Sandpaper People, Escaping the Stress Trap, Experiencing God's Power in Your Ministry, 10-Day Trust Adventure, You Make Me So Angry, How to Study the Bible, Fit for Life, Joy for the Journey, and Life Is So Daily. Mary relishes her ministry as a wife, a mother to their two children, Jered and Danna, and Mimi to her six grandchildren – Jaydan, Lelia, Justus, Hudson, Mo, and Nori.
LISTEN: Being Complete in Jesus (Understanding Matthew 5:21-48)
Hearing Jesus is a devotional journey through the gospels, where we explore the teachings of Jesus chapter by chapter. If you're seeking to live a life that reflects God's, this podcast is for you.
The views and opinions expressed in this podcast are those of the speakers and do not necessarily reflect the views or positions of Salem Web Network and Salem Media Group.
WATCH: 10 Sins Christians Downplay (and Why They're So Destructive)
Stock Footage & Music Courtesy of Soundstripe.com Thumbnail by Getty Images