Hamas and the Christian Community
Paul Dean

Pastor, Counselor, & Radio Host

2006

21 Feb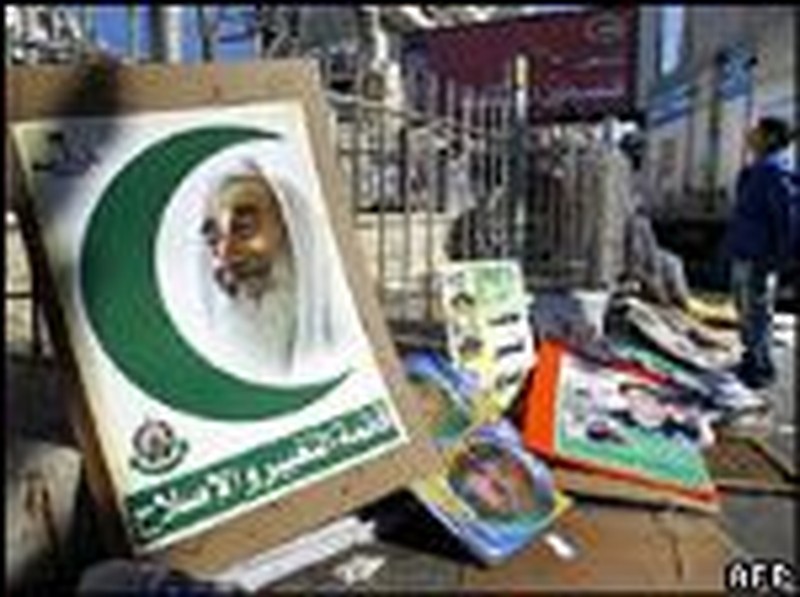 God has His people strategically placed all over the world. And yet, there are times when the situation becomes very bleak. In the midst of political turmoil in the Middle East, Geoffrey Smith has a reminder for us.

"Hamas -- a militant Islamic party -- won a landslide victory in the Palestinian elections [recently]. While Israel and the international community consider what policies to adopt in response, little attention has been given to the likely impact on the Christian community -- a small minority in the West Bank and Gaza. Bethlehem has the largest Christian community in the West Bank. Already this has shrunk as families under pressure leave for the greater opportunities and freedoms of America and Europe."

In light of Smith's reminder that Christians are in harm's way, we must be reminded that Christians do indeed have the option to leave. Our Lord Jesus Christ warned us that persecution would come. While Christians may respond in different ways, He did say this: "When they persecute you in this city, flee to another. For assuredly, I say to you, you will not have gone through the cities of Israel before the Son of Man comes (Matt. 10:23)." Sadly, some families will have to be uprooted and start over in another place. Such is the sin sick world in which we live.

And yet, another question comes to the fore. "What effect will the Hamas victory have on those who remain, and on scattered Christians elsewhere in the Palestinian Authority?" No doubt exists that life will be difficult for those who stay in the region. Smith points out that "the draft constitution of a Palestinian State makes clear in article 5 that Islam shall be the official religion in Palestine. Article 7 determines that the principles of Islamic Shari'a shall be a major source of legislation. The weight given to these principles is likely to be very different under a militant and disciplined Islamic party than under the largely secular rule of Fatah."

Other questions arise in light of this massive shift in power. "How will this impact dress codes, pressure to wear the Islamic veil, pressure on property-holding by Christians, restriction on trading licenses for Christians and pressure on Christian girls to marry Muslims? Already there is talk of compulsion on women to wear the veil, and extra taxes on non-Moslems. Will these social forces increase the rate of emigration so that Bethlehem ceases to have any significant Christian presence?"

Smith goes on to note that among other questions, "underlying all this is a basic question: How does the New Testament instruction of St. Paul to obey the ruling authorities apply to Christians under militant Islamic rule? Worldwide, over 50 million Christians live in countries under Muslim majority rule."

In light of these serious issues, those who remain will indeed have to submit to the ruling authorities: even to militant Islamic rule. When Paul wrote to the church at Rome and told them to submit to the state, he was referring to a persecuting state exemplified in Nero, among others, and his maniacal atrocities. At that time until the fourth century, Christians were brutally persecuted by the Roman government.

In the Romans text, we are given reasons to submit to such. We must submit to the state because God Himself ordained the state (1-3), it is for our sanctification (4a), wrath comes if we don't (4b), and conscience before God demands it (5-7). Paul is sending the message to believers everywhere that we are not here to overthrow the state. The Lord's kingdom is not of this world (Jn. 18:36). But, perhaps more importantly, Paul is more concerned with our humble submission to God and our powerful witness to the world than he is with our civil liberties. What a witness Christians may have as they humbly submit to such a violent group of people.

Of course, the Scriptures are clear that if the state asks Christians to sin against God in some way, then they must not submit to the state in such a case. We are to obey God rather than men (Acts 5:29).

And yet, this issue becomes all the more serious when one considers the nature of Islam and its goals. "Islam is a strongly territorialist religion. It claims that all areas of the Middle East were under Islamic rule and therefore must return to Islamic control. In Iraq the small Christian minority face difficult times -- there were a series of bomb explosions outside churches last week. Iran is 99% Muslim. President Ahmadinejad reportedly instructed his 30 provincial governors that Christianity should be destroyed. Last week he met with Palestinian militants in Syria where the Higher Command of Hamas is based. Will similar anti-Christian policies apply in the Palestinian territory?"

No doubt God will call some Christians to flee in the face of persecution. Those who remain must submit to the state unless asked to sin. And, while there is biblical rationale for self-defense, God will call some to be martyred for the faith. How their blood must be followed by our prayers if we are to see further bloodshed cease and the gospel advanced. Let us not fail in our responsibility as we witness the sacrifice of their faith. Let us pray that the faithful there will be able to say with the apostle Paul: "But I want you to know, brethren, that the things which happened to me have actually turned out for the furtherance of the gospel, so that it has become evident to the whole palace guard, and to all the rest, that my chains are in Christ; and most of the brethren in the Lord, having become confident by my chains, are much more bold to speak the word without fear (Phil. 1:12-14)." May God make it so! May more Christians invade that territory, not with guns, but with the gospel that Palestinians might glorify Christ for His mercy!

Smith also noted that "local Christian communities and governments need our prayers more than ever to retain a clear moral compass." No doubt he is right. Of course, it may be that Hamas will go along to get along in some sense with regard to the international community in light of their new standing and position. But, even in our own country we can see plainly that Christ-haters will not sit still long. Christians are increasingly in trouble all over the world. And so it is no trouble for us to remind ourselves one more time in this regard: let us take Smith's advice and pray for our brothers and sisters in chains and for those who could be in chains. Let us pray God delivers them from their troubles and that by grace, He in turn troubles the souls of many in the Middle East that they might see their true need and fly to Christ.
Sign up free for "Christian News and Views," a weekly e-mail newsletter highlighting relevant news stories affecting Christians. An editorial by Dr. Dean is included as well as a link to his comments on selected stories. The e-newsletter goes out each Friday and is sponsored by "Calling for Truth," a daily, live, call-in radio program co-hosted by Dr. Dean and Kevin Boling. Simply e-mail us at pauldeanjr@juno.com to receive your first issue this Friday. To listen live to "Calling for Truth" each day from 1:00 pm to 2:00 pm eastern time, go to  www.christiantalk660.com and click on the "Listen Online" button.