Heaven: Everything Old Is New Again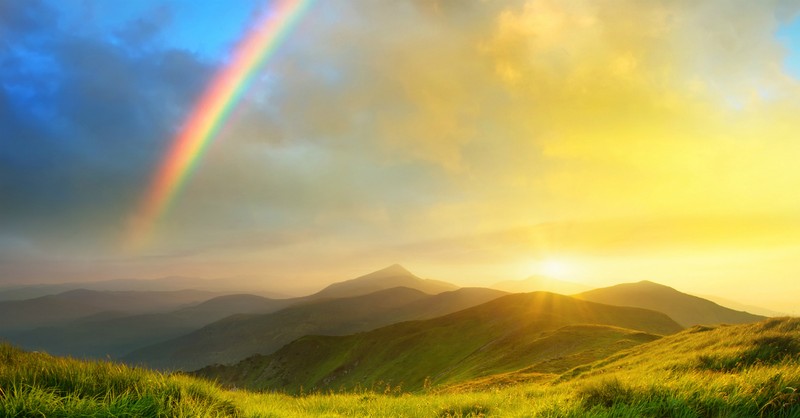 It's hard to see things grow old. The town in which I grew up is growing old. I was there recently. Some of the buildings are boarded up. Some of the houses are torn down. Some of my teachers are retired; some are buried. The old movie house where I took my dates has "For Sale" on the marquee, long since outdated by the newer theaters that give you eight choices. The only visitors to the drive-in theater are tumbleweeds and rodents. Memories of first dates and senior proms are weather-worn by the endless rain of years. High school sweethearts are divorced. A cheerleader died of an aneurysm. Our fastest halfback is buried only a few plots from my own father.
I wish I could make it all new again. I wish I could blow the dust off the streets. I wish I could walk through the familiar neighborhood, and wave at the familiar faces, and pet the familiar dogs, and hit one more home run in the Little League park. I wish I could walk down Main Street and call out the merchants that have retired and open the doors that have been boarded up. I wish I could make everything new ... but I can't.
The house that seemed so big when I was a boy now feels tiny. On the wall are pictures of Mom in her youth--her hair autumn-brown, her face irresistibly beautiful. I see her now--still vivacious, but with wrinkles, graying hair, slower step. Would that I could wave the wand and make everything new again. Would that I could put her once again in the strong embrace of the high-plains cowboy she loved and buried. Would that I could stretch out the wrinkles and take off the bifocals and restore the spring to her step. Would that I could make everything new ... but I can't.
I can't. But God can. "He restores my soul," wrote the shepherd (Psalm 23:3). He doesn't reform; he restores. He doesn't camouflage the old; he restores the new. The Master Builder will pull out the original plan and restore it. He will restore the vigor. He will restore the energy. He will restore the hope. He will restore the soul.
When you see how this world grows stooped and weary and then read of a home where everything is made new, tell me, doesn't that make you want to go home?
What would you give in exchange for a home like that? Would you really rather have a few possessions on earth than eternal possessions in heaven? Would you really choose a life of slavery to passion over a life of freedom? Would you honestly give up all of your heavenly mansions for a second-rate sleazy motel on earth?
"Great," Jesus said, "is your reward in heaven." He must have smiled when he said that line. His eyes must have danced, and his hand must have pointed skyward.
For he should know. It was his idea. It was his home.
From The Applause of Heaven; Copyright 1999 Max Lucado
Click Here to purchase The Applause of Heaven.
Photo credit: ©GettyImages/Biletskiy Evgeniy