How Do I Believe God Is Good When Life Feels So Painful?
Leah Lively

Crosswalk.com Contributing Writer

2019

24 Oct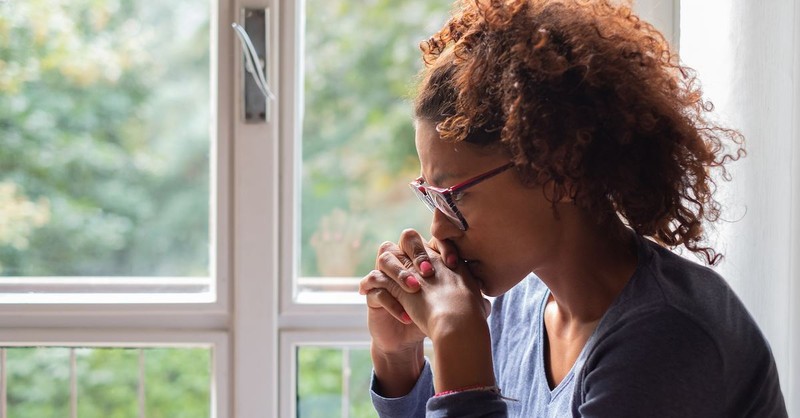 The weight of the question shook me. "How do I really know God is good?" a friend's child asked her. He had just come home from Vacation Bible School where he was asked to complete a craft that involved arranging letters to form "God Is Good."
He pondered the phrase and decided against it. Not because he was being stubborn or disrespectful, but simply because until he believed this truth, he didn't want to state it.
When a child has experienced the death of a sibling or the pain of a diagnosis; or a parent has tragically lost her baby or felt crushed beneath the weight of a new chronic illness, how can anyone definitively say, "God is Good?"
It's a concept many adults wrestle with, and it can be especially hard to explain to our children. Even if you've been a believer most of your life, and you've experienced the goodness of God, it's challenging to see His goodness in the midst of pain.
Here are three truths to help us understand the goodness of God when life is painful:
1. God revealed Himself in flesh for a time, but He is not human.
In our human minds, we want to bring God down to our level. We tend to think of him just like us: human. God sent Jesus to Earth to reveal himself in human form, but God is still God; a heavenly being comprised as spirit, flesh, and holy.
John 1:3 CSB says, "All things were created through him, and apart from him not one thing was created that has been created." Although humankind is highly intelligent, nothing compares to an all-knowing God. We are simply not on his level.     
Since God is not human in the same way you and I are, we cannot say that God is or isn't good because ________. I can say my dog is 'good' because she obeys my commands, or my child is being good when she is respectful to her teacher. But God is not limited or definable in the ways we are as humans, so no action or inaction can alter his goodness.    
2. God sees every moment in the past, present, and future.
As humans, we remember parts of our past and pieces of the present but know none of the future. We only see what is in our immediate period of time. God's vision extends to every moment of time that has ever existed and has yet to exist.
While our pain isn't something we would say is good, God can see the goodness that will come. In the Bible, Paul writes "We can be so sure that every detail in our lives of love for God is worked into something good." Romans 8:28, The Message
Several years ago, another friend lost her baby boy after only four short days. An uncomplicated pregnancy turned into a challenging birth and tragic diagnosis. In the weeks following the funeral, friends and family stood back and watched our beloved friend walk through her grief and wrestle with the goodness of God over many months.
Through her healing she felt led to begin volunteering at a local pregnancy center. She has since become a trained counselor and advocate for women who have nowhere to turn when an unwanted pregnancy occurs.
Through the death of her own son, her life's work is now to minister to mothers who have suffered reproductive loss or the shock of a pregnancy, as well as save the lives of countless infants. She has seen the goodness of God through the babies and women who have found hope and healing.       
3. When you believe God is good, you can look forward to the good beyond the pain.
The more you get to know God, the more you can see evidence of His goodness. Believing God is good, especially during painful times, can equip you to be hopeful for the good to come.
A few years ago, a new job moved my family of six 16 hours south to Louisiana. We left our dream home, in our beautiful town, with 15 years of friends, and family within a couple hours away. We were moving from comfortably known to anxiously unknown.
I had experienced the goodness of God many times in my life, but this was a moment that I was desperate to see it. Our family was grieving the loss of our familiarity and I needed hope that He was there in the middle of our pain.
I asked God to open my eyes to His goodness. And you can do this, too. In the midst of any challenge.
When you want to see Him working, and to know without a doubt that He is there, ask Him in prayer. No matter how small or mysterious of a way He chooses, ask God to let you see how He "shows up" in the chaos. Then trust that He will.
Shortly before our arrival, the city was engulfed in a violent attack on its police force. People were killed and a community grieved. Fear and worry gripped me as I wondered why God would bring us to such a scary place. I trusted in God's goodness and continued to pray for open eyes. 
A week after our arrival, our area was hit with the worst flooding they had seen since Hurricane Katrina. A tropical depression delivered two days of a constant downpour of rain into our already saturated ground. Watching the news in horror, I again begged God to see some good in our devastation. 
Despite the floodwaters, a community came together rescuing one another, giving to one another, and providing food. People reached out to help their neighbors of all ages, races, and backgrounds. Friends from all over the country shipped items to our home to share with flood victims. Our children became involved in flood relief as they sorted and distributed supplies for flooded schools. 
Although our time in the bayou was short, we experienced more of God's goodness than we have ever before. We were blessed with new experiences and precious friendships. Seeing evidence of God's goodness didn't make Him good, we believed He was already good. We knew in His goodness he would show us his good nature.
When we had to return to our home state as the result of job loss, we were confident that our good God would continue to demonstrate His goodness as we figured out where to move and what to do.   
Believing God is good takes faith. We have to trust in God's sovereignty. When you struggle with believing (as we all are prone to), you can ask him to help you know He is Good: "God open my eyes to see you working, and your goodness through this pain." 
You may not see it immediately, but trust that He will show you, in His time. He is God; knowing all past, present, and future. And you can choose to rest in that truth.
---

Leah Lively is a wife and mother of four living in central Virginia. She is passionate about encouraging others in learning more about the Bible and maturing in their faith. Leah writes on her blog at leahlivelyblog.com and just published her first Bible study in May 2019, "30 Days with John: A Journey with Jesus' Most Beloved Disciple."
Photo Credit: ©GettyImages/tommaso79