How Is Spiritual Growth Like Gardening?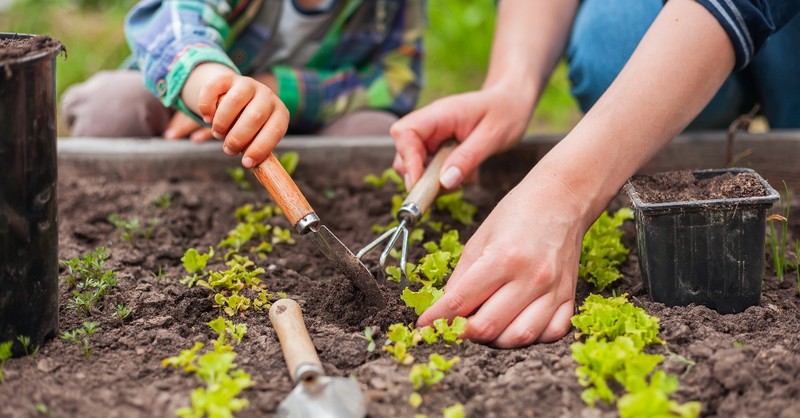 Brought to you by
As spring blossoms with new life, gardeners set to work outside. Preparing the soil, sowing the seed, transplanting seedlings, pulling weeds, and pruning plants are all essential parts of growing vegetables, flowers, or fruit.
While there is labor involved in growing plants, there is also great delight in seeing them bloom in fruition. For example, I remember the joy I felt when the Zinnia seeds I carefully planted in my garden grew and blossomed in a variety of vibrant colors.
Scripture often uses the examples of growing and bearing fruit when discussing spiritual growth. As we grow up from mere "seedlings" in the faith to mature, ripened believers, we eventually "bear fruit" for our Savior.
Just as a gardener finds delight in his garden, so also does the Lord find pleasure in His children growing and reflecting His Son. When considering the act of gardening in relation to spiritual growth, we need to remember that God is the One who transforms and matures us.
Only by staying within the True Vine, Jesus, can we ever hope to blossom and bear fruit. However, we also have a part to play in our spiritual growth by obeying the Lord and submitting to the transformative power of His Word.
Good Soil Is Essential for Growth
The imagery of sowing seeds, planting, and reaping a harvest is mentioned numerous times in the Bible. In the Parable of the Sower, Jesus explains what it looks like when people receive the Word of God and understands it.
Using the example of seed scattered on the ground, He tells of how:
"A farmer went out to sow his seed. As he was scattering the seed, some fell along the path, and the birds came and ate it up. Some fell on rocky places, where it did not have much soil. It sprang up quickly, because the soil was shallow. But when the sun came up, the plants were scorched, and they withered because they had no root. Other seed fell among thorns, which grew up and choked the plants. Still other seed fell on good soil, where it produced a crop — a hundred, sixty or thirty times what was sown" (Matthew 13:3-8).
Most Christians want to be like the "good soil" in Jesus' parable, which produced a multiplying crop for the farmer. We do not want to be like the plants that were scorched in the sun or choked by weeds.
However, we may wonder how we can be like the "good soil" in the parable. Jesus explained that the "good soil" refers to those "who truly hear and understand God's word and produce a harvest" (Matthew 13:23, NLT).
We can cultivate this ability to "truly hear" by taking the time to listen carefully to God through the Bible. If we humbly come to Him with the desire for fruitfulness, the Holy Spirit will help us listen and understand what we read. A teachable, humble attitude is essential for spiritual growth.
We Must Stay Connected to the True Vine
Even when we start to practice listening to God by reading His Word, we still may have questions about how we are going to bear fruit for Christ. Jesus shows us how to live a fruitful life when He again uses a plant example.
He described Himself as the True Vine and that by staying or abiding in Him, we can bear fruit (John 15:1-4). Just as a branch must stay connected to the life-giving vine, so also do we need to stay connected to Jesus if we want to live a fruitful life. As He said, "Apart from me you can do nothing" (John 15:5).
Our relationship with Jesus is what gives us spiritual, eternal life. Only because of His death and resurrection are we able to be in the vine as a living branch. Without Him, we are only dead branches waiting to be burned.
Gratefully, if we know Him and have trusted in Him for salvation, then we know we are connected to the True Vine. He will work in us to produce fruit for His glory and pleasure.
Christ sent His disciples the Holy Spirit to enable them to carry out His plans for their lives (John 14:16; 16:7). We also receive the permanent, indwelling presence of the Holy Spirit when we trust in Jesus.
The Spirit then works in our lives to produce spiritual fruit. According to Galatians 5:22-23, the fruit of the Spirit "is love, joy, peace, forbearance, kindness, goodness, faithfulness, gentleness and self-control." Thus, Jesus has already given us everything we need to live a fruitful life.
We Need Pruning and Weeding
God uses specific events to help us grow and develop a stronger faith. One of the ways He does this is through challenging times, which act like a refiner's fire (1 Peter 1:6-7).
In gardening terms, this process is similar to pruning, where dead parts of plants are trimmed away to produce growth (John 15:2).
At times when we experience "pruning" in our lives, it is painful. The refining of our faith might last for short spurts or for longer timespans. However, God can work in our hardships and sufferings to accomplish His good purposes (Genesis 50:20; Romans 8:28).
Also, God will "weed" out sinful habits or specific areas in our lives that are hindering us from experiencing a deeper relationship with Him. The Holy Spirit convicts us of sin, urging us to ask for forgiveness for our wrongdoing (John 16:8; 1 John 1:9).
When we are attuned to the Spirit's work, we are more likely to submit to His weeding or uprooting work, which cultivates spiritual fruit in our lives.
What Is Our Part in Spiritual Growth?
God is the one who works in us to produce spiritual fruit. As Jerry Bridges states in his book The Fruitful Life, "Godly qualities are not something we can manufacture, take pride in, or lay claim to as self-generated."
We cannot make ourselves grow spiritually in our own strength. Only by the power of the Holy Spirit can we mature in the faith and produce spiritual fruit.
However, we do have a responsibility for our spiritual growth. Obedience and submission to God are essential to maturing in the faith. When we obey the Lord, we are demonstrating our love for Him (John 14:15).
Also, by obeying His Word and submitting ourselves to His work in our lives, we are allowing Him to transform us through His Word (Hebrews 4:12).
Hence, we can cultivate the fruits of the Spirit in our lives, even though we do not produce this work ourselves. As Colossians 3:12 teaches us, "Since God chose you to be the holy people he loves, you must clothe yourselves with tenderhearted mercy, kindness, humility, gentleness, and patience" (NLT).
By staying grounded in God's Word, spending time with Him in prayer, and seeking to glorify in all we do, we can do our part in cultivating godly practices that God can use to produce fruitfulness and spiritual growth in our lives.
Spiritual Growth Takes Time
Just as seeds do not turn into plants or flowers overnight, spiritual growth is a process. From the moment we are saved to the moment we depart to be with Jesus, we will be growing in our faith.
At no specific point can we claim to have "arrived" at complete spiritual maturity, because even then, we will still need to pursue a deeper relationship with our Lord.
In thinking about maturing in our faith and living a fruitful life, we can be encouraged by the examples of fruit trees, vegetables, and flowers. Just as they bloom and bear fruit in season, so also will God work in us to bear spiritual fruit in His perfect timing.
Why Does This Matter?
There are many parallels between gardening and the process of spiritual growth and fruitfulness. God is the great Gardener who is currently cultivating growth in the lives of believers around the world. He is working in us so that we can live fruitful lives that are glorifying Him.
By cultivating a teachable attitude, obeying God's Word, staying close to the True Vine, and submitting to the Lord's pruning and weeding, we can grow in our faith. Our goal in maturing is to reflect Christ in our lives, which is only done by the power of the Holy Spirit (2 Corinthians 3:18).
Since Jesus often used the example of planting, harvesting, and pruning, these concrete examples can help us better understand the process of spiritual growth. Like the small, planted seed, our growth is slow and ongoing.
However, we must stay planted and rooted in the One who gives us life, or else we can do nothing of value. As plants begin to bloom in spring, may the growth of flowers, trees, and other plants encourage us to consider our own discipleship and spiritual growth.
For further reading:
What Is the Parable of the Sower?
Are Karma and 'Reap What You Sow' the Same Thing?
What Does the Bible Say about Growing Good Seeds?
Photo Credit: ©iStock/Getty Images Plus/perfectlab
---
Sophia Bricker is a freelance writer who enjoys researching and writing articles on biblical and theological topics. In addition to contributing articles about biblical questions as a contract writer, she has also written for Unlocked devotional. She holds a BA in Ministry, a MA in Ministry, and is currently pursuing an MFA in Creative Writing to develop her writing craft. As someone who is passionate about the Bible and faith in Jesus, her mission is to help others learn about Christ and glorify Him in her writing. When she isn't busy studying or writing, Sophia enjoys spending time with family, reading, drawing, and gardening.
LISTEN: Being Complete in Jesus (Understanding Matthew 5:21-48)
Hearing Jesus is a devotional journey through the gospels, where we explore the teachings of Jesus chapter by chapter. If you're seeking to live a life that reflects God's, this podcast is for you.
The views and opinions expressed in this podcast are those of the speakers and do not necessarily reflect the views or positions of Salem Web Network and Salem Media Group.
WATCH: 10 Sins Christians Downplay (and Why They're So Destructive)
Stock Footage & Music Courtesy of Soundstripe.com Thumbnail by Getty Images

This article originally appeared on Christianity.com. For more faith-building resources, visit
Christianity.com.