How Shall the Righteous Shall Live by Faith?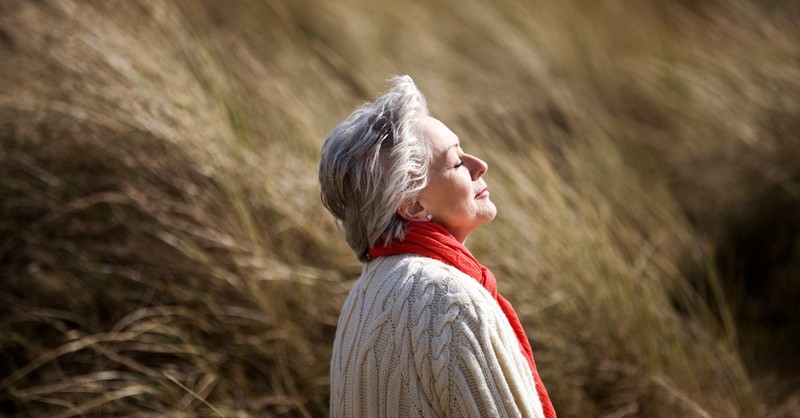 Think of Abraham — leaving his country, setting out for a distant land while not knowing how he would survive. He packed possessions, bundled up his family, and accounted for all the potential losses ahead — knowing that enemies would likely be in his path.
But he trusted in the voice of God, and he had great faith. This faith in Jesus was credited to him as righteousness, says the Scriptures. I imagine that Abraham had a forward-looking faith. I imagine that Abraham knew there used to be a day when God would walk with man in the cool of the day. And I imagine he trusted God for a reconciliation — for the restoration of that promise, that future hope of a living seed — a man, God-man (we know!) — who would come to save the world. So, I imagine that when Abraham left his home country, he felt as though he was part of that plan of the ages for people to be reconciled out of darkness and brought into God's marvelous light.
I love Jesus. I would have difficulty stepping out like Abraham, though I pray I would be willing.
Abraham looked forward to Christ; he had the child of the promise in his future line — many generations future. He truly trusted in Jesus. Now, I will seek to understand what only God can fully understand about how faith brings righteousness. I know that the Scriptures say we in new covenant times are righteous by faith in the sacrifice of Jesus. We are righteous by our faith in who He to us. This — His righteousness — is imputed to us as believers.
I can't fully comprehend this that the Scriptures say. For, it is so good. That Jesus would come this close to His people by faith — that His righteousness would be ours. But that is what He does! The first Adam failed in his representation of the human race. The second Adam — Jesus Christ — succeeded. Are you now so attracted to this kind Master as I am? To the good, loving Master who succeeded in obedience to the Father, who walked by "not my will but Yours"?
He purchased for us an eternal inheritance. Our righteousness cannot do it. Our righteousness cannot match His — ever. So, He offers us His own. We will always fall short of Him. And He will always live to intercede His righteousness for us before the Father.
This Christian walk is for daily faith. I love how this verse says we live: the righteous shall live by faith (Romans 1:17). And we do. Life is by faith. Righteousness is by faith, and life in the righteousness of Christ is good. We are sinners, and we are saints. We are pilgrims in this land, and we are seated, holy before God in the heavenly places (because our salvation is "as good as done" in Christ). We are being saved through conformity to Christ, and we are saved already.
As unintelligible as it sounds to sinners, this is what Jesus does — He simply gives us His perfect righteousness. Believe it. For He wants us to truly live, as unto Him.
God is ruler of all, and He has decided how His creation is to be run. He has decided that a wonderful life of faith is what Jesus desires from His children. Some may have remarkable faith, like Abraham; others may have simple, unremarkable — but truly pleasing to Jesus — faith to walk each and every day in the sphere of His goodness. His righteousness is credited to your account. Believe it, and believe Jesus.
Abraham was willing to move forward with faith in Jesus because that's what He heard the voice of Jesus saying and doing — calling him out for His salvific purposes. Do you hear the voice of Jesus like that? He wants worshipers of spirit and truth. He does, and He wants worshipers who for now hear His voice in their inner testimonies of His Holy Spirit. Will you welcome His leading of your life in your spirit, as this leading accords with the voice of Scripture — the God-breathed Scriptures that translate into our life-breath each day? We "hear" His voice in our inner testimonies, and as we seek Him, look to the Word, and seek godly counsel — He gives us peace about His directions for our lives even as He continually testifies to us that we are His children.
Jesus honors us as we walk and step out in faith before Him. As we take our personal times with Him, so sweetly hearing His voice of truth in our hearts and being led in our spirits, we bring heart and spirit to bear in our daily lives. Jesus is near, and He is leading us all to live lives of faith in a darkening world, according to the faith He has apportioned to each one of us. God has made us righteous by faith, and He increases our resolve to endure and persevere in faith as long as we keep stepping forward in the faith He has thus far given to us.
We do not want to be like the servant who gives his master no return. Not at all. We want to be like the virgins of the gospel parable with lamps prepared for their master's return. So, by faith, we press on. We don't allow the discouragements of our sin keep us from truly pressing on. Abraham was a failure — he lied about his wife, among other sins — but He also kept believing God. And look at how God honored him. God "believes" our faith as we walk in it, and as we confess our lack of it. We must simply walk with Him in honesty and trust that in Christ the breastplate of righteousness has truly descended upon us, over our very hearts to protect us.
Do you admire that faith of Abraham to step out? I do.
Do you admire the faith of Abraham to keep trusting in God, while knowing his own faults and failings — believing God would not leave him? I do.
We may trust in ourselves and our own solutions to get out of difficult circumstances. This is to transgress God's jurisdiction for us. Living by faith may cause us to find ourselves in some predicaments. But these are opportunities to see our faith grow, as we depend on the solutions of Jesus.
But when we transgress, Jesus is present to hear our repentance and is utterly faithful to plead His righteousness before the Father. Isn't God good? The psalms proclaim that God is good and does good always. So, how can we know that the faith we have in God for His righteousness to become ours is a good faith? Well, we see how He leads us by faith to good places where we can thrive and be fulfilled. He desires that we would bear much fruit in all righteousness. And this righteousness is produced by faith — a faith in the God whose character we admire and come to emulate in our days here. We, the righteous in Jesus, live by faith. We trust that it is this life of faith that does overcome the world.
More from this author
Hunger and Thirst after Righteousness in Relationships
Seeing Our Fairest Lord Jesus, the Person
What Is the Best Way to Help Each Other Rise?

Photo credit: ©Getty Images/FlairImages
Lianna Davis is author of Keeping the Faith: A Study in Jude and Made for a Different Land: Eternal Hope for Baby Loss. She and her husband, Tyler, live outside of Dallas, Texas and have two dear daughters.