How to Ask God for Forgiveness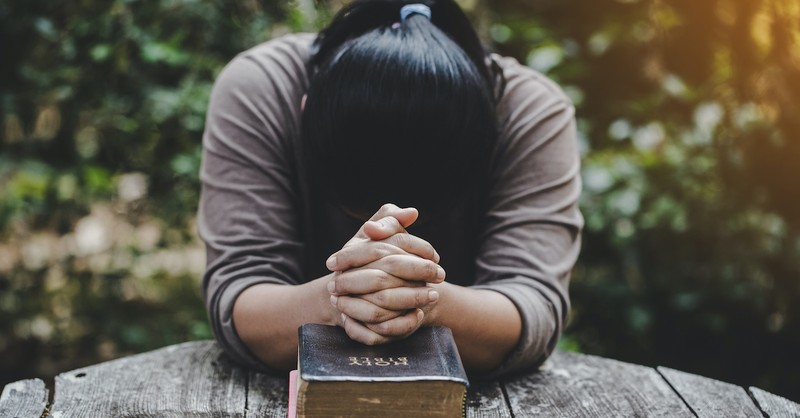 I have hurt and been hurt many times in my lifetime. Not only have others' actions affected me but in my own sin, I have wrestled with bitterness and shame—resulting in an unwillingness to forgive. My heart has been battered, bruised, left with marks of shame, regret, anxiety, and stains of sin. There have been many times where the sin and hurt I caused someone else left me in shame, and there have been many times where situations not of my own doing left me angry and bitter at God.
Neither of these emotions or choices on my part are healthy, and neither of them leads me to the abundant life that Jesus talks about in John 10:10: "The thief comes only to steal and kill and destroy. I came that they may have life and have it abundantly."
The thief comes to steal, kill, and destroy, but Jesus provides abundant life. The question is how? How do we receive this abundant life, and how do we usher out this bitter unrest, anger at God, and fruitless pain that is so prevalent in the midst of heartache?
How Does God Forgive Us?
God's forgiveness is the answer. You may already want to close out the tab on this article and move on, believing forgiveness to be too big of a burden— too much to bear— but I must ask you to hear me out. I do not write this article out of a place with a high and mighty heart. I struggled just yesterday to forgive someone who hurt me. I know full well the pain of being devastated and still needing to be forgiven and forgive. Forgiveness is not just something we must muster up the strength to give, but it is first given freely in order that we may be healed.
God Initiates Forgiveness from Beginning to End
When Adam and Eve were in the garden— the first humans created by God—they walked in perfect relationship with Him. There was no tears, no hard work, no struggle until the fall when they rejected God's rule. Immediately upon their disobedience, hurt and shame entered the world, and sin came in full force. Adam and Eve may have rejected their creator, but God remained faithful amidst their disobedience. One of the first acts by God recorded after the fall is one of forgiveness, as God made the first sacrifice to cover their sin, without them ever asking (Genesis 3:21). The forgiveness of God is never initiated by us, it is always first initiated by Him. God repaid our evil with His mercy. He provided grace upon grace, forgiving them for the first initial sin, and promising that one day, He would set all things right through the ultimate sacrifice and Savior, Jesus.
Jesus Forgives First and Finally
Our part in forgiveness is an act of obedience, but it is never ours to muster and initiate to begin with. God bore the weight of Adam and Eve's sin from the garden on, just as He bears the weight of our sin. Jesus, the Holy Son of God, was mocked, tempted, threatened, betrayed, doubted, whipped, and left to die alone upon a cross. He allowed Himself to be ridiculed and crucified, without justification. Jesus received what Adam and Eve deserved in the garden, and He received the full wrath of God as He took the penalty for our sin. The most painful act in human history came upon the Perfect man, pulling Him away from His Father for the sake of our forgiveness. As John 3:16 -18 says, this forgiveness is offered freely to all who believe:
"For God so loved the world that he gave his one and only Son, that whoever believes in him shall not perish but have eternal life. For God did not send his Son into the world to condemn the world, but to save the world through him. Whoever believes in him is not condemned, but whoever does not believe stands condemned already because they have not believed in the name of God's one and only Son."
Jesus both offers forgiveness freely through faith in the gospel, and in one sense, puts to death all that must be forgiven (Romans 5:12–21, Philippians 3:8–9, 2 Corinthians 5:19–21). Jesus, on the cross, did not just die for the singular sin or past sin that you wrestle with, but He offers forgiveness fully and finally as He rose from the grave defeating, sin, Satan, and death for good. His resurrection provides both the freedom to be forgiven and the abundant life that comes with it.
How Do We Receive God's Forgiveness?
There are no magic words we must say in order for God to forgive us. We simply receive God's mercy in humility by admitting we are sinners in need of His grace. In Luke 8:13 (AMP), Jesus gives us a picture of what praying for God's forgiveness looks like:
"But the tax collector, standing at a distance, would not even raise his eyes toward heaven, but was striking his chest [in humility and repentance], saying, 'God, be merciful and gracious to me, the [especially wicked] sinner [that I am]!'"
Receiving God's forgiveness begins with admitting our sin and asking for His grace. We do this in an act of saving faith, as we first believe in Jesus' life, death, and resurrection, and as a continued act of obedience in repentance. John 1:9 says:
"If we say we have no sin, we deceive ourselves, and the truth is not in us. If we confess our sins, he is faithful and just to forgive us our sins and to cleanse us from all unrighteousness."
Although we are forgiven and justified fully through belief in the gospel upon salvation, our sin does not miraculously leave us for good. We still wrestle with sin, and will until the day Jesus returns. Because of this 'almost, but not yet' timeframe that we live in, we must continue to bring our confession to Jesus and repent of all sin. Stephen Wellum, in his article, If All My Sins Are Forgiven, Why Must I Continue to Repent?, says it this way:
"We are always complete in Christ, yet we are also in real relationship with God. By analogy, in human relationships we know something of this truth. As a parent, I am in relationship with my five children. Because they are my family, they will never be cast out; the relationship is permanent. Yet if they sin against me, or I against them, our relationship is strained and needs to be restored. Our covenant relationship with God works in a similar way. This is how we can make sense of our full justification in Christ and Scripture's teaching that we need ongoing forgiveness. In asking God to forgive us, we add nothing to Christ's perfect work. Instead, we are reapplying what Christ has done for us as our covenant head and Redeemer."
To help our hearts not be puffed up by pride and self-righteousness we must continue to confess our sins and ask for forgiveness so that we may live in a restored relationship with God. Repentance of sin is for both the one-time sin and the repeated patterns of sin in our life. We must ask for forgiveness for a one-time lie, just as we ask for forgiveness for a continuing addiction. Both require our confession, and both require the same kind of repentance—giving up the life of sin, turning toward the cross, and believing that Jesus is better. We fight sin by being honest with our struggles, and we fight sin by confessing to God and others. We look to the cross admiring all that Jesus has done to forgive us, and we let that fuel our obedience in faith to Him.
God's Forgiveness Offers Life, and Life Abundantly
Through God's initiating, saving grace we receive a transformed abundant life. This means that we "have been crucified with Christ. It is no longer I who live, but Christ who lives in me. And the life I now live in the flesh I live by faith in the Son of God, who loved me and gave himself for me" (Galatians 2:20).
God's forgiveness calls us to "put off your old self, which belongs to your former manner of life and is corrupt through deceitful desires, and to be renewed in the spirit of your minds, and to put on the new self, created after the likeness of God in true righteousness and holiness" (Ephesians 4:22-24).
Through the gospel, we are now capable of forgiving others because Jesus has first forgiven us (Ephesians 4:32). Being forgiven by the risen Christ means we now have the power to fight the enemy's temptation (2 Corinthians 5:19-21). Receiving God's forgiveness by grace alone, through faith alone, in Christ alone offers us God's love, joy, peace, patience, kindness, goodness, gentleness, faithfulness, and self-control now and through eternity (John 5:24, Galatians 5:22-23). It is out of this renewed spirit that we continually seek to grow in God's grace and extend God's grace to others. God never leaves us alone to figure out forgiveness. He provides the means of forgiveness through His son for us and offers a transformed life that provides peace and understanding as we seek to forgive others also.
Photo credit: ©GettyImages/doidam10
Stephanie Englehart is a Seattle native, church planter's wife, mama, and lover of all things coffee, the great outdoors, and fine (easy to make) food. Stephanie is passionate about allowing God to use her honest thoughts and confessions to bring gospel application to life. You can read more of what she writes on the Ever Sing blog at stephaniemenglehart.com or follow her on Instagram: @stephaniemenglehart.
---
This article is part of our larger resource library of Christian practices and disciplines important to the Christian faith. From speaking in tongues to tithing & baptism, we want to provide easy to read and understand articles that answer your questions about Christian living.
10 Things to Know about Speaking in Tongues
The Fruit of the Spirit - What Are They?
What Is the Tithe?
What Is the Sabbath and Is it Still Important?
Baptism - What Does it Mean and Why Is it Important?
Communion - 10 Important Things to Remember
Armor of God - What Is it and How to Use It
What Does it Mean to Be Righteous?
What Is Christening?
What Is Submission?
Related podcast:
The views and opinions expressed in this podcast are those of the speakers and do not necessarily reflect the views or positions of Salem Web Network and Salem Media Group.
So when sin is not being confronted, or even viewed as sin at all, it's time to address it with the hope of gently helping to restore believers caught in its web.
Here are 10 sins that often go overlooked in Christian community.
Stock Footage & Music Courtesy of Soundstripe.com Thumbnail by Getty Images