How to Be Filled with (and Surrounded by) Biblical Hope
Robin Bertram

Author of Hidden Treasures: Finding Hope at the End of Life's Journey

2018

23 Aug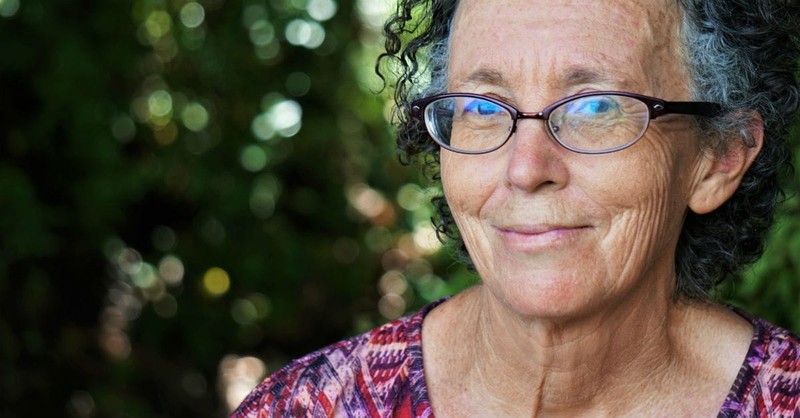 There is a tremendous beauty in the ability of a child to accept and hold on to truth when given the opportunity. I once worked with a young child who knew that when she closed her eyes here on earth, she would open her eyes in the presence of Jesus in heaven. Conversely, I distinctly remember sitting at the bedside of a pastor who was terrified at the process of death. What was the difference between these two individuals? In my mind and experience, the child didn't have the experience of doubt, while the adult had lots of practice. Wouldn't you love to live that way? Without doubt, I mean. We can live that way, but to do so we need to understand biblical hope.
Anne Graham Lotz once said, "If God can bring blessing from the broken body of Jesus and glory from something that's as obscene as the cross, He can bring blessing from my problems and my pain and my unanswered prayer. I just have to trust Him." Biblical hope is an unshakable expectation that something good is going to happen . . . even something good will come out of something that is bad. Biblical hoping is believing that God works all things together for good for those who are called according to His purposes. It's the belief that there is a future with and in Jesus regardless of circumstances. Worldly hope today is more like wishful thinking. Can you see the difference?
Where do you find hope when there is no hope to be found? How can you face daunting challenges when the doctor says, "There is nothing else we can do"? Do you turn to unconventional treatments? Do you go for the all-natural route: vitamins, supplements, or liquid diets? Do you seek out faith healers? Do you just give in and give up? After working with many sick and dying, as well as going through the possibility myself, I can tell you with all sincerity that only you can determine the path you will walk; not your spouse, not your children, not your pastor, and not even your doctor in many cases. You and you alone must decide.
People tend to heal quicker, stay longer, and accomplish important things that they want to accomplish before they leave this world when they stand in faith and have hope that at any point along the way, God can intervene and change things. Is that a pie-in-the-sky mentality? No, absolutely not. It is a healthy way to deal with the daily suffering and pain. The other option is to have no hope at all, which guarantees that the days will be long and difficult.
Martin Luther King Jr. said, "We must accept finite disappointment, but never lose infinite hope." Yes, things happen, even bad things, but we can have hope even in the midst of tragedy.
Finding Hope
Hope is an essential and fundamental element of Christianity. Our hope is a reflection of the trust we have in God and our confidence in His Word. The biblical definition of hope in noun form is "expectation," and it indicates what is sure or certain. In verb form, it is "expect with confidence." It does not carry the same meaning that we tend to use today. In other words, it's not wishful thinking but again is a confident expectation of what is certain.
Where is your expectation level right now? Can you hope for the promises written in the Holy Bible? Can you stretch your thinking and expect good to come in the midst of darkness? Here are a few suggestions that have helped me when I was struggling: stay away from naysayers, find hope in association with hope-filled friends, put your hope solely in Jesus, grow in hope through hearing the Word of God, and trust that God is in it with you.
Away with Naysayers
Have you ever had a friend or relative who calls you on the telephone just to complain about his or her life? It can be very draining. Or perhaps you've been around someone who always sees the glass half empty. There is never enough. Life is always bad. If you walk with naysayers, you will most likely become a naysayer. If you walk with people who always see the glass half empty, you, too, will see the glass half empty. If you associate with a positive, uplifting person, you will be more likely to be positive yourself. You become like those with whom you associate. This negative mind-set will strain even the most confident, fun-loving individual. Real-life associations matter. You may want to close the door on all those naysayers, those doubt-filled, weak-minded people who offer nothing but their sympathy.
When I faced the potential of a terminal illness, I literally felt like I was dying. I chose to tell just a limited few. I chose to confide in just a small group of friends and family. Clearly, I remember the day that I shared with a family member a good report from my doctor. Her response astounded me. She literally became angry and accused me of not telling the truth about my report. This woman should have shouted for joy. She should have praised God for a good report. She should have been elated. Needless to say, she showed her true nature and from that day on was excluded from my inner circle. Although I chose to forgive her, I needed to be surrounded with faith-filled, kind, loving people. Naysayers will cost you more than you will want to pay. Simply walk away.
Finding Hope in Hope-Filled People
There were times throughout the life of Christ where He carefully selected those who would surround Him. There is an account in the Bible where Jesus was asked to go to the home of Jairus, one of the rulers of the synagogue, because Jairus's little girl was sick. Not knowing his daughter had already died, Jairus fell at the feet of Jesus and begged Him to come and just lay His hands on his daughter "so that she will get well and live" (Mark 5:23). Here, we see hope in action. There was an expectation in Jairus's heart that through the laying of hands, Jesus Christ could heal her. Even after she died, Jesus showed that he could raise this little girl up from death to life.
You will find this remarkable account in Mark 5:21-43. Jesus saw the pain in Jairus's face. He understood the severity of the situation and did not make light of it. Jesus cleared the room. He told all the mourners to get out and allowed only His chosen few—the parents and several of His disciples—to stay. Jesus had great compassion and said, "'Do not be afraid . . . only believe'" (v. 36). We, too, have to build our faith—not on something but on someone, and that someone is Jesus Christ. Someone once said, "Give a dying man a Bible. It's the only book he will ever need." Why? Because truth is the road map to peace, love, joy, healing, and life eternal.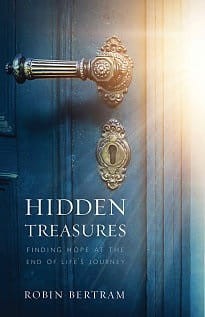 Robin Bertram is an ordained minister, a Christian speaker, and the executive producer and former host of the nationally and internationally syndicated television show, Freedom Today. She has been a leader of media leaders for 25 years and has placed several Christian programs onto the national and international stage. She is the author of No Regrets how loving deeply and living passionately can impact your legacy forever (Charisma House Publishing) and Hidden Treasures (Abingdon Press).
Excerpt from Hidden Treasures: Finding Hope at the End of Life's Journey
Copyright © 2018 by Abingdon Press. All rights reserved. Do not reprint without permission from the publisher.
Photo Credit: Unsplash/Anthony Metcalfe