How to Beat Summer Depression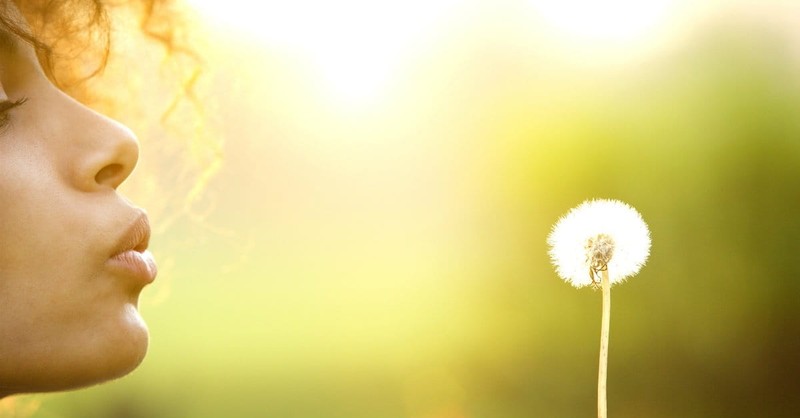 It was one of those days.
The kind of day where the bills pile up, the dishes taunt, and the phone won't stop ringing. Guilt trips tugged. Vacation seemed like a far-off hallucination. And the list of duties expanded into something no sane person could possibly finish in a mere twenty-four hours.
It shouldn't have been that kind of day.
The blue sky glowed. Flowers blinked in the sunshine. The breeze smelled so sweet. It should've been the kind of day where you take a picnic lunch outside. But I was stuck with a soul-sucking list, indoor chores, and a growing sense of hopelessness.
As with so many of those drag-you-down moments, I felt chained to my obligations. "If I don't do it, who will?" I sighed. So, I harrumphed through the exhausting, dream-crushing day, growing crankier with each task. By the time I headed out the door to the final, guilt-induced appointment I couldn't find a good excuse to skip, I was in rare Oscar the Grouch form.
I drove down the road, fussing at God, telling Him exactly what I thought of this stupid day, when mid-sentence the scene in front of me stopped my tirade short... 
Warm temperatures and a calendar that boasts "June" or "July" don't guarantee happy, carefree feelings. For many of us, summer is a change of pace, but not always a delightful one. With the kids home from school, there are more people to occupy and schedules to coordinate. Not to mention the expectation of perfect vacations and family trips. Add in the pressure of the good times and happy smiles everyone else seems to have (at least judging by the frequent social media updates), and depression can creep up on even the best of us. S.A.D. (Seasonal Affective Disorder) is not just a wintertime malady.
So how do you deal with a summer that's not as "sunny" as you'd hoped? What are you supposed to do with the duties that strangle, the expectations that taunt, and the guilt trips that threaten to take up permanent residence? How can you beat summertime depression?
As I drove down the road that day, fussing at God, telling Him exactly what I thought of my stupid day, my tirade fizzled mid-sentence.
A couple of cars ahead of me, a girl hung her arm out the window, hand bouncing in the breeze.
 My mind instantly transported me to the times I'd done the same thing: sun warm on my skin, the rush of wind wooshing past, the flying sensation as my arm lifted without my help, carried by the air currents. The sheer joy of that memory cracked my cranky face into a smile in spite of itself.
 Then God whispered, "That's the kind of life I want for you: an arm-out-the-window life."
"That much fun all the time, Lord? Is that even allowed?" I asked. "But, how do I even do that?"
He answered, "Get rid of the things in your life that don't feel joyful and free. Then with anything that's left and anything else you dream up . . . create that arm-out-the-window feeling every day!"
In that moment God, in His grace, was reminding me of what He desires for us most: freedom.  It's the reason He sent Jesus after all – so we could be free.
"For freedom Christ has set us free; stand firm therefore,
and do not submit again to a yoke of slavery"
(Galatians 5:1 ESV).
When we believe in Christ, we are freed from sin and we are freed to life. And not just a humdrum, blah, duty-filled life either, but abundant, life-giving life. The kind of life that makes you want to get out of bed in the morning and see what God has in store.
You know the quickest way to beat summer depression? Embrace your freedom! As God's beloved one, you are:
Free to Choose
What kind of summer would you like? When we're headed down the spiral toward depression, it's often because we're focused on what we don't want instead of what we do. Good news: You can choose to halt the "don't" story at any point! Just ask yourself, "What do I want?"
Give yourself permission to answer honestly. Do you want: space to breathe? a calmer vacation that doesn't include blowing the budget? more time with friends? a few minutes to be alone every day? Figure out what you want, then take a small step toward that desire today. Even small choices and small steps can brighten the quality of life right now.
Free to Enjoy
Even if circumstances are less than ideal: you're chained to a job you'd rather ditch, you don't have the money you'd like, your to-do list multiplies like overeager rabbits – you are surrounded by good things. The Giver of Good Gifts delights in filling your life with evidence of His love and grace.
What can you enjoy today: your favorite ice cream bar? the flowers in your front yard? a sunshine-filled walk in the park? a few minutes with a good book? Go find something small that's right at your fingertips. It doesn't matter if anyone else understands your fascination, go ahead and enjoy that thing fully. God loves to see you enjoying what delights you because He made you just as you are. And while you're there, don't forget to thank the One responsible for all of those little gifts too.
So, here's to a bunch of life-giving days in a row as you discover more ways to choose and enjoy. May the days accumulate into your very own arm-out-the-window life as you dive deeper into the freedom that God desires for you. And may that freedom thrill and inspire you all summer long!
Janna Wright adores crisp mountain air, deep talks, and chocolate peanut butter anything. Fascinated by good stories, she happily shares the inspirational, crazy, and hilarious ones alike (and has been known to giggle herself silly before a punch line on the funny ones). A Performance-Driven-Life survivor, Janna's passion is to see women of faith embrace their God-given identity and purpose and live their best adventure stories now. You can find grace, truth, and stories on her website, GraceThread, and in her upcoming book, Grace Changes Everything.
Publication date: July 8, 2016