How to 'Do it Scared' and Conquer Your Fears
David Sanford

Crosswalk.com Contributing Writer

Updated

Sep 30, 2019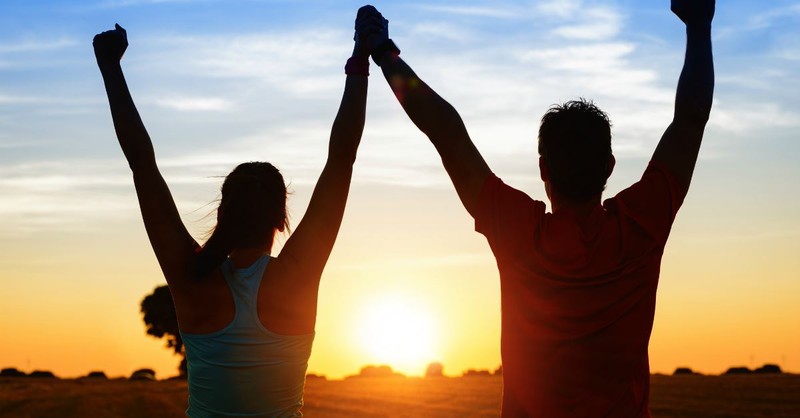 We all know what fear feels like. It feels terrible. It's the knot in our stomach. It's the squeeze of our throat. It's the sweat beading on us. It's the sudden pounding headache. It's the feeling we're about to throw up.
When fear grips us, we're hardwired for fight, flight, or freeze.
My good friend Mike knows all about the latter. At one point after he made a career change, I served as one of Mike's mentors. An unexpected disappointment hit Mike and he froze up.
Mike literally couldn't take the next necessary step to move his big project forward. That's often what happens when our hearts are gripped by one of five professional fears:
Fear of silence, sharing, selling, rejection/failure, and success.
I knew exactly what Mike needed to do next. Thanks to my mentoring, he already knew it too. Still, I made the mistake of thinking Mike could unfreeze on his own, but that didn't happen the first week. Or the second. Or the third. Finally, I picked up the phone and called his bluff.
"Mike?"
"Hey, David. What's up?"
"What's up?" I asked sarcastically.
"What's up?" I asked again even more sarcastically. I began critically questioning him in the areas he needed to wake up most. I was just warming up when Mike cut me off.
"Okay, okay," he yelled, half in shock and half laughing. "You can lay off. I promise: I'm unfrozen. I'll get back in action first thing tomorrow."
Contrary to what you might think, this approach also expresses the deepest degree of friendship, trust, and love.
Again, when fear grips us, we're hardwired for fight, flight, or freeze. We're also hardwired for one more response: focus.
And focus, it turns out, is what 'doing it scared' is all about.
To quote Ruth Soukup's publicist:
Do It Scared, by popular blogger and podcast host Ruth Soukup, is the essential handbook for anyone who has ever felt like she is sitting on the sidelines of her own life and is finally ready to jump in, dream big, and go after her goals.
What would you do if fear no longer stood in your way?
What would happen if you were no longer afraid to dive in, head first, and go after your dreams, instead of feeling like you were sitting on the sidelines of your own life?
What then?
We tell ourselves we are too busy to pursue our dreams. That there's no time, or that it's not practical. But what if the real reason we're putting off our goals is FEAR?
The fear that we're not good enough, not smart or talented or capable enough. It's the fear that others might laugh at us, or that we'll get hurt or be rejected, or that pursuing our true potential will simply be too hard.
And most of all, the fear that we'll fail.
But courage doesn't mean we are never afraid. True courage means taking action, despite the fear. True courage means doing it scared.
So, does 'doing it scared' work? Yes, for two very important reasons.
We're hardwired for fight, flight, or freeze (like my friend Mike). But…
We're also hardwired for one more response: focus.
In her book, Ruth Soukup shows you how to focus. She doesn't make the mistake of trying to get you to jump from fear straight to true courage. Instead, she bridges the gap with truths you and I need to read, hear, repeat, affirm, and keep affirming.
Is Do it Scared a Christian book? Yes. First—though it doesn't say how to become a Christian—it's written from a Christian worldview.
Second—though it doesn't quote chapter and verse—it encourages readers to embrace specific truths about how God made us, and how life does and doesn't work.
Third—after introducing her story a bit here and there—in Chapter 12 Ruth Soukup talks about some of her major mistakes and failures from ages 17 to 33. In Chapter 13 she goes on to say, "As a Christian, I believe we are called by God..." and declares some important truths. Then in Chapter 14 Ruth bears her soul. Her full story is both terrifying and transformational. After reading it, I felt a deep heart affirmation: Ruth is my beloved sister.
Ultimately, true courage embraces foundational truths found in God's Word, the Bible. Those foundational truths begin with who God really is, then who you are as a follower of Jesus Christ, and finally how life works.
Believe me, I clearly remember when God destroyed my previous theology of how life works—and then replaced it with a new, much more robust theology that squares with the Bible's teachings. Ruth did the same thing, and I applaud her bravery and courage.
Not every Christian man and woman is innately brave and courageous. I discovered that to my shock at age 24. My new bride, Renée, and I had known each other for a full decade before we married. We knew everything about each other. That certainly seemed to be the case at every turn during our honeymoon.
It wasn't until the two of us settled into everyday life that I learned something unexpected: my wife struggled with courage. Within months, however, that changed completely, and she's out-couraged me ever since.
To this day, Renée and I keep 'doing it scared.' More importantly, we show others the steps to true courage. Every day, I read and repeat these 16 foundational biblical truths, and I invite you to do the same. Think of them as the way to focus at the start of each day:
1. Pray the Lord's Prayer found in Matthew 6:9-13. Every few months, change the Bible translation to keep it fresh.
2. Thank the Lord for the apostle Paul's words in 1 Corinthians 15:58 (NLT): "be strong and immovable. Always work enthusiastically for the Lord, for you know that nothing you do for the Lord is ever useless."
3. Pray, "Lord, when it comes to knowing, loving, trusting, following, and obeying You, I want to be nothing less than wholehearted!"
4. Pray, "Lord, I want to experience, and overflow with, a renewal of Your love."
5. Thank the Lord for Paul's words in Galatians 5:6 (NLT): "What is important is faith expressing itself in love."
6. Thank the Lord for Luke 2:52, which says that God's Son, Jesus, is loved by God the Father and by all who know Him. Then affirm: If I know and love Jesus as He really is, I am a blessed man, indeed!
7. Pray, "Lord, Your providential work, and Your answers to my specific prayers, increase my faith and trust in You!"
8. Thank the Lord for John 17:23, which says that Jesus told His disciples that God the Father loved them as much as He loved Jesus. How incredibly blessed they were!
9. Pray, "How very good that I can thank You daily, Lord, for Your sovereignty (greatness), providence (guidance and goodness), holiness (glory), love (graciousness), and mystery ("God alone knows").
10. Thank the Lord for Lamentations 3:24, which says my most prized possession is the Lord in my life.
11. Pray, "Everything I desire, want, and need is found in You, Lord, and through You alone. Why should I look anywhere else?"
12. Thank the Lord for 2 Corinthians 12:9, which says the Lord told Paul three times (for emphasis) that His gracious favor is all I need and His power works best in my frailty and weaknesses.
13. Thank the Lord for Psalm 73:25-26 (NLT): "Whom have I in heaven but you?I desire you more than anything on earth. My health may fail, and my spirit may grow weak, but God remains the strength of my heart; he is mine forever."
14. Pray, "Lord, I thank You for Your providence and pray for Your good provision so that I love You wholeheartedly and love others well."
15. Thank the Lord for Psalm 138:8 (TPT): "Since your love for me is constant and endless, I ask you, Lord, to finish every good thing that you've begun in me!"
16. Pray, "Lord, You know the number of my days. May I bring You glory, honor, and praise."
Remember, don't make the mistake of trying to jump from fear straight to true courage. Instead, work on your focus. It won't eliminate fear. Instead, it will give you the courage to 'Do it Scared' day in and day out. Go for it!
---

David Sanford coaches leaders passionate about demonstrating the relevance of Jesus Christ in every major sphere of life. His book and Bible projects have been published by Zondervan, Tyndale, Thomas Nelson, Doubleday, and Amazon. His speaking engagements have ranged everywhere from The Billy Graham Center at the Cove (NC) to UC Berkeley (CA).
Photo Credit: ©GettyImages/Dirima