How to Manage Your Emotions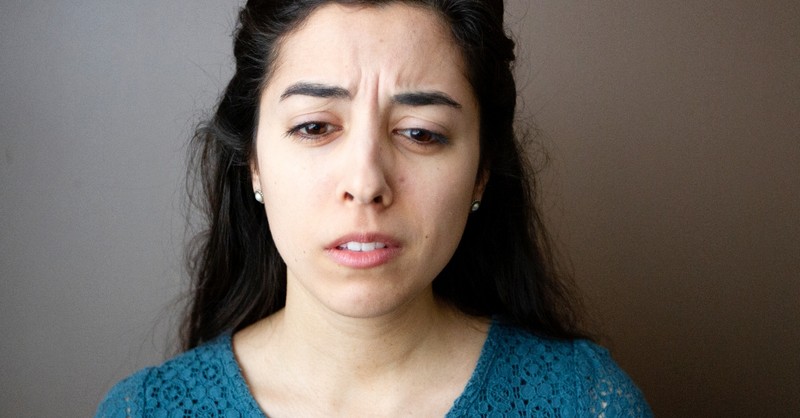 No one could say that George Smith did not have courage. Smith was an adventurous jet test pilot in the 1950s when the sound barrier was first being broken. George could face almost anything - until he was forced to bail out of a plane going 805 miles per hour. He did survive but was terrified of ever flying again. During Smith's hospital stay, a nurse gave him an antidote to fear. "Courage," she said, "is knowing the worst and discovering that in God's world, the very worst can't really hurt you."
Psalm 91:1-4 "Those who go to God Most High for safety will be protected by the Almighty."
How do we face the hard times in life with courage? The apostle Paul offers a powerful answer to that question. And if anyone knows the meaning of courage, it is Paul.
2 Corinthians 4:8-9 "We are hard pressed on every side, but not crushed; perplexed, but not in despair; persecuted, but not abandoned; struck down, but not destroyed."
I want to have that kind of courage when I face the dark times in my life, but I can't seem to find it on my own. Courage comes from God. He will give it if we are ready to receive it. We prepare to receive the courage God offers by learning how to manage our emotions. The fact is that God created us to be emotional critters. He gave us a great capacity for emotions so our lives could be richer and fuller.
But like so many things created by His hand, our emotions have been misused, abused, and misunderstood to the point that their correct place in our lives has been lost – especially those emotions we have labeled as negative. Some say we should just ignore our feelings, denying their existence by stuffing them down into a dark corner of our hearts. But to do that is to negate much of God's Word and deny the very nature of his Son.
The most transparent man who ever walked the earth was Jesus Christ. If you examine the life of Jesus, you will discover his emotions on full display to those around him. Sorrow, anger, frustration, fear, and joy are all emotions Jesus experienced and showed. He encouraged the disciples and his followers to do the same. Remember the fear of Peter, the sorrow of Mary and Martha, the anger of the hypocrites, and the depression of David?
Just as it is wrong to deny or ignore our emotions, it is wrong to allow them to consume us. Emotions are not sin, but the place we give them and our response to them can be. Is it possible to manage or control negative emotions? Yes. God has a plan.
Identify Our Emotions
Before we can be honest about emotions, we must identify them, calling them what they are. And that is sometimes hard to do. We must also recognize the source of these negative emotions.
Proverbs 23:7 "For as he thinks within himself, so he is."
Negative emotions come from many sources:
daily life
past experiences
unresolved hurt and pain
rejection
toxic relationships
Satan himself
One of the Holy Spirit's jobs is to reveal those sources to you. If you ask him, he will do it.
John 14:26 "Holy Spirit, whom the Father will send in my name, will teach you all things and will remind you of everything I have said to you.
Label Emotions Correctly
Author and speaker Steve Brown tells the story of three men who died and went to Hell. The first man sat in a corner, mumbling to himself. He was a spiritual leader, but he had simply played the part and played games with God. He had heard the truth, but he never really surrendered to it. And now it was too late. The second man was searching for all those hypocrites who went to church. Oh, he had made fun of them, but they were not there. "I guess they were telling the truth. "Why didn't I listen?" he moaned. The third man, a widely known teacher of the principles of positive thinking, was sitting in a corner with his head in his hands, his eyes closed, repeating over and over, "It's not hot, and I'm not here!"
It is time to be honest about our emotions and quit denying they exist. We must be honest to be right. We cannot deal with negative emotions until we face them honestly.
Harness Emotions
Proverbs 29:11 "A fool vents all his feelings, but a wise man holds them back."
The noun form of "harness" means "straps and buckles." Sounds like imprisonment or bondage, doesn't it? But the verb form of harness means "to equip for work." In other words, we must act when handling our emotions. We can make our emotions work for us – not against us.
First, we must take control of our emotions instead of allowing them to take control of us. "Harness" carries the idea of a bit in the mouth of the horse and taking hold of the reins. Emotions can be like runaway horses. We can keep the reins firmly in our hands and choose to surrender them to the supernatural control of God. When we make that choice, the Holy Spirit empowers that choice and produces control.
In a department store, a young husband watched his baby while his wife was shopping. The baby was wailing, but the father seemed totally calm as he quietly said, "Easy now, Albert. Keep your temper." A woman passing by remarked, "I must congratulate you. You seem to know just to speak to a baby." The young man looked up in surprise and said, "Baby nothing! MY name is Albert." Been there? So have I!
We can learn how to use our emotions in a healthy way. Emotions can either be stepping stones or quicksand. It really depends on how we use them and if we invest the emotional energy they require. Jesus gave us so many examples of this discipline in the Bible. Jesus was in the temple when he saw the money changers defiling his Father's house. Instead of freaking out as I would probably have, he stepped aside to braid a whip. I think braiding that whip gave Jesus time to harness his anger. And once he did, he used that emotion to correct a wrong.
Jesus began his journey to the cross in the garden, where he harnessed his fear. He certainly did not want to face crucifixion but was willing to follow his Father's plan. That harnessed fear was transformed into endurance, and that harnessed endurance produced joy.
Hebrews 12:22 "Let us fix our eyes on Jesus, the author and perfector of our faith, who for the joy set before him endured the cross."
We choose where to invest our emotional energy. Like Jesus, we need to harness our emotions and use them as the cornerstone on which a life of victory can be built.
Balance Emotions
Emotional health is like a bank account. The withdrawals and deposits determine the balance. We are often unaware of the emotional withdrawals in our life. The apostle Paul describes it this way in Colossians 3:2 "Let heaven fill your thoughts; don't spend your time worrying about things down here." Each day is filled with emotional withdrawals. Many are good, right, healthy, and ordained.
My husband loves to minister to broken people – especially men in ministry. One young man captured Dan's heart. He spent hours talking with, listening to, and praying for this young man whose wife had an affair and wanted a divorce. David was devastated and tried everything to change her mind. Nothing worked. After the divorce, David spent many nights on our couch. We loved him. He was an amazing communicator of the Word and deeply loved Jesus. Dan stayed by his side for several years until he was strong enough to get back into ministry. He met and married a gorgeous young woman. They have three beautiful children who love and follow God. David now pastors a church of over 10,000 and is having a significant impact for the Kingdom of God. The emotional withdrawals we made for David were well worth the energy and time they required.
However, many withdrawals are not good, right, healthy, or God-ordained.
I led a young woman to Christ and decided I would be her Holy Spirit. Let me tell you; I make a lousy Holy Spirit. I poured countless hours into this young woman, helping her learn how to read and study the Bible, being her counselor when she fell back into her alcoholism and drug addiction. Our daughter was about ten years old when she saw this woman coming up the sidewalk to meet me. The woman had obviously been drinking and could not walk a straight line. Danna turned to me and asked, "Mom, why is she coming here?" I smiled and said, "I'm helping her learn how to be a Christian." Danna frowned and said, "I don't think you're doing a very good job."
And she was so right. I was exhausted from trying to help this young woman and had actually become a hindrance to her growth. That day, I released her and told her to turn to God instead of me. I would help her, but her primary source had to be God. It was amazing to see her grow in her faith and walk with God.
Some people can become emotional black holes. It does not matter how much time or energy you pour into them. And I have discovered that the enemy will send me an abundance of these people – people who just want my time and attention, people who will keep me busy, drain me, and create an emotional imbalance.
Make Emotional Deposits
Philippians 4:8 "Finally, brothers, whatever is true, whatever is noble, whatever is right, whatever is pure, whatever is lovely, whatever is admirable--if anything is excellent or praiseworthy--think about such things."
Some examples of good emotional deposits are:
Word of God
Solitude
Replenishing relationships
We all know about bounced checks. A check bounces when our bank account is out of balance. We must make enough deposits that the withdrawals don't create emotional bankruptcy. Check your emotional balance before you say "yes" to anything or anyone.
Dismiss Negative Emotions
Country music theology tells us that "You gotta know when to hold 'em, know when to fold 'em." In other words, we must take charge of our spirit.
Psalm 103:1-2 "Praise the LORD, O my soul; all my inmost being, praise his holy name. Praise the LORD, O my soul, and forget not all his benefits."
The psalmist is telling his soul what to do. Emotional wholeness follows spiritual obedience. To "take charge" indicates a choice or deliberate action on our part. If you are like me, it is sometimes hard to let go of my anger toward someone who has hurt me. The Bible is clear. We must take charge of our emotions. Sometimes that means holding on, and sometimes that means letting go. We must also remember the promises of God.
Psalm 42:5 "Why are you downcast, O my soul? Why so disturbed within me? Put your hope in God, for I will yet praise him, my Savior, and my God."
Notice that David is ordering his soul to praise God amid a tough circumstance. We can do the same – tell our soul to put our hope in God and remember his promises that always lead to restoration. When we dismiss emotions, we must fill the vacuum with God's truth. You have heard it said that we are what we eat. The same is true of emotions. Today is the day to start controlling our emotions instead of allowing them to control us.
Photo credit: © SWN/Sparrostock
Mary Southerland is also the Co-founder of Girlfriends in God, a conference and devotion ministry for women. Mary's books include, Hope in the Midst of Depression, Sandpaper People, Escaping the Stress Trap, Experiencing God's Power in Your Ministry, 10-Day Trust Adventure, You Make Me So Angry, How to Study the Bible, Fit for Life, Joy for the Journey, and Life Is So Daily. Mary relishes her ministry as a wife, a mother to their two children, Jered and Danna, and Mimi to her six grandchildren – Jaydan, Lelia, Justus, Hudson, Mo, and Nori.
LISTEN: Being Complete in Jesus (Understanding Matthew 5:21-48)
Hearing Jesus is a devotional journey through the gospels, where we explore the teachings of Jesus chapter by chapter. If you're seeking to live a life that reflects God's, this podcast is for you.
The views and opinions expressed in this podcast are those of the speakers and do not necessarily reflect the views or positions of Salem Web Network and Salem Media Group.
WATCH: 10 Sins Christians Downplay (and Why They're So Destructive)
Stock Footage & Music Courtesy of Soundstripe.com Thumbnail by Getty Images