How to Understand the True Gift of Christmas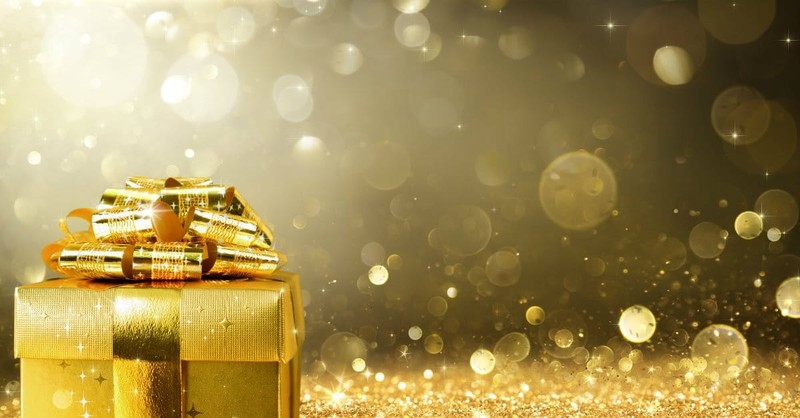 In short, Jesus is the divine Light of the world, because he brings a new life to replace our spiritual deadness, because he shows us the truth that heals our spiritual blindness, and because he is the beauty that breaks our addictions to money, sex, and power. As Wonderful Counselor he walks with us even into and through the shadow of death (Matthew 4:16), where no other companion can go. He is a Light for us when all other lights go out.[i]
The Light of Grace
How, though, can this light become ours? Notice it doesn't just say, "For to us a child is born." It also says, "to us a son is given." It's a gift. It can be yours only if you are willing to receive it as a gift of grace.
Verse 5 hints at this too. It speaks of a great battle, but it says, "Every warrior's boot used in battle and every garment rolled in blood will be destined for burning, will be fuel for the fire." The commentators tell us this imagery means that the great victory over evil will not require our strength. We won't need a warrior's boot. We won't need armor or a sword. Melt them down. Burn them up. Someone else will do your fighting for you. Who?
Isaiah doesn't tell us here. You have to wait until you get into the "Servant Songs" of Isaiah 42–55, where the prophet points to a mysterious deliverer who is to come. About him it is said, "He was pierced for our transgressions, he was crushed for our iniquities; the punishment that brought us peace was on him, and by his wounds we are healed" (Isaiah 53:5). When Jesus went to the cross, he paid the penalty for our sin. When we trust in Christ's work on our behalf, rather than in our own moral efforts, God forgives and accepts us and implants his Holy Spirit in us to renew us from the inside out. This great salvation, this light that flashes upon you with all its new life, truth, and beauty, comes as a gift. The only way you can receive it is to admit it's an undeserved grace.
Christmas is about receiving presents, but consider how challenging it is to receive certain kinds of gifts. Some gifts by their very nature make you swallow your pride. Imagine opening a present on Christmas morning from a friend—and it's a dieting book. Then you take off another ribbon and wrapper and you find it is another book from another friend, Overcoming Selfishness. If you say to them, "Thank you so much," you are in a sense admitting, "For indeed I am fat and obnoxious." In other words, some gifts are hard to receive, because to do so is to admit you have flaws and weaknesses and you need help. Perhaps on some occasion you had a friend who figured out you were in financial trouble and came to you and offered a large sum of money to get you out of your predicament. If that has ever happened to you, you probably found that to receive the gift meant swallowing your pride.
There has never been a gift offered that makes you swallow your pride to the depths that the gift of Jesus Christ requires us to do. Christmas means that we are so lost, so unable to save ourselves, that nothing less than the death of the Son of God himself could save us. That means you are not somebody who can pull yourself together and live a moral and good life.
To accept the true Christmas gift, you have to admit you're a sinner. You need to be saved by grace. You need to give up control of your life. That is descending lower than any of us really wants to go. Yet Jesus Christ's greatness is seen in how far down he came to love us. Your spiritual regeneration and eventual greatness will be achieved by going down the same path. He descended into greatness, and the Bible says it's only through repentance that you come into his light. C. S. Lewis puts it perfectly. In the incarnation, he says,
we catch sight of a new key principle—the power of the Higher, just in so far as it is truly Higher, to come down, the power of the greater to include the less. . . . Everywhere the great enters the little—its power to do so is almost the test of its greatness. In the Christian story God . . . comes down; down from the heights of absolute being into time and space, down into humanity; down further still, if embryologists are right, to recapitulate in the womb ancient and pre-human phases of life . . . down to the very roots and seabed of the Nature He has created. But He goes down to come up again and bring the whole ruined world up with Him. . . . [O]ne may think of a diver, first reducing himself to nakedness, then glancing in mid-air, then gone with a splash, vanished, rushing down through green and warm water into black and cold water, down through increasing pressure into the death-like region of ooze and slime and old decay; then up again, back to color and light, his lungs almost bursting, till suddenly he breaks surface again, holding in his hand the dripping, precious thing that he went down to recover.[ii]
When Jesus died on the cross, darkness fell over the land (Matthew 27:45). The Light of the world descended into darkness in order to bring us into God's beautiful light (1 Peter 2:9). The promises of Christmas cannot be discerned unless you first admit you can't save yourself or even know yourself without the light of his unmerited grace in your life. It is the foundational truth from which we can proceed to learn the hidden meanings of Christmas.

Content taken from Hidden Christmas: The Surprising Truth Behind the Birth of Christ by Timothy Keller. Reprinted by arrangement with Viking, an imprint of Penguin Publishing Group, a division of Penguin Random House LLC. Copyright © 2016 by Timothy Keller.
Timothy Keller was born and raised in Pennsylvania and educated at Bucknell University, Gordon-Conwell Theological Seminary, and Westminster Theological Seminary. He was first a pastor in Hopewell, Virginia. In 1989, he started Redeemer Presbyterian Church in New York City with his wife, Kathy, and their three sons. Today, Redeemer has more than five thousand regular Sunday attendees. Dr. Keller also founded Redeemer City to City, which has trained leaders to start more than three hundred new churches in nearly fifty cities around the world. The author of The Reason for God, The Prodigal God, Prayer, The Meaning of Marriage, and The Songs of Jesus, among other books, Timothy Keller lives in New York City with his family. 
Image courtesy: Thinkstockphotos.com
Publication date: November 22, 2016
---
[i] J. R. R. Tolkien, The Two Towers (New York: Random House, 1986), p. 372.
[ii] C. S. Lewis, Miracles (New York: Macmillan, 1947), pp. 115–16.