Liberia Update: A Day in the Life of a Relief Worker
Matthew Pugh

World Relief

Published

Oct 03, 2003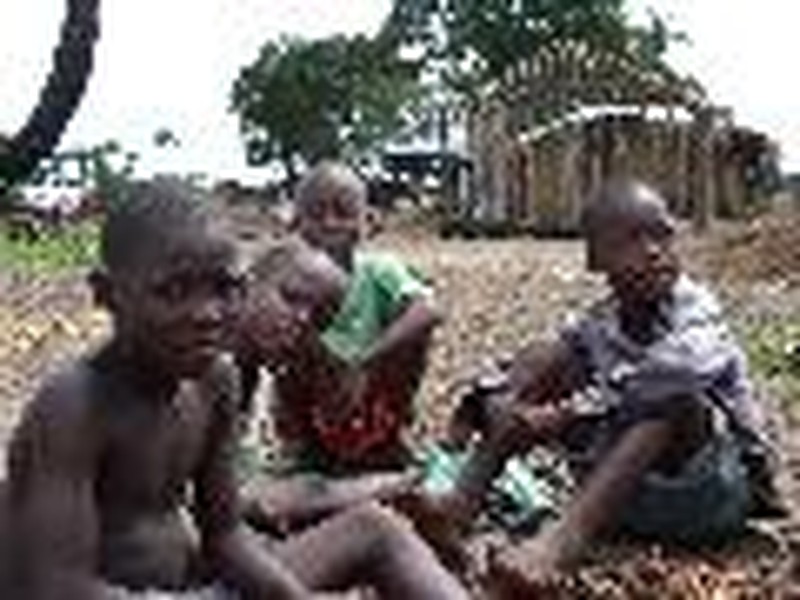 It's shortly after 9:30 a.m. in the administration office on the ELWA (Eternal Love Winning Africa) compound in Monrovia, Liberia. The temperature outside is rapidly heating up and the room is beginning to feel like a kiln. The AEL's (Association of Evangelicals) head of food distribution, Steve Kai, is overseeing the measurements for emergency relief rations that will be distributed to internally displaced people (IDPs) in three separate IDP centers around Monrovia.

The ration packages each contain four and one half kilograms of white rice-a staple in the Liberian diet-, one liter of vegetable oil in a tied off plastic bag and a small can of fish.

Kai and the AEL expect to feed roughly 80 families today, each family averaging seven members. Families will receive one ration package that will last them about two days.

The AEL is able to conduct these emergency food distributions around Monrovia through funding from World Relief, the humanitarian organization of the National Association of Evangelicals (NAE).

Many of the IDPs receiving food today previously occupied displacement shelters outside of Monrovia, but were forced to flee them when rebel skirmishes erupted. As they entered Monrovia, these IDPs had their names recorded during disaster relief assessments conducted by AEL.

In order to receive rations today, the IDPs must have had their names recorded. No name, no food. This helps to prevent non-IDPs and community locals from taking advantage of the distributions.

Because they are emergency rations, once the food is gone, that's it. These IDPs will not have anything to eat until another distribution takes place, which could be weeks from now.

Kai and his helpers hustle to finish measuring the ration packages and quickly load them into an SUV. The first distribution is at the Livap camp, approximately 8kms from the ELWA compound.

The road to Livap is rough. Gravel crunches under the truck's knobby tires as the driver carefully navigates around ditches, mud holes and small craters. High grass lines either side of the narrow drive, and a group of half-naked children wade in a nearby marsh.

We reach the IDP shelter-an old abandoned school of sorts, cold looking and dilapidated. Heads pop out of the building's glassless windows, and within seconds hundreds of people surround the truck.

Kai takes command and instructs them to form a line behind the vehicle. The line quickly deteriorates into a cluster. Tensions mount as hungry people jockey for better positions to receive food.

Though he would like feed them all, Kai must stand firm and feed only those IDPs who have been identified as such. This causes outcries of frustration and confusion among some. The swindlers, however, know that they've been had and leave.

A small level of order comes over the crowd and the distribution begins.

People step forward and give their name. Kai scrolls down and list, marks their names with their thumb print and gives a guy on the truck a nod.

Relief then elation washes over the faces of the first IDPs to receive their emergency rations; an elderly woman, barely strong enough to carry her bag of rice, dances around in circles.

"She [the elderly woman] is happy because she can't remember when she had this much food," says Musu, the appointed "leader" of the center.

Happy too, perhaps, because the food will also take her mind off of her poor living situation. It's the rainy season in Liberia and the center has virtually no roof. Nor do the people have blankets.

"We've been at this center for three months and the conditions are deplorable," said Musu. "People are sick, it isn't safe to sleep, the water isn't safe to drink and these are the first rations that we have ever received."

It takes less than 30 minutes for the AEL to reach its distribution limit for the Livap center. About 50 families are fed.

The truck's gate is closed and its engine fired up. As the SUV rolls away, people cling to its sides. They ask through partially rolled down windows, "will you be coming back with more food?"

The question goes unanswered as the team heads to the next distribution.

A few miles away and a hard right turn leads through the center of Gobachop market. Kiosks line either side of the pulverized thoroughfare; trash, mud and puddles of stagnant water cover the road; a young girl bathes in the filth. The smell of human waste wafts through the air.

Like a body of fluid, people part as the Cruiser trudges forward. A final part of people reveals the entrance to the second IDP center at St. Kizito Catholic School.

We step out onto the dusty lot. Before the truck's gate can be opened, a swarm of more than 300 children surrounds us. They are overjoyed by our arrival; they cling to our legs and garments and begin shouting, "food, food, food!"

While they are not starving, many are suffering from malnutrition and have sinking, colorless eyes.

John, the center leader, explains that the people are eating whatever they can and have not receive a distribution for weeks. There have also been two outbreaks of cholera and one of chicken pocks at the center.

He was unable to give an exact figure, but John estimates that there were more than 5000 people at this particular center, including 90 or more pregnant women. They've been here since mid July.

The situation in Liberia is taking its toll on the vulnerable: the elderly, pregnant women and especially the children. A 14-year-old girl named Orethe explains her situation.

"My father was killed a couple of years ago by a stray bullet and I have had no way to go to school since," she says. "My mother left a few days ago to take my little brother to the hospital. He's very sick." Orethe has not heard from her mother since she left. A few bites of cornmeal are all that Orethe has had to eat for days.

Shortly after noon, the once buzzing crowd has dwindled, and the second distribution is over. Of the thousands of individual IDPs around St. Kizito, AEL was able to feed about 210.

The road to the third center at Carver Mission School Institute bends up a gently sloping hill. Palm and banana trees sway in the warm, salty breeze. The Atlantic Ocean is visible in the distance.

This time no one greets the team as it arrives. Most of the IDPs are inside the school's two small buildings, trying to escape from the scorching, mid-day sun. Before long, they trickle in from all directions, but do not overwhelm. They seem much weaker than the IDPs at the first two centers, and the children appear uninterested by our presence. Kai is able to keep order with relative ease.

This is the smallest of the three centers. Though Carver is small, it is not without its problems. Malnutrition and cholera have invaded.

Ten minutes after arriving, the food drop is over. Many people walk away empty- handed. AEL could only feed about 63 people of the 200 or so here.

Kai has led more emergency food distributions around Monrovia in the last few months than he can remember, but he has not totally hardened. Both relief and frustration are evident as Kai wipes his forehead and sighs.

"We do what we can," he says.


Churches supported by World Relief are delivering crucial aid to suffering families in war-torn Liberia, West Africa. In the capital, Monrovia, many hover on the edge of survival as chronic food shortages push the price of a cup of rice to $1.20 – more than a day's wages in Liberia. (Note this price is fluctuating). Equipped by World Relief, local evangelical churches recently distributed rice, cooking oil and fish to hundreds of hungry men, women and children. For many, this was their first proper meal in more than three weeks. For more information, visit the World Relief website.

PHOTOS by Matthew Pugh, World Relief