Louie Giglio: Shaping a New Generation through OneDay03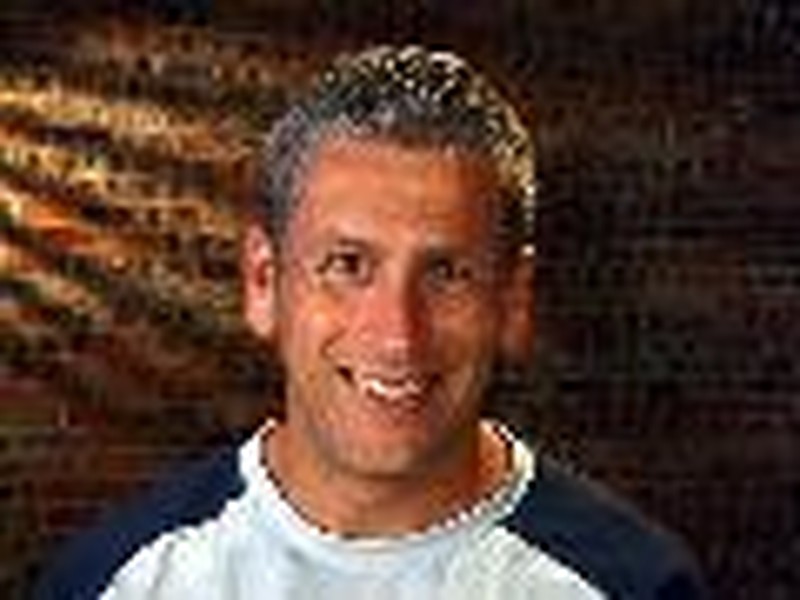 With a humorous, yet straight to the heart approach, Louie Giglio communicates an intense passion for God and a desire to propel others to a deeper pursuit of intimacy with Him.  In addition to speaking weekly at 7:22, a ministry of North Point Community Church, Louie is the Director of Choice Ministries, Inc., a ministry designed to lead others to renewed passion for God and fresh encounters of worship.
As a vital part of Choice Ministries, Louie leads the Passion movement. Passion exists to glorify God by inviting students everywhere to seek God wholeheartedly in an atmosphere of corporate worship. 
A sacred assembly, Passion's OneDay gathering in May 2000 was the largest collegiate gathering of its kind in over 25 years. In the fall of 2001, Passion embarked on a nationwide tour of 25 cities to share the vision of the 268 Generation. In the Spring of 2002, Passion hosted the Thirsty Conference, its first gathering specifically for campus ministers.  Now heading toward another OneDay in May of 2003, Passion will continue to seek to glorify God, inspiring this generation to live for His name.
As a part of the passion network, Louie heads sixstepsrecords, a worship label partner with Sparrow Records. In addition to his responsibilities with Choice/Passion, Louie speaks in various ministry settings throughout America and the world. Here, Louie shares his heart for OneDay.
Crosswalk.com: Can you tell us how OneDay came about?
Louie Giglio:  Well, Passion had been on a journey since 1997. We started having a four-day college conference in Austin in '97, and 2000 students were there. It was a great beginning for us.  By '99, almost 11,500 students came to Ft. Worth. Things were tracking along. But we started thinking, you know, at the rate we're going, we're doubling every year, it's going to take us a long time to really impact the 16,000,000 college students in America. We also realized that the answer for the dilemma of the college campus in America is not really a conference, it's to do what God asked us to do thousands of years ago and the call from the prophet Joel.
Joel said, "Blow a trumpet in Zion-declare a fast-proclaim a solemn assembly and gather the people." A few verses earlier, he says, "Return to me with all Your heart." So we decided to go for that and say to any college student in America, "If you have a burden for your generation and a burden for your campus, we believe the answer is not Passion, the answer is not another conference, the answer is not some program. The answer is to rend our hearts and bow on the ground and say, 'Lord, please come and help us.'"
And so the call went out for OneDay, and that's as simple as the invitation was, and that's really what that day is all about.
Crosswalk.com: Do you find this generation truly is repentant?
Louie Giglio:  It's hard to generalize about college students or any demographic really, but for sure, I think there is a sense in all college students that these are critical days. Everybody wants a cause and everybody wants something that they feel is worthy of their life. And for some few, that's corporate America. But for most people, it's got to be more than that.
I think the dilemma is whether the believing students, the followers of Jesus, are going to cloister together and keep singing worship songs over and over and enjoy their faith and their walk with Christ 'til the end - or whether they're going to let God's heart start beating inside of their heart. If that happens, it's going to break their heart and propel them outside of their circles and outside of their buildings.
We've seen that the global mission of God is definitely resonating stronger than ever in the hearts of college students. More college students want to go to India, they want to go to Afghanistan, they want to go to Iraq, they want to go to China, and they are going around the globe to proclaim God's message. But the challenge comes when you get back home-how many of them are willing to go across the hall in the dorm, or across the hall in their fraternity house?  That's where it takes your whole life. It's not just six weeks of being in a cross-cultural environment where, as a westerner, you are instantly attractive to a lot of people, especially in the east.
In some places, I see students that seem to be completely complacent. That's part of why we're coming on this field, to say, "God, we're sorry that we've hoarded Your kingdom. We've been inwardly focused more than outwardly focused." And one of the prayers that we'll pray in Sherman is, "Will You break our hearts for these students that are in our lives, on our campuses, in our classrooms, that live next door to us? And give us the passion to lay down our lives so that they can hear about the love of God. "
Crosswalk.com: Do you think this year be in light of the war ending and people feeling that maybe the end times are a little closer?
Louie Giglio: I hope this year is special. I've never ceased to be

 amazed at the resiliency of college students. We left on the Passion Experience tour in 2001 from Atlanta on September 11. The first night of our tour was the 12th and so we were on a college campus the morning after September 11 - and for the next eight weeks we were on college campuses. The protests and the peace movements were springing up, and the "let's-go-bomb-everybody" movements were springing up, but the flavor of the day was that college students are resilient. The campus is an island in so many instances and we could be at war with Iraq, but the sorority mixer is still going to happen Thursday night.
I'm in the other generation and for me, when we go to war, my heart stops and everything seems to change for me. But for these guys it's like, "Yeah, we're informed. We know what's going on. We're concerned, but we're going to go on about our lives, because class is rolling and we still have mid-term next week and I still have a project due next Thursday."
But even having said all that, I just pray that the climate will be different. We've been getting e-mails from 18, and 19, and 20 year olds who are not at college campuses-they're on aircraft carriers out in the Persian Gulf. We've gotten e-mails from people out in Kuwait and from people who are in places they can't tell us about, and they're saying, "I won't be at OneDay."
One young guy wrote and said, "My division deploys on April 1st. I'll be in Iraq on May the 24th. My heart will be at Sherman, but I won't be there. But my heart will be there with you." And all of a sudden we just woke up to these millions of young men and women in our target window-who aren't going to the university on the corner, but they're in the military somewhere. We want to try to embrace that at OneDay and realize that we have an opportunity to impact their lives - and they in turn have an opportunity to impact the world.
Crosswalk.com: What does OneDay mean to you, on a personal level?
Louie Giglio: Well, on a personal level-as a husband to my wife, who's also a really vital part of our team here and the leader of our small team at Passion - it stretches me and it is stretching all of us to the very limits of our faith. It's a very small ministry. The perception of Passion is we sell "jillions" of CDs and must be this big conglomerate, but we're at full-staff with a lot of temporary people here for OneDay, and there are 13 of us in the house. And we've always worked on a shoestring budget. To launch out toward a multi-million dollar project and provide a living environment for tens of thousands of students for four days, it stretches us. Every single day on the journey to OneDay is a faith-builder, it's a character-builder, it's "Get on your knees and be just still before the Lord."
We feel like we've been put through the ringer, because we have. The net result of the purifying of our hearts is amazing. But I think on a macro level for me, it just breathes hope into us. We feel called to serve college students and to see them come and with a look in their eye that's like, "I'm not here for a festival. I'm not here to be entertained. I'm not here for a big event. I'm here-my mind and my heart and my spirit sober-I'm here to meet with God. I'm here to put my life on the altar. I want to be propelled from this place to the ends of the world."
Personally, that just breathes challenge and hope into me because I don't want to just look at the college generation and say, "You guys go live a radical life for God." I want to be among them as a 44-year-old living the very same radical life for God, that he's calling them to. We're not running OneDay; we're not so much even leading OneDay. We just want to be a part of OneDay. And for Shelley and me, we want to put our faces on the soil with these students and not say, "Lord, take these students and change the world." We want to say, "Lord, here we are. Take our lives and do with us whatever You want for Your glory and for Your renown in the whole world."