My Times Are in His Hand
Cas Monaco

Contributing Writer

2004

1 Oct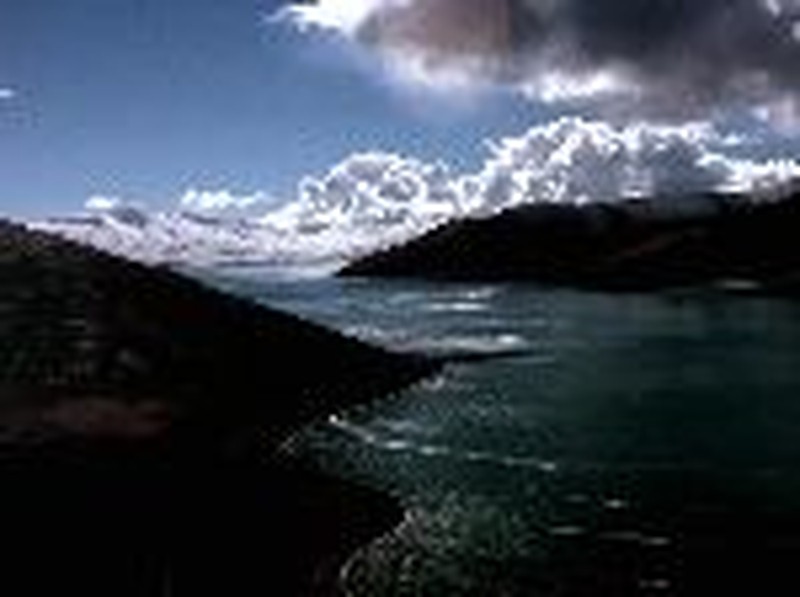 Smoothing out my blanket on the cool sandy floor, I propped myself up against a gnarled piece of driftwood and settled into my newfound refuge. I sat a long time, drinking in the salty air and gazing out across the vast ocean to the distant horizon. The soothing cadence of the waves washed away my mind's distractions.
For weeks I had anticipated my coastal sojourn; I was finally there, alone on the deserted beach. I began unpacking the burden of my heart, laying it expectantly at the Lord's feet.     
I suffer from a chronic affliction involving profound fatigue and intense pain. My "malady," as I call it, brought us back home from the Russian mission field in 1994. I never imagined that I'd still be suffering from it 10 years later.
I've known, deep in my being, that the Lord is absolutely in control of my life's circumstances. But I'd reached a point of frustration and despair. I wondered if I would ever be well again, able to serve the Lord with the same vigor I had before.  Or was He calling me to a life of increasing limitation?
I wanted to accept the Lord's will and yet, I felt afraid. I knew the best place to find comfort and perspective was at the feet of Jesus and from His Word. I longed for consolation that morning, so I turned to the book of Psalms and began reading.
"In You, O Lord, I have taken refuge;
Let me never be ashamed;
In Your righteousness deliver me.
Incline Your ear to me, rescue me quickly;
Be my rock of strength,
A stronghold to save me." (Psalm 31:1-2)
For miles along the Oregon coast, just beyond the shoreline, massive rocks reach heavenward from the ocean floor providing a safe haven for everything from seagulls to starfish. No matter the severity of weather, the strength of the wind, or the force of the waves crashing continuously against these rock-towers, they remain steadfast.
In a much greater way the Lord God is my strength and protection. No matter how discouraging or desperate my circumstances, He is my Rock and He will not waver. I was encouraged as the Word reminded me of the Lord's willingness to stoop to listen to my little voice. Following the psalmist's example, I asked Him to incline His ear to me, to bend down and listen, and to set me free from my distress. As the sea breeze danced across the pages of my Bible, I continued reading:
"I will rejoice and be glad in Your lovingkindness,
Because You have seen my affliction;
You have known the troubles of my soul.
And You have not given me over into the hand of the enemy;
You have set me feet in a large place." (7-8)
I was reminded of my need to rejoice, not in my affliction, but in His lovingkindness. Psalm 90:14-15 says, "O satisfy us in the morning with Your lovingkindness, that we may sing for joy and be glad all our days. Make us glad according to the days You have afflicted us, and the years we have seen evil."
Only Jesus satisfies. Only Jesus loves me with an everlasting, unconditional, and sacrificial love, even in the midst of dark trials and pain. The Lord knows the troubles of my soul because He is "intimately acquainted with all of my ways" (Psalm 139:4). Incredibly, because of Jesus Christ, I can draw near with confidence to His throne of grace to receive mercy and find grace in time of need (Hebrews 4:14-16). The Lord, through His Word, was inviting me to pour out my heart to Him.
I didn't have to hold anything back, but instead I could empty it all - my fears, frustration, and despair - into the Lord's lap. Even when it feels like the enemy is gaining ground in my heard and mind, I need to trust that He is victorious - always.  He has set my feet in a large place, a place of abundance, even when it feels like that can't possibly be true.
And then I read:
"Be gracious to me, O Lord, for I am in distress;
My eye is wasted away from grief, my soul and my body also.
For my life is spent with sorrow, and my years with sighing;
My strength has failed because of my iniquity,
My body has wasted away....I am forgotten as a dead man, out of mind.
I am like a broken vessel." (9-10, 12)
Oh, how I longed for the Lord's grace. For several months I'd been feeling guilty for my distress. The economy was failing and many acquaintances were unemployed while my husband and I were well taken care of. A friend's husband suffered from Multiple Sclerosis, and another close friend was diagnosed with liver cancer. My malady, though difficult, was not life-threatening.
As the war began in Iraq and continued in Afghanistan and Israel. My problems paled in comparison to those in the world around me. While at times I hated to bother the Lord with my woes, I also feared that He'd forgotten about me, that somehow my troubles were lost in the shuffle. I too, was like a broken vessel.
Continuing down the page of my Bible, I came across two verses that completely changed my outlook:
"But as for me, I trust in You, O Lord;
For You are my God.
My times are in Your hand...." (14-15)
Upon reading these words I was stunned. I read them again, slowly. The psalmist just finished crying out to the Lord in his distress, he felt forgotten, grieved, and broken. Slander and terror was on every side, everyone was against him and his very life was in danger. He'd reached the bottom. Then, like the sudden shifts of wind twirling sandstorms along the beach, he switched his focus back to the Lord. "But as for me, I trust in You, O Lord. For You are my God. My times are in Your hand" (emphasis mine).
I realized afresh that my "times" were not random acts of chance, but were sovereignly ordained by God. He is in control. He holds each event in His hand. I thought, "And whose hand is it?"
It's the Lord's hand. The Lord who is full of lovingkindness, who is my Rock and my Fortress, my Refuge and Deliverer, whose goodness is great and is stored up for those who fear Him. I flipped the pages of my Bible to Job 14:5, which says: "Since his days are determined, the number of his months is with You, and his limits You have set so that he cannot pass." The Lord, I reminded myself again, who is my Protector, my Victor, my Lover; He has determined my days, the number of my months is with Him, and my limits He has set so that I cannot pass.
"As for me, I said in my alarm,
"I am cut off from before Your eyes."
Nevertheless You heard the voice of my supplications
When I cried to You.
O love the Lord, all you His godly ones!
Be strong, and let your heart take courage,
All you who hope in the Lord." (22-24)
For the first time in a long time, my soul rested as I realized, once again, that I could trust Him. I rejoiced in His lovingkindness and His grace - exceedingly abundant and at the same time immeasurable. I also felt humbled. For a time I believed I'd been cut off from before His eyes, that my supplications were squelched by the roaring needs around me - much like the bellow of the ocean as it drowned out my cries that day. Yet, He both heard and answered me.
How could I not love the Lord? In The Treasury of David, Charles Spurgeon says, "Comfort is desirable at all times, but comfort in affliction is like a lamp in a dark place." The Lord's comfort shed light in my dark place that morning. Although I didn't leave the beach's refuge healed of my affliction, I did leave with a sense of strength, courage, and renewed hope.
Cas Monaco loves teaching God's Word and training women of all ages to apply Biblical truths to their lives. With Jesus Christ at the center of her teaching, Cas shares insight from over twenty years of experience as a missionary, wife, and mentor. A popular speaker for women's retreats and a writer, she combines humor, wisdom, and delight in God's Word and work. For more information about Cas Monaco, go to: www.entrusting.org