Sept. 11 Spiritual Changes Still Being Played Out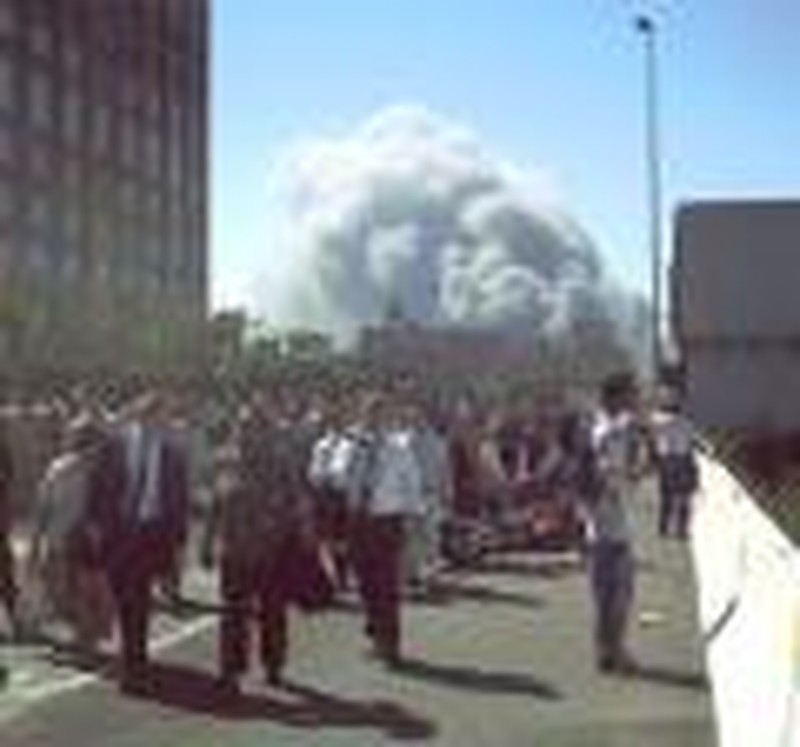 Two years after the deadliest attacks in American history, life for most Americans goes on largely as it did in the days before terrorism became a domestic concern.
But Jennifer Sands and Abdo Hashem are not most Americans. Day-to-day life for both of them took a radical turn after Sept. 11, 2001, not only because they lost close family members on that day, but because the day immediately forced what they now see as the most important choice of their lives: Will I turn to God for strength? Or will I turn away in anger?
At first, they gave opposite answers. Today, however, although they've never met, they speak the same new language and hold a similar set of new values. And both trace the changes to the day that forced a choice.
On Sept. 11, Sands began the day with the same prayer she said every day when her husband, Jim, left at 6 a.m. for the two-hour commute from Brick, N.J., to his job on the 103rd floor at the World Trade Center.
"Please, God, get him to work safely, and bring him home safely, too. He's everything in the world to me, and I love him so much. So please, Lord, watch over him."
Later that morning, a co-worker at a local pharmacy telephoned with the unthinkable news. The day became a blur. When Jim's tower collapsed, she did too. And as soon as she could think again, she pointed an angry finger at God.
"My anger was not toward the terrorists. It was completely focused on God," said Sands, a 38-year-old Roman Catholic who tells her story in "A Tempered Faith: Rediscovering Hope in the Ashes of Loss" (Olive Press, 2003). "Because I didn't pray to Osama bin Laden to not commit any evil acts.
"I had prayed to God, who had always answered my prayers. Did I not pray hard enough? Was I not specific enough? I was furious because I knew God could have stopped this."
Hashem, 36, of Newburyport, knows the feeling. A Lebanese Roman Catholic who grew up in Lawrence, Mass., Hashem prayed daily and went to church regularly until his father died 10 years ago. Then he stayed away from his Arabic-speaking Roman Catholic congregation for three years, asking himself all the while, "What's the point of worshipping God if he lets terrible things happen?"
But Hashem relented in his anger toward the divine, finding it "wasn't getting me anywhere" and didn't give him a sense of peace with regard to his father's death. So on Sept. 11, when he learned his brother Peter had been aboard American Airlines Flight 11, he chose not to shake his fist at the sky again.
"Am I going to be angry again, like when my father died?" he asked himself. "Or am I going to go to Jesus for strength? I chose the latter."
Almost immediately, Hashem says, his daily habits changed. His prayers became more personal, more conversational: "Instead of just saying an 'Our Father,' it was like, 'Let's talk about this. I know you have a plan for us, and I'd like to know what that plan is because I'm not sure what you want me to do.'" He began reading the Bible in order to hear God's voice without interpretation, he says. And he trusted anew that although Sept. 11 seemed senseless to him, there was a reason because "God has His own plans for us."
Sands, meanwhile, hid her anger from her devout kin, who she says would have marched her back into the fold. She instead vented it overseas via e-mail to a friend. Ethel, she says, patiently listened, empathized and quoted Scripture until Sands came to trust in what is now her favorite verse: "For I know the plans I have for you, says the Lord, plans for
welfare and not for evil, to give you a future and a hope" (Jeremiah 29:11, RSV).
Hashem and Sands are far from typical insofar as their faith lives took a dramatic turn after Sept. 11, 2001. Most Americans continue to believe and practice as they did before the attacks, according to John Berthrong, dean of the Boston University School of Theology and author of "The Divine Deli: Religious Identity in the North American Cultural Mosaic" (Orbis, 2000). 
"I haven't seen much change on the macro level," Berthrong said in an interview. "There probably are individuals whose lives have changed as a result of Sept. 11. I just haven't met any."
But Sands and Hashem can attest that at least two lives have been made new in the tragedy's aftermath. Sands made her decision "to live for God" about six months after Sept. 11, and soon her lifestyle and outlook resembled Hashem's. Daily entries in her prayer journal grew more personal as "God became my best friend." She became a regular Bible reader, taking comfort from its pages. And she came to see the world no longer as a place where the pious get rewarded, but instead as a theater where the mysterious, benevolent ways of God will unfold accordingly solely to God's will.
"When he renovates our lives, and he does, we have to believe that it's all worthwhile," Sands said in an interview, "because he knows what he's doing."
Deciding to seek strength in God after Sept. 11 has made life bearable, Hashem said, especially as his family found more tragedy in store for them. His wife, Samaria, gave birth to twins prematurely just months after the attacks, and neither one survived. Hashem took time off from work -- something he hadn't done even after Sept. 11 -- to cope with the loss. But he made it through, he says, with help from a close, personal relationship
with Jesus.
"At times like this, people either become bitter or stronger," Hashem said. "You have to choose. I had already chosen after Sept. 11 to become stronger through Jesus."
In the coming days, Hashem and Sands will celebrate fresh milestones that trace directly to their decisions after Sept. 11, 2001. This Sept. 11, Sands will release her book, which she says "has God's fingerprints all over it." She hopes God will use it to inspire more followers. Meanwhile Hashem and Samaria, a former Mormon, received full immersion baptisms in late August at the nondenominational New England Bible Church in North Andover, Mass.
Despite uncertainty, both speak now with a sense of peace and confidence that God's plan for their lives is unfolding on target and on time.
"I say a new prayer every morning now," Sands says. "I say, 'Lord, remind me that nothing is going to happen to me today that you and I can't handle together.' ... I no longer pray for what I want. I pray now for what God wants. And if that will entail pain on my part, I'm ready for it, because I've already been through hell."
© 2003 Religion News Service