Shuttle Disaster Widow Shares Message at "Women of Faith"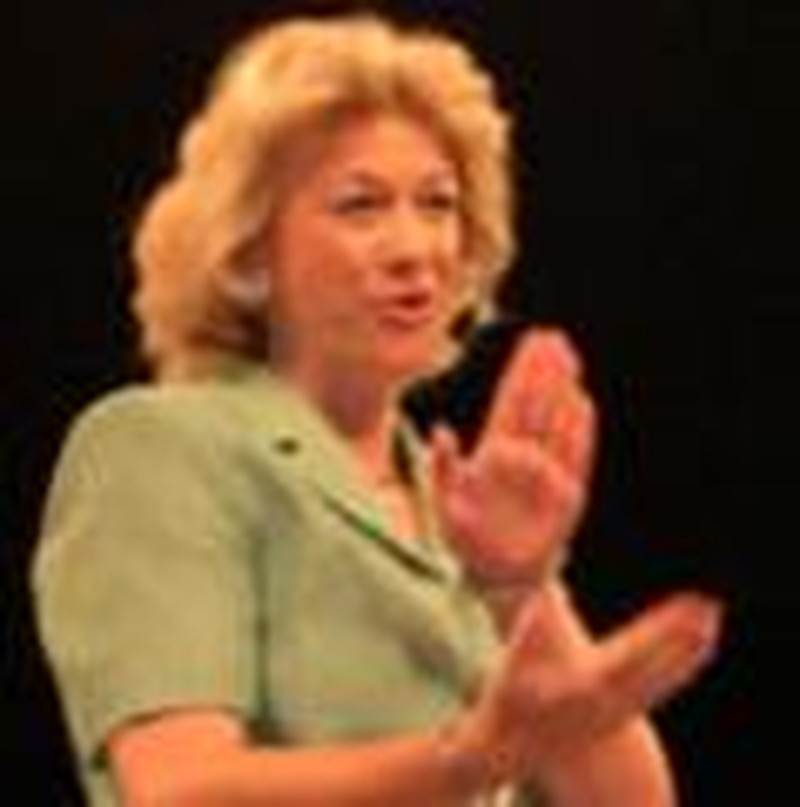 Evelyn Husband, widow of Shuttle Columbia Commander, Rick Husband, has found hope in the most hopeless of circumstances. How has she done it and why is she reaching out to thousands of women across the country only months after the tragic death of her husband?
"I have learned that you can have peace and joy even during the most painful times in life, and I want to share that message of hope with as many people as possible," said Husband, who is encouraging tens of thousands of women across America through Women of Faith, America's largest women's conference.

"Everyone will deal with tragedy at some point in their lives-maybe not the level of tragedy my family has experienced, but pain and difficulty nonetheless. I want people to know that in those times when they may feel helpless, they don't have to feel hopeless."
Husband remembers it as if it were yesterday - Feb. 1, 2003. Standing at Kennedy Space Center with her family, all eyes turned upward toward the sky, she anxiously awaited the return to earth of her husband, Shuttle Columbia commander Rick Husband. But, he never made it home. Rick, along with his crew disappeared into space, leaving behind the aching hearts of family members, friends, and Americans everywhere.


"When I realized Rick wasn't coming home and I had been left to raise our children alone, I had two options," said Evelyn. "Out of anger, I could give up on my faith in God, or out of desperation I could lean on my faith in God. I leaned on God and have experienced a peace like I have never known."

When Evelyn takes the stage in Atlanta on Aug. 1-2,thousands of women ....
Women of Faith is a real "reality program" – where some 2 million women across the U.S. and Canada have discovered how to be survivors for a lifetime, not just a season. Through gut-level honesty, roll-in-the-aisle humor, inspirational music and drama, and personal stories of triumph over tragedy, Women of Faith is tuning in to the real issues women struggle with today–fear, stress, loss, illness, divorce, financial worries, societal pressures, loneliness–no topic is taboo.

"Women juggle so many of life's realities: family, careers, and 

the business of daily living," said Mary Graham, president of Women of Faith. "Through honesty and humor, we remind women that God loves them and that He is in control of all these realities."

Women of Faith has drawn more than 2 million women to some 160 events in dozens of cities throughout the United States and Canada since 1996. Through powerful personal stories of overcoming life challenges, unedited honesty, inspirational music, compelling drama, and outrageous humor, Women of Faith offers an unstereotypical message of hope that is empowering women with the faith needed to overcome even their worst tragedies and fears.
Speakers:
The Women of Faith speakers, who have become America's most popular speaker team, have each overcome some of life's toughest adversities, and offer unique messages of hope and encouragement that are changing the lives of hundreds of thousands of women throughout America and Canada.

Patsy Clairmont–Overcame agoraphobia (fear of open spaces) that imprisoned her in her own home, popular author, radio personality, founder of Michigan-based ministry

Nicole Johnson–Vibrant 30-something actress, comedian, T.V. producer and host, popular author

Marilyn Meberg–Overcame early death of her husband and debilitating illness, popular author, former marriage and family counselor, former college professor

Luci Swindoll–Living single in a doubles world, former Mobil Oil Company executive, popular author, former opera singer

Sheila Walsh–Battled debilitating clinical depression that landed her in a mental hospital, recording artist, popular author, founder of Children of Faith, former BBC and U.S. T.V. host

Thelma Wells–Triumphed over racism and severe child abuse, successful Dallas businesswoman, popular author, founder of Dallas-based ministry