Author Albert Hsu sees suburbia as something else: a vast mission field. In his fresh new book, The Suburban Christian, Hsu presents an exciting vision where Christians live and work to transform suburbia from a sea of consumerist isolationism into a hotbed of Christian hospitality.
Describing the history of suburbia, Hsu gives us the example of Clapham Common, an eighteenth-century British neighborhood founded by William Wilberforce and his friends. Clapham Common was designed as a place where families could find a healthy environment, green spaces, and common civic areas — not so that they could escape the world, but so that they could live in community and collaborate in their Christian mission.
But today suburbia seems much more like a place where people try to create their own little utopias. Consumerism tricks us into believing that the most important thing in life is the best cable service, the biggest lawn mower, or a Gucci purse. The commuter culture runs us ragged, as we invest valuable time scurrying between home, work, church, the soccer field, and the grocery store.
I don't think this is what William Wilberforce had in mind, and neither does Hsu, who challenges us to abandon our suburban complacency. By selling all of our possessions and relocating to China? No — by adopting a radically biblical worldview that calls us to approach suburbia as a mission field right where we live.
Hsu says, "If we aren't called to go [to the foreign mission field], we must be sure that we are called to stay — not in a passive sense, but to stay with an intentionality of active sending, sharing resources and participating in global mission even at home."
If some of us are truly called to suburbia, then we are also called to transform it by denouncing personal isolationism and embracing hospitality — a value, Hsu says, that is at the core of the Gospel. We can fight commuter culture — a trend that keeps us in our own cars instead of in relationships — by strategically living, working, shopping, and worshipping in the same part of town. And we can walk, bicycle, and carpool more. That way, we can be available to "Good Samaritan" moments, as Hsu calls them.
Hsu's book is filled with practical ideas for living out these Good Samaritan moments. For example, in the spirit of Wilberforce — who fought against human slavery — those of us in local government, real estate, or building industries could marshal our resources to fight against economic slavery by promoting affordable suburban housing for the lower and lower-middle classes.
And here's a less demanding but equally valuable idea — practice hospitality by foregoing a solitary evening in front of the television screen and invite your neighbors over for dessert. You never know — it might open the door to tell them about the Creator of hospitality right in the midst of suburbia.
---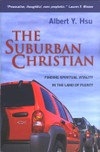 Albert Hsu, The Suburban Christian: Finding Spiritual Vitality in the Land of Plenty (InterVarsity, 2006).
Mark Earley, former State Senator (1988-1998) and Attorney General of Virginia (1998-2001), became president of Prison Fellowship on February 1, 2002. As President and CEO of Prison Fellowship USA, Earley oversees the national ministry founded by Charles Colson in 1976, which has since spread to 108 countries in addition to the United States. Prison Fellowship's core commitments are Fellowshipping with Jesus, Visiting Prisoners, and Welcoming Their Children. Earley is a graduate of the College of William and Mary in Williamsburg, Virginia, where he received a B.A. in Religion.  He earned a juris doctor degree from Marshall-Wythe School of Law.  He resides in Lansdowne, Virginia, with his wife, the former Cynthia Breithaupt, and their six children.
© 2004-2006 Prison Fellowship, used by permission.