Teens Find Acceptance - and Christ - at Rocketown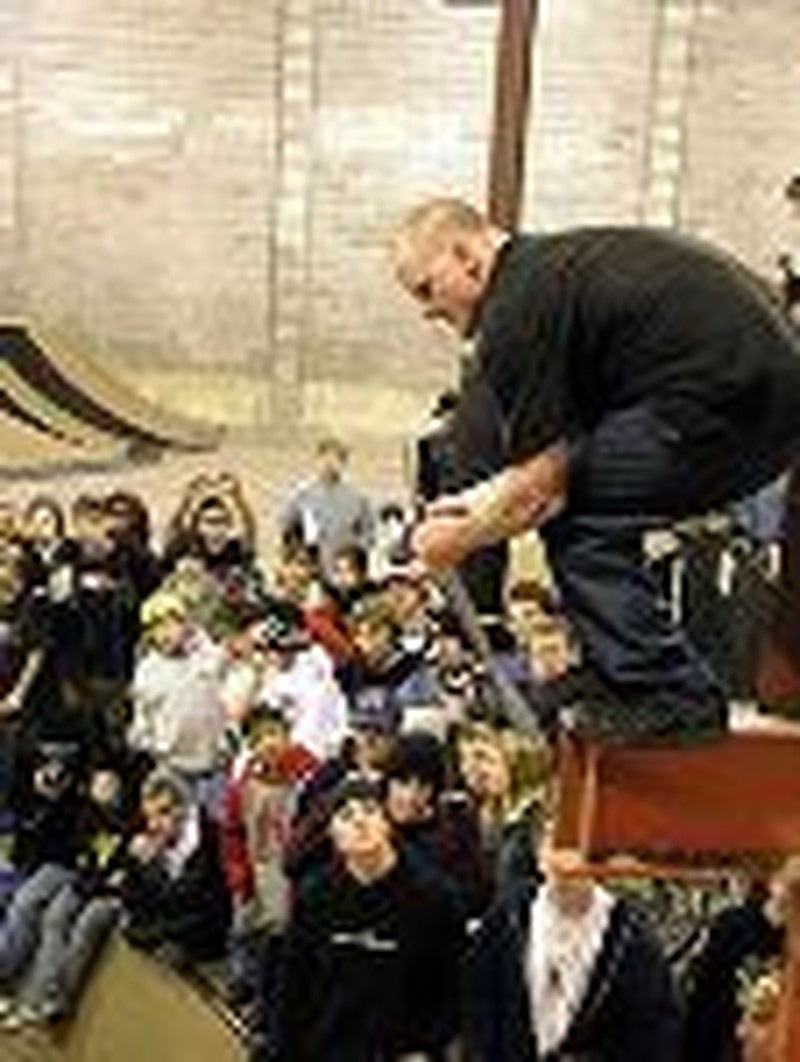 Editor's Note: On May 26-27, Rocketown will be the focus of local and national attention as Jim Towey, the White House director of Faith-Based Initiatives visits Nashville. Click here to read more. 

It's Friday night in Nashville, and scattered throughout the sprawling Rocketown complex, pockets of teens have gathered with like-minded comrades. The artsy types gravitate toward Empyrean, the cozy first-floor coffee bar. There, they play games, check e-mail, kick back on overstuffed chairs with mocha lattes, and take in the acoustic strumming of an emerging local talent. The Empyrean Stage is quickly becoming a hot venue for aspiring songwriters in Nashville. Poetry readings and art shows round out Empryrean's offerings.

A few feet away, young fashionistas check out the latest threads at Driven, Rocketown's boutique. It's more than just a place to find unique clothing – Driven helps kids to develop a sense of style that defies cultural pressure. Budding designers showcase and sell their wares, thereby gaining valuable insight into the world of business. In addition, Driven offers a T-shirt design class and modeling opportunities.

Around the corner, over a thousand teens are packed into the main music venue. Rocketown's nightclub offers teenagers top-quality entertainment – hybrid dance music and/or live performances from local, regional and national acts – without the threat of alcohol and drugs. Level One is the dark, intimate, underground club where punk rock bands flail with abandon.
In another part of the complex, skateboarders ride and jump to their hearts' content at the Sixth Avenue Skate Park. The 11,000-square feet of terrain includes vertical walls, ledges, rails, ramps and a five-foot capsule bowl. It has become the premiere spot for skaters, in-liners and bikers in Middle Tennessee.

Yes, it's an odd assortment of humanity. Skaters, models, heavy-metal heads, dancers and poets – somehow coexisting under one roof. They've each found their niche at Rocketown – a place to fit in and be accepted for their very uniqueness. And doesn't every teenager crave acceptance?

A recent Youth Risk Behaviors Survey shows that one in four teens have considered or attempted suicide. On average, 3,650 youth choose to die each year. More than one third have been sexually active. One in four have used marijuana and one in five have engaged in heavy drinking. "Many of the problems facing today's young people relate to feelings of being disconnected and rejected," explains Rocketown's Executive Director Roger Thompson.

Founded in 1995 by Christian recording artist Michael W. Smith, Rocketown exists to foster relationships between disenfranchised adolescents and Christian mentors, in order to meet their social, physical and spiritual needs. The original facility, located in Franklin, Tenn., closed in 1997. But after the shooting at Columbine High School in 1999, Smith renewed his efforts to find a suitable, permanent building. After several years of fund-raising and searching for a suitable property, the 40,000-square-foot entertainment and recreation center in the heart of downtown Nashville opened in early 2003.

With so much going on under one roof, and so many types of kids crossing paths, do sparks ever fly? According to Thompson, "These sub-cultures of youth are pretty distinct from one another and we've gone to great lengths to separate things out. That's why the skate park is called Sixth Avenue, not Rocketown. The cafe is called Empyrean; it's not Rocketown."
Thompson laughs, "I've actually heard kids in the skate park talk about how much they love Sixth Avenue, but I'll hear them say 'Rocketown stinks! We can't stand that place.' They don't even know they're in the Rocketown building."
Branding and identity are vitally important to these kids, Thompson explains. "We decided if that's what it takes to reach them, then that's what we would do."
It's All About Relationships
According to Thompson, the teens who wander into the club often come from unchurched backgrounds. "We're trying to pick out the kids that the church isn't effective with. Being downtown, we see a lot of fatherless kids. We see a lot of kids who are not really certain what the value of life is. All of the statistics you see in the world, we see in this building. Homosexuality, drug use, violence. These kids are not really used to being served. Most of the conversations that we have had with teens that have led to them receiving the Lord begin with, 'Why are you doing this for me?'"
Thompson points out that in order to reach the unsaved world, Christians must be willing to interact with nonbelievers. Rocketown creates those points of interaction. "We're trying to create this marketplace of ideas and if we really do believe that Christians have the most effective life system, then we want to be in the mix of people to have that discussion."
Christian volunteers and mentors, along with an in-house pastor and teens from area churches, mingle in non-threatening ways with youth from the streets.
For example, says Thompson, Rocketown's dance group is a blend of Christian and non-Christian teens. "They just started having a great time together – doing break dancing and hip-hop. The person who oversees the team is a Christian. Well, I asked her to take it to the next level. I knew they were not ready to talk about Christ, and I didn't want her to force it, but to start adding spiritual reflection. She transformed it into something that was relevant to the group and, all of a sudden, they are having spiritual reflection."
Once the teens start asking questions about God, Thompson explains, it tends to lead to Him. "So we've opened that door with them and went from a big group setting, all the way to a smaller group, into a dialogue that's now leading these kids toward Christ. It's really exciting when that happens."
Another great point of interaction, according to Thompson, is the Skate Park. "From the very beginning, it has been the homerun of Rocketown. Our staff loves these kids and they skate together. We pray with them. During the week, as the staff engages the skaters, they say 'Hey if you're interested, we're going to skate a little bit and have a Bible study on Sunday night.' Now we've got 35-some kids coming to this Bible study."
A Role for the Church
Thompson quickly points out that Rocketown does not exclude Christian teens. In fact, at Rocketown, they learn to live biblically. There are some 67,000 teens in the Nashville area. Rocketown has eight full-time staff. "We're certainly not going to reach them all. To have a lasting impact on this community, the church and the Christian kids are going to have to rise up. And I think that Rocketown can help provide the resources for them to do that."
Outside of school and church, he adds, there's really not a place for Christian kids to hang out either. "We have created a mutual place where Christian kids feel safe enough to hang out, beneath our views of the urban skyline, and they're still very safe. But then we bring in those kids that don't go to church and create an opportunity for them to all engage in conversations."
But how do you get a teen from a white, suburban church to see a classmate at Rocketown who is in their algebra class, and to walk across the room and say, "How did you do on that test yesterday?" Even more challenging, how does the teen jump from there to talking about his or her faith? Youth pastors play a huge role, according to Thompson. "They must equip the kids to communicate effectively about their faith and their culture." 
Thompson concludes, "If we can work together with the churches, that's something that's probably not happening in any other city in America right now. There's at least the potential for Christian teens to make that impact on their culture. "
Visit Rocketown at www.rocketown.com