10 Verses for the Spiritually Scattered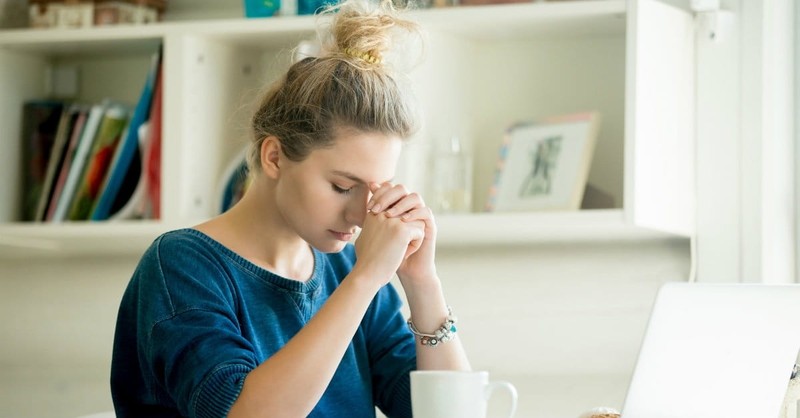 Scatterbrained. Flaky. As a kid, I lost things, forgot appointments, and was inevitably, chronically late. As an adult, I recognize the symptoms—I had a classic case of Attention Deficit Disorder. That difficulty focusing can have a spiritual impact, too. Mental clarity, peace, and purpose all require that enviable calm and focus which we headless chickens lack. We tend to label it an academic problem, but think of the spiritual implications — you're drowning in obligations, overwhelmed and under the pile.
Where's the peace? Where's the joy?
Thank goodness God prepared in advance for His scattered chicks. Keep it simple, He seems to whisper. Following Jesus isn't complicated.
If you, too, struggle with where to start, or wonder how to simplify your walk with Christ, here are ten verses that might just help you breathe a little slower, bring your anxiety in check. You'll notice they tend to go straight for the heart.
1. Psalms 27:4
One thing have I asked of the Lord,
that will I seek after:
that I may dwell in the house of the Lord
all the days of my life,
to gaze upon the beauty of the Lord
and to inquire in his temple.
Ahh, one thing. How hard can it be to remember one thing? And such a simple thing, too— adoration. Since I'm distractible, a visual reminder can help. "Gazing upon the beauty of the Lord" might sound a little ethereal, but it can be as low-key as taping a few verses on the mirror.

One person who seemed to get this was Mary of Bethany.
Read on.
But the Lord answered her, "Martha, Martha, you are anxious and troubled about many things, but one thing is necessary. Mary has chosen the good portion, which will not be taken away from her."
Mary, like David, had adoration down pat. While Martha fretted over all of the detail-work of hosting a dinner party, Mary feasted on Jesus. When life seems overwhelming and you feel anxiety on the rise, it's comforting to remember that the only really necessary thing is your relationship with Christ. There are always enough minutes in a day to accomplish His to-do list.
"Which commandment is the most important of all?" Jesus answered, "The most important is, 'Hear, O Israel: The Lord our God, the Lord is one. And you shall love the Lord your God with all your heart and with all your soul and with all your mind and with all your strength.' The second is this: 'You shall love your neighbor as yourself.' There is no other commandment greater than these."
Making decisions is stressful. Should I take this job, marry that guy? Well, which one will help me love God more— with all of my emotions, mind and strength? Which way is selfish, and which is loving? Jesus' words set the highest priority for us, and offer an easy-to-remember (not necessarily easy) matrix for decision-making.
4. James 4:17
So whoever knows the right thing to do and fails to do it, for him it is sin.
James is pretty self-explanatory. Do the right thing, dummy! I often think about this verse in common circumstances: when I see a person who obviously needs help, a mess that needs cleaning, or words that need to be said. Seeing the wrongs that need righting is the easy part, it's follow-through that's tough. For a person who's easily flustered by too many options, this is a great encouragement to do the next best thing.
Now. After that first step, the rest usually follow.
But seek first the kingdom of God and his righteousness, and all these things will be added to you. Therefore do not be anxious about tomorrow, for tomorrow will be anxious for itself. Sufficient for the day is its own trouble.
We admit that we worry, often— about finances, health, relationships, and job security. But as Jesus remarked, worry won't add hours to your life. What it will do is make the minutes miserable. So seek first the kingdom of God, and then... don't worry. Don't dither about tomorrow. Today, this moment, keep your eyes on Jesus. Trust Him.
Childlike faith is a huge key to a joyful life. God's got this.
If then you have been raised with Christ, seek the things that are above, where Christ is, seated at the right hand of God. Set your minds on things that are above, not on things that are on earth. For you have died, and your life is hidden with Christ in God.
Life has a way of whipping by; it's easy to get a little seasick if you don't fix your eyes on Christ. To set before your heart a reminder that you're heading home is to give yourself a reason for hope, an anchor for your storm-tossed soul.
7. Micah 6:8
He has told you, O man, what is good;
and what does the Lord require of you
but to do justice, and to love kindness,
and to walk humbly with your God?
Micah's Top Three has a great justice-oriented spin, putting feet on the heart attitude that puts God first. What does an adoring life look like? What is the overflow of faith?
It's fair, kind, meek, seeking the welfare of the city. When entire communities seek first the kingdom of God, everyone benefits. And for those of us who tend to drift, here is a galvanizing mission.
And now, Israel, what does the Lord your God require of you, but to fear the Lord your God, to walk in all his ways, to love him, to serve the Lord your God with all your heart and with all your soul, and to keep the commandments and statutes of the Lord, which I am commanding you today for your good?
Interesting that in this "Book of the Law," what saturates every page is God's claim on our hearts. It is difficult to know how to "walk in all his ways," but not complicated to still your heart. The do-able part is asking Him for insight. Lord, how's my heart? Show me where I've gone astray.
9. Romans 8:1-2
There is therefore now no condemnation for those who are in Christ Jesus. For the law of the Spirit of life has set you free in Christ Jesus from the law of sin and death.
Lest you get down in the dumps thinking about the state of your heart, Paul has this little gem for us: no condemnation. Hey, you with the anxiety, you with the three page to-do list— you're loved! There is no shame. Paul reminds us that in Christ we are forgiven, we are gloriously free.
10. Galatians 5:1
For freedom Christ has set us free; stand firm therefore, and do not submit again to a yoke of slavery.
Whenever I'm tempted to micro-schedule my overfull calendar, to add to my lengthy agenda a dozen new self-improvement projects, I need to remember this: I have been set free. The burdens I impose on myself are not from God, they are manmade. God has beautifully released me from condemnation, from human obligations, and from guilt. All I really need to remember is one thing.
Now that's freedom.
Catherine Morgan lives in Colorado with her husband, Michael, a pastor. She is the author of Thirty Thousand Days: The Journey Home to God, and blogs at catherinesletters.com. 
Photo courtesy: ©Thinkstock