Thanksgiving Reflections
Janet Chismar

Senior Editor, News & Culture

Published

Nov 27, 2002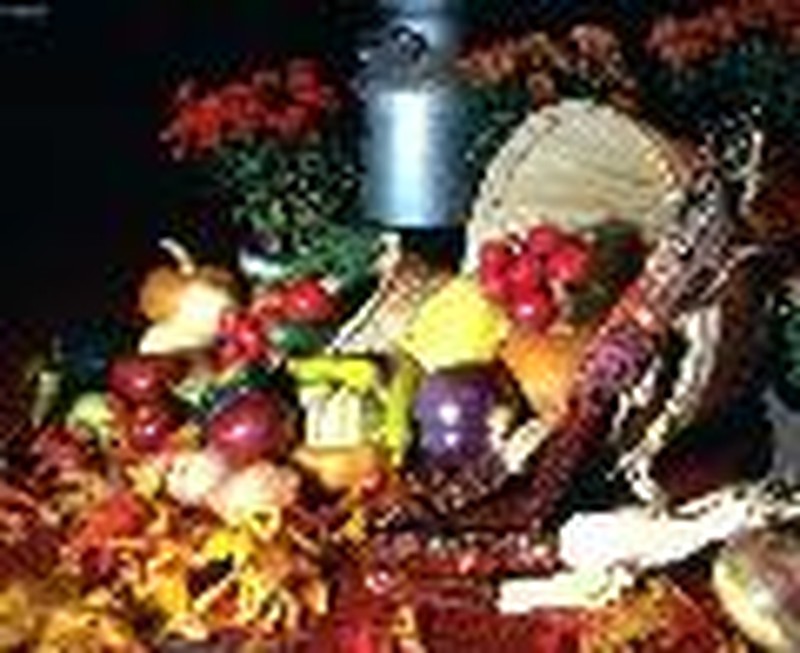 We caught up with a few artists and authors who shared with us the things they are most thankful for this year.
Chris Tomlin -- I'm pretty patriotic and I'm really thankful to live in the country that we do, especially in the midst of all that 

is going on in the world. I think we, especially my generation, may not understand that as much. The more I travel, the more I'm thankful for the blessings that God has given us. We definitely have our problems, but we live in a pretty amazing place.
Every year I am also thankful for family more and more. Again, I look around and see the mess that so many families are in, and I'm so thankful God gave me such a good, loving and caring family that believes, in not just me, but my brothers - all of us. My parents really believed in us, and I think that gave us a lot of confidence to do what we thought we needed to do in life.
And I am thankful for my music family - my band and all the people that surround us from managers, to record companies - I am unbelievably thankful to them for their belief in us too, which is always pretty overwhelming.
One of the premier songwriters of today, Chris Tomlin is already well known for his widely embraced anthems, including "The Wonderful Cross" and "We Fall Down," which have appeared on over 800,000 Passion records sold to date. Additionally, his "Forever" appears on Michael W. Smith's worship recording. Sparrow/sixstepsrecords launched the sophomore recording from Tomlin called Not To Us in September.
Aaron Spiro -- God is so patient with me giving me time to grow up. I feel like I speak ideas or opinions out as if they are fact. The 

older I get, the more I am starting to see the less I know. I am thankful for grace mercy and endless patience.
Hailing from Seattle, Aaron Spiro is a new breed of artist with a unique, fresh sound in today's music realm. With an unmistakable voice that immediately grabs your attention, his debut album Sing is a strangely inviting and compelling Modern Rock album. But what's most compelling about Aaron is his transparency - in his music, his life and his relationship with God.  Sing features the songs "Sing," "Thrill" and "You Are The One."
Nancy Leigh DeMoss -- Sadly, much of the time, I am more conscious of my pressures and problems than I am my blessings. Recently I have been convicted of the fact that I am far more prone to talk about the difficulties and challenges I am facing, than to verbalize His goodness and faithfulness.
I love the Thanksgiving season because it helps me adjust my focus 

and reminds me to put on the "attitude of gratitude." The truth is that His blessings in my life far outweigh the problems--and even the problems are really blessings, if I choose to accept them from His hand and see them from His point of view.

So, this Thanksgiving, I give Him thanks for temporal, physical blessings--good health, food, housing, clothes, freedom, family and friends--and for eternal, spiritual blessings-His salvation, His mercy and grace, hope, the peace of God, His constant presence in my life, the calling to ministry, the privilege of serving Him, His indescribable love, His indwelling Holy Spirit, His Word, His leadership, His sovereign rule over my circumstances and over all things, and other blessings too numerous to count!
Nancy Leigh DeMoss is an author, speaker and the host of the daily radio program, Revive Our Hearts, which is co-sponsored by Life Action Ministries, Back to the Bible  and FamilyLife Today. Since 1980 she has served as the Director of Publications and Women's Ministries and as the editor of Spirit of Revival magazine. Nancy is the author of A Place of Quiet Rest: Finding Intimacy with God Through a Daily Devotional Life and Lies Women Believe: And the Truth that Sets Them Free. (Moody Press).
Paul Colman -- In Australia, we don't celebrate Thanksgiving, but being in America during  this celebration reminds me of how much we 

love the people of this nation and how we have strong commitment to encourage them to lead on a global scale by following Jesus.     
Essential Records' Paul Colman Trio recently claimed the No. 3 position on Radio & Records' list of the year's Top 10 breakthrough Christian artists. The band's latest release, New Map of the World, has generated multiple radio hits, including "Turn," which reigns as the longest running No. 1 song on the Christian Hits Radio chart in Radio & Records history (10 weeks) and the fastest rising No. 1 single from a new artist on R&R's CHR chart (8 weeks).