Three Ministries, 7 Days, One House: A Spring Break Story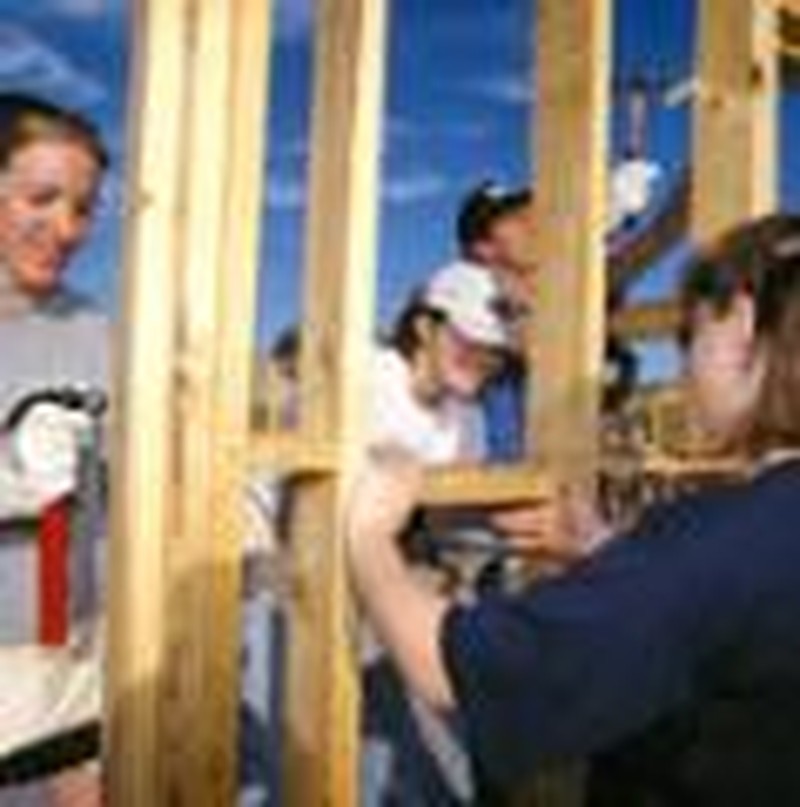 It's Spring Break, and college students have gathered with friends to soak up the Florida sun, listen to their favorite bands, and enjoy time away from their studies.
But this is no ordinary beach week. While their fellow students frolic on the hot sands on Fort Lauderdale, these students have traded beach towels for hammers, and the chance to help those less fortunate with the one of life's most basic needs – shelter.
In the span of five days, these students – all involved with campus ministry group InterVarsity Christian Fellowship (IV) – worked toward completion of a Habitat for Humanity home in Davie, Fla., part of a three-proonged Spring Break initiative culminating with BeachFest a free, two-day concert and Christian outreach event sponsored by the Luis Palau Evangelistic Association (LPEA). The partnership among the three ministries has stretched each group and forged a strategic relationship to evangelize in new ways.
Old Models Made New
The Habitat house under construction in Davie isn't the only new model in Florida this year. The two-day BeachFest, organized by the LPEA, is a newer, more effective way to communicate the Gospel to the surf and sun crowd, says the group's national festival director, Andrew Palau.
It's "a twist on the old model: People coming together to share the gospel," Palau says. "The festival has a few outward trappings that are different: music, skate parks, a children's area, and it's in the 'living room of the city,' which, in Fort Lauderdale, is the beach."
The LPEA made the switch to BeachFest from the older crusade-style model of evangelistic outreach a few years ago, Palau says. "It's been a whole new day as far as an ability to reach the community ... and, more importantly, allow believers to be successful in bringing their friends [to the event]."
No more pastors in suits, accompanied by choirs. Instead, the contemporary bands and more informal event locations for BeachFest have generated 10 times the crowds of earlier events, Pulau says.
More than 1,100 churches in South Florida contributed to the year-and-a-half of preparation required to bring the two-day event to Fort Lauderdale. Training in friendship evangelism and counseling lay the groundwork for the gathering-in of new believers that takes place during BeachFest.
But the fruits of such preparation were manifest prior to the weekend festival. "We've already had 840 decisions for the Lord," Palau said last Wednesday, days before BeachFest officially kicked off.
Palau says the Habitat partnership is the LPEA's latest undertaking in its "Operation Compassion" initiative, which has included food drives and other work-service projects. "It's been a great, great, wonderful breakthrough relationally for us because [Habitat is] just making such an impact around the world," Palau says. "If this partnership could serve Habitat's vision and the vision of the local churches, it would be great to do this in every [BeachFest] city," he adds.
One-to-One Connection
The Spring Break partnership between the LPEA and Habitat can be traced back to a letter sent from the LPEA to Habitat for Humanity founder Millard Fuller, says Habitat Marketing Director Karen Lienau. The LPEA "wanted Habitat to have a presence at [BeachFest], and also [wanted to] get involved in house-building," she says.
When 13 college BeachFest volunteers specifically requested to work on a Habitat project, the pieces fell into place. "We worked to put them into available slots" through Habitat's Broward County, Fla., affiliate, Lienau says.
An additional 60 IV students from multiple colleges around the country devoted their Spring Break to helping out with the same Habitat affiliate, as part of Habitat's "Collegiate Challenge" program. Lienau says the year-round "Collegiate Challenge" draws 11,000 students to work with U.S. Habitat affiliates during Spring Break.
During its 15-year history, the program has "grown to be one of the largest alternative Spring Break programs in the country," Lienau says. "It's a great way for us to reach out to Christian students across the country and have them join the Habitat housing ministry."
The impressive results have allowed Habitat – founded as a way to "offer people a concrete way to put their faith into action and answer Christ's call to serve neighbors in need," according to founder Fuller to stress its Christian calling.
On that score, the event was a success even before it began, says Lienau, who adds that Habitat is investigating ways to continue partnering with the LPEA. "They have a large evangelical audience we'd love to tap into more," she says. Habitat's recent partnership with Christian band Third Day also has generated strong interest in Habitat's work among the band's fans, Lienau adds.
By week's end, the Habitat home was nearing completion. But the work of Habitat, the LPEA, and InterVarsity will go on.