3 Ways to Bring the Love of Jesus to Those Outside the Church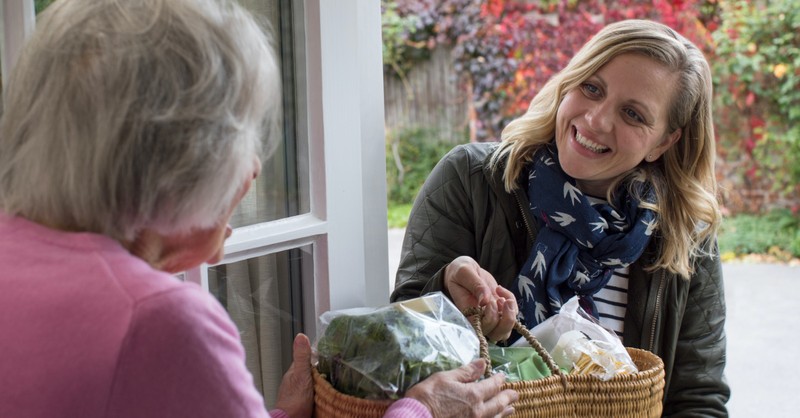 When Jesus came to earth and lived among the people, He showed how much he loved them. He revealed His deep love and care for everyone.
Jesus, the man who came to make a way to save mankind, did not hesitate to serve others. When He met the needs of the people, they would talk with Him about their spiritual needs. Jesus offered a special Hope they had not experienced before.
When Jesus caught fish for his disciples at the seashore or fed 5,000 people on a hillside, he satisfied their hunger. He cared for the needy, the hurting, and the sick. He shared in the pain of others.
Some Christians today feel they don't know how to share the love of Jesus to people outside the church. They are not sure how they will be received. Don't let uncertainty get in the way of showing your caring words or deeds.
We can begin to share His love by reaching out and caring for the ones in front of us. Opportunities to show mercy with cheerfulness are everywhere. Let's look at three meaningful ways to share His love: with the homeless, older adults, and neighbors and friends in your area.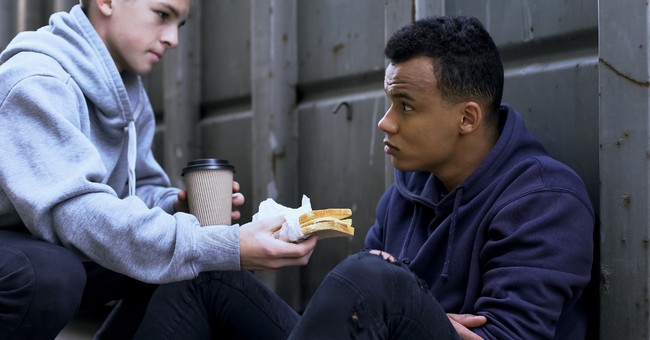 Photo Credit: ©GettyImages/Motortion
1. Bring the Love of Jesus to People Who Are Homeless
If you've ever met a homeless person, you'll find that many of them struggle with basic coping skills. Many of them feel unloved and unaccepted by family and society in general.
What can we do when we see a homeless person? Why not start a conversation? We can attempt to understand what is going on in their lives. It doesn't take much to give some needed encouragement or offer them some hope.
I will often give them a pocket-size book of John to read. As a member of the Pocket Testament League, I buy these small booklets for a reasonable price. The Gospel of John is an effective tool in reaching people with the message of Jesus Christ.
Another excellent resource that offers hope-filled Scripture reading is World Missionary Press. They have free Scripture booklets that are available in different languages.
There are other ways to help, too. I have a retired friend who helps the homeless once a month. His church participates in a program that feeds the homeless in a large metro area. It gives him great joy to help in this way. My friend sets up a sandwich-making station at his kitchen table. He makes dozens of peanut butter and jelly sandwiches. He carefully packages them in individual baggies for distribution.
Many cities have safe shelters for the homeless. Our community has a well-run shelter. Residents must be drug-free and follow the rules of the shelter. The shelter keeps a current list of its needs. The needs are posted online on the shelter's website.
The church I attend partners with this local shelter. Every month volunteers sign up to bring a food item from a planned menu. We prepare the food for the evening meal for a large number of people.
Get a list of your area's shelter's immediate needs. These needs include basic food items, clothing needs, and other shelter needs. Donate items on the list.
I became interested in helping the homeless about 20 years ago. Our church youth group made plans to help at an inner-city shelter about an hour away. We brought along boxes of food for the meal that evening and served the meals to the men and women.
The young people were excited to be in charge of the evening service in a large hall. I sat next to a young lady named Patty. She seemed shy and a little fearful.
The young people talked about God's love and how He sent His only Son for us. Jesus, a perfect man, came in the flesh and was willing to suffer for the sins of all mankind. We sang some hymns.
I became acquainted with Patty that evening. She had a Bible with her. I used her Bible to talk about important biblical truths.
Soon after, Patty got in contact with me through our church in our town. For awhile we kept in touch with each other through letter-writing. Then, sadly, I lost contact with her. I often wondered where my friend was and how she was doing.
A year ago, out of the blue, Patty called my church. Our church secretary took the call. Patty was wondering if I still attended that church?
Patty and I were back in touch with each other again after many years. She shared the news that she is living in her own apartment now. We talked about her past.
Then she said something that brought joy to my heart. She said, "The reason I called you is I wanted to talk to someone who knows God."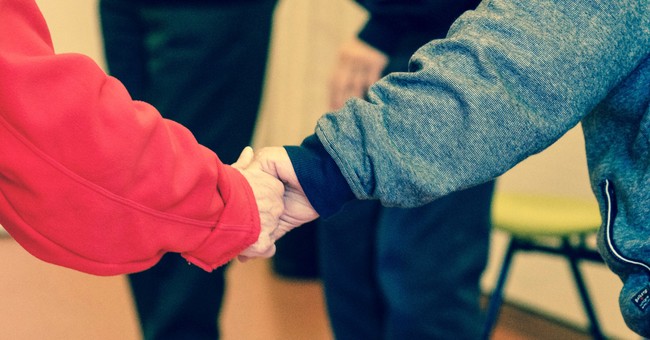 Photo Credit: ©Pexels/Matthias Zomer
2. Bring the Love of Jesus to Older Adults Wherever They Live
Caring Christians have a great opportunity to help older adults. Take some opportunities to share the Good News with them.
Some older adults live alone and may be lonely. Ask how they are doing. They may need help with certain tasks. Is there some yard work that they need help with? Ask how you may help them.
Contact your senior citizen friends when you find out they are sick. Do they need assistance getting to their doctor appointments? Offer to drive them there.
Many older adults live in nursing homes, care centers, rehab centers, assisted living, and memory care facilities. You could find out if centers near you have activity directors who plan social interaction events with the residents, and sign up to help when needed.
Even the finest facilities rarely provide a ministry of fellowship and spiritual helps for the residents. That's where the ministry of the SonShine Society steps in, visiting residents on a regular basis.
The SonShine Society is a complete resource center for the Nursing Home Ministry. The purpose is to be "Ambassadors for Christ" in the nursing homes and care centers of America. It is an interdenominational, non-profit organization of volunteers. They offer a training guide for Christian volunteers, "All the Days of My Life," large-print song and Scripture books, and other materials. A free "Power Packet" contains the training guide plus samples of the materials.
Talk to the nursing home staff about having regular, informal church-sponsored meetings with the residents. Have a short Bible message or devotional. Sing familiar hymns and choruses. Accompany the singing with piano or guitar.
I've been in a nursing home where some of the residents had dementia. When these dear residents sang familiar hymns, they sang out joyfully. The music and words came together again as though time stood still.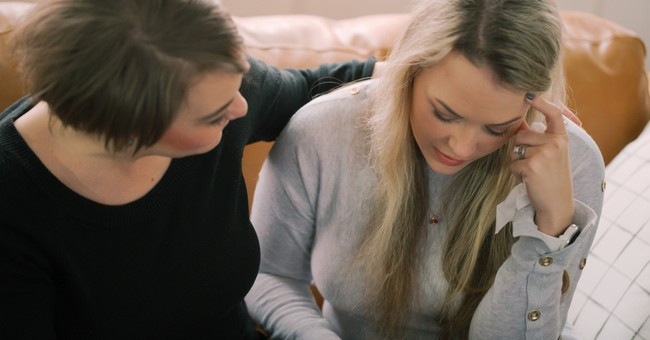 Photo Credit: ©Sparrowstock
3. Bring the Love of Jesus to Neighbors and Friends in Your Area
During times of recession, some larger churches have weekly drive-thru lines for food give-away programs. They organize and separate the food into grocery bags for needy families. Families are so grateful for this help during their time of need.
Sometimes God prompts us to minister in different and unlikely ways. He uses our availability and our unique talents.
Two years ago, I became aware of a family in our area that was involved in a tragic accident. One early morning, when a big sister and her two little brothers were boarding their school bus, they were killed in a horrific accident.
In an instant, three beautiful children's lives were tragically cut short. The parents would no longer hear their children's laughter and giggles. My sorrow for the hurting family didn't end. For weeks I felt the need to reach out to the parents and express my deep sorrow. Finally, the grieving mother and I were able to get in touch with each other.
I wanted to present a gift for the family that would be a memorable one. With care, I wrote and created something special to memorialize each of the departed children. I arranged to send the package to the family via the mailing address at the funeral home. They would pick up the package there.
A few months later, one morning I was pleasantly surprised to receive a phone call from the mother. She said, "We were all in tears when we saw the gifts. Even the funeral home director was in tears. You touched our hearts."
It doesn't take much for us to reach out to our community. Let's be aware of what is going on around us. When we see a need, let's share the love of Jesus with people outside the church.
Recommended for You:
What Does the Bible Say about the Homeless?
Lessons in Love Learned from the Homeless
7 Things Not to Say to Someone Who Is Grieving
What Does it Mean to Love Your Neighbor As Yourself?
Photo Credit: ©Getty Images/Daisy
---

Deborah Nayrocker is the author of Grow in Faith toward Maturity: 31 Days to a Closer Walk with God (Credo House). A practical guide for growing Christians, the book has thirty-one brief chapters for daily devotional use. The book is available in e-book and paperback at Amazon and Barnes and Noble. Deborah is also the author of the Bible study Living a Balanced Financial Life (AMG) and The Art of Debt-Free Living – Living Large on Less than You Earn (WinePress). Her Website is www.DeborahNayrocker.com