3 Ways to Shift from Consumer to Contributor at Your Church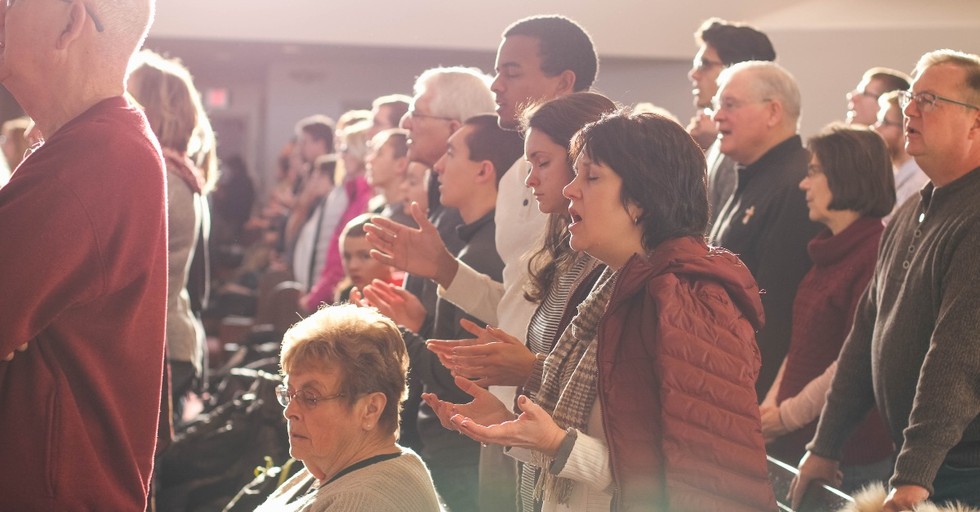 In my college years I stepped away from my church. While my faith still lay deep-seeded under the surface of all sorts of bad behaviors, my character certainly lacked any resemblance to Christ. My faith, or rather, my willingness to submit to Christ's authority wasn't all that convenient at the time. I wanted to live by my own rules and certainly didn't want the judgment of others making me feel guilty.
So, I bailed on church. I justified myself with little quips like, "it's just not doing anything for me right now." Or, "I'm just not being fed." Or my favorite justification, "Church people just put God in a box, and I'm not interested in that."
Interestingly enough, a few years later it was "church people" who helped mend my broken pieces. It was "church people" who loved me despite my reckless behaviors and irreverence for their devout faith. It was "church people" who invited me, over and over again, into their lives and spaces. They made a place for me at their tables and in their living rooms and didn't expect me to radically change my life overnight.
Unsurprisingly however, their radical love did in fact create radical change in my heart, my faith and ultimately my life. As these changes occurred, I returned to church. At first, I'd sit in my little church in the very back row while people freely worshipped around me. I sucked in the content of the sermons and received as much as I could.
During that time, church was triage for my broken soul. I needed to heal and become whole. I consumed everything, every worship song and prayer and sermon, as if I were eating for the first time. I took it all in. In that season, I was experiencing a "consumer Christianity" of sorts. I wasn't actively participating or connecting in with the church body. Instead, I was simply receiving.
Maybe you're in a season similar to that—right now you are receiving and consuming within the body of your church. Sometimes this is exactly the right prescription, sometimes we need to rest and be nourished, to receive and consume the Good News. On the other side of that, however, we are called to engage actively within our congregations.
f you're are realizing that you've been receiving for quite a while and your cup is full, then perhaps it's time to take a brave step into action.
Here are a few ways to shift from passive (or consuming) to active within our church bodies:
Photo Credit: © Sarah Noltner/Unsplash
1. Take Strides from Passive to Active through Connection

Slide 1 of 3

As I grew in my faith, and I became more and more filled up, I slowly started engaging with the believers around me. My very first step of adult faith—I use the term "adult faith" because I grew up in the church and was very active as a child but didn't yet have an adult understanding of faith—was to join a small group. I will be honest, as an introvert, this was terrifying. I was invited into the home of a young couple who I would call "very cool."

I don't, and especially didn't, consider myself "very cool." I felt cringy and uncomfortable for our first few times together, rarely talking or participating in the discussion. Nevertheless, I kept going back. The leaders of that small group helped me relax and understand that there was room for me in their space.

In that season of my life, what I really needed was just to be thought of and invited. I needed to be included. If you're experiencing something similar, perhaps now is the right time to check out what your local church offers in terms of small groups or community groups.

It can be a brave first step into action to join a group and work towards becoming vulnerable and authentic with a group of strangers. In my own experiences with small groups, I see a common thread of growth and development in my own faith.

As it turns out, just about everyone I've ever met in small group settings comes with history and baggage, sometimes grief and trauma. Through those relationships I've grown and become stronger and fortified in my faith. I know the same can happen for you.

As a caveat, I do need to say, not every small group is going to be the right fit. You may have to try a few different groups before you find your people. Don't get frustrated or give up, dig in your heels and make the effort. There's a lot of life change and breakthrough on the other side of finding "your people."

Photo Credit: ©GettyImages/fizkes

2. Engage in the Mission

Slide 2 of 3

An incredible way to move from a "consumer" position within the church is to actively participate in the passions of your specific church body. My home church, partners with several organizations year-round to combat sex trafficking, to support the needs of our community, and to provide tangible aid to our community partners.

It's amazing to watch lives be changed through often small yet faithful actions and relationship building. I love being a part of a church that believes in engagement outside the actual walls of our building. We remember that "we" are the church, and the building is just one place that we get to gather and worship.

By engaging with the mission of your local church you, too, will be on a trajectory from consumer, or passive faith to one of action and intention. Our faith is a beautiful thing, but it is not actually meant for our own internal enjoyment. Instead consider 2 Timothy 4:7 for instructions on being moved to action by faith, "You have faith and I have works." Show me your faith apart from your works, and I will show you my faith by my works."

Individually, as we deepen in our faith, we will most likely be moved to action. These actions may very well be individualistic and take place in our daily lives, from our relationships with our neighbors to how we serve others—we may very well be applying what we've learned from the Bible into our daily activities.

Getting together with our small group or other individuals in our churches and serving the community is not only a great way to grow in relationship but it is also an amazing way to take "The Church" out of the building.

Photo Credit: ©Sparrowstock

3. Become a Part of the Solution

Slide 3 of 3

I'll be honest, when I was in the consumer (or receiving) stage of my spiritual development I didn't really notice the issues within my church. Let's face it, every church has problems, namely for the reason that it's run by people, and people, well we can get pretty people-y, can't we?

As I've grown in engagement with my church I've often found myself frustrated. Sometimes this is because of organizational structures, or lack thereof. Other times I've been frustrated by how things are communicated. I even get frustrated by other people whose personalities rub me the wrong way.

When this happens to us, we typically have two options.

We can sit in our frustration, which typically leads to grumbling. Grumbling is a close friend of complaining. Complaining solves basically nothing.
Instead, we can choose to engage. We can understand that we, individually, are in fact a part of the church, and have an opportunity to seek resolution, peace and unity.

If you're choosing to engage, consider the words of Paul in Colossians 3:14-16: "Beyond all these things put on love, which is the perfect bond of unity. Let the peace of Christ rule in your hearts, to which indeed you were called in one body; and be thankful. Let the word of Christ richly dwell within you, with all wisdom teaching and admonishing one another with psalms and hymns and spiritual songs, singing with thankfulness in your hearts to God."

For some, the jump from consumeristic Christianity to an action-packed faith-life can feel like making a leap across the Grand Canyon. That bold move into action pulls us out of our comfort zones and into something bigger than we are.

For others, the leap is a mere step. I've met people, through my work in ministry, who show up for church one Sunday, get saved the next and begin serving in some area of the church within weeks. Something within them has been seemingly whispering, "it's time" to their souls.

There isn't a specific recipe or outline for how this transition should occur, nevertheless many of our gospel accounts show a transition to faith and then the physical action of picking up mats, throwing over nets, and physically following Jesus.

As you consider your next steps, do so with prayer and anticipation. I love asking God, before I engage in action, "What are you doing here, and how can I be of best use?" As we keep our eyes trained on what God is doing we often will experience a deep satisfaction within our souls.

Photo Credit: ©GettyImages/Milkos