What it Really Means to Follow Jesus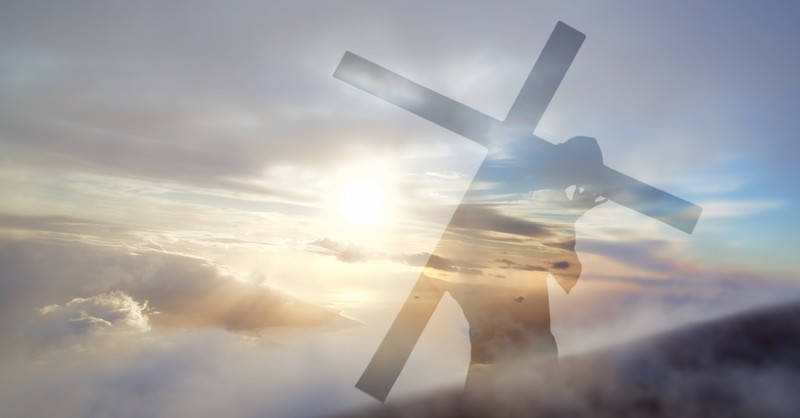 Our modern-day definition of following Jesus looks very different than it did two thousand years ago, especially in the western world. For many, we attend church occasionally for a motivational pep talk, open up the Bible even less, and serve at the local kitchen once a year, if we're feeling generous. This is a far cry from the devotion Christians in the early church showed because, for them, it was a way of life. There was little middle ground or half-heartedness and where there was, it was often called out. Yet, we don't live in such days; our world now very different from such modest times. So, how do we define what it looks like to follow Jesus? You might be surprised to learn that the definition hasn't changed; to follow Jesus today looks the same as it did then.
Where does the Bible Talk about Following Jesus?
There are many verses in the Bible that bring definition to what following Jesus truly looks like. However, one sums it up quite well:
"And calling the crowd to him with his disciples, he said to them, 'If anyone would come after me, let him deny himself and take up his cross and follow me. For whoever would save his life will lose it, but whoever loses his life for my sake and the gospel's will save it.'" Mark 8:34-35 (ESV)
Jesus was speaking to a crowd about the cost of following him. In fact, he said in the following verses that those who would be ashamed of him and his words would be rejected on the other side of this life. Jesus gave three actions—commands—for following him.
Deny self.
Take up one's cross.
Follow him.
The root word for deny means to "separate" or "away." The first step in following Jesus is to forget one's self and interests. This completely goes against your flesh's desire, too. Because your flesh will tell you to put self first; to seek out your own interests. But Jesus beckons us to a different way of life. He calls us to a life that puts aside self to seek God and serve others (Matthew 22:36-40). After denying self, we are to take up the cross, which essentially means to conform to the example Jesus showed when he sacrificed himself on the cross. Again, Jesus modeled the sacrifice of self for the salvation of others.
At its core, this verse commands us to forget our self and interests, conform to the example of sacrifice, and follow Jesus, no matter the cost. To do so, as verse 35 says, is to save one's life. The question you must ask yourself when following Jesus is: would I rather sacrifice eternal security for temporary satisfaction or temporary satisfaction for eternal security? Or as Matthew Henry puts it, "We must dread the loss of our souls."
5 Bible Verses on Following Jesus
Here are other Bible verses that show us what it looks like to follow Jesus.
1 Peter 2:21, "For to this you have been called, because Christ also suffered for you, leaving you an example, so that you might follow in his steps."
1 John 2:3-4, "And by this we know that we have come to know him, if we keep his commandments. Whoever says "I know him" but does not keep his commandments is a liar, and the truth is not in him."
Ephesians 5:1-2, "Therefore be imitators of God, as beloved children. And walk in love, as Christ loved us and gave himself up for us, a fragrant offering and sacrifice to God."
1 Peter 1:14-16, "As obedient children, do not be conformed to the passions of your former ignorance, but as he who called you is holy, you also be holy in all your conduct, since it is written, "You shall be holy, for I am holy.'"
Matthew 6:33, "But seek first the kingdom of God and his righteousness, and all these things will be added to you."
Among these verses, there are many similar words and ideas. Instructions for following Jesus that can be summed up this way:
"Example", "Follow in his steps", "Imitate" — We are told time and again that a follower of Jesus will live as he did. To truly follow Christ is to follow his example and imitate his life.

"Keep his commandments", "Be holy" — A follower of Jesus will pursue a holy and righteous life. We won't get it right one hundred percent of the time because we are human, but our aim is to live a life that honors him.

"Seek first" — Everything comes after him; our focus set on God. When you commit your life to Jesus, you commit to putting Him first, above all else.
What Did it Mean for Jesus' Disciples to Follow Him?
"While walking by the Sea of Galilee, he saw two brothers, Simon (who is called Peter) and Andrew his brother, casting a net into the sea, for they were fishermen. And he said to them, 'Follow me, and I will make you fishers of men.' Immediately they left their nets and followed him. And going on from there he saw two other brothers, James the son of Zebedee and John his brother, in the boat with Zebedee their father, mending their nets, and he called them. Immediately they left the boat and their father and followed him." - Matthew 4:19-25
When Jesus called his first disciples, he called four ordinary fishermen to join him on his journey. He made a simple call to follow, and all four men immediately left their work, belongings, and people to follow Jesus. All was secondary to Christ. This serves as a powerful example of what it looks like to follow Jesus. When he calls you to follow him, nothing matters as much as your relationship with him. For from it, as we read in Matthew 6:33, everything else flows. So, to truly follow Christ is to put Him first in your life, and to surrender to his lead. As the disciples followed Jesus wherever he went, we are to do likewise.
Finally, what we notice in this passage is a purpose. Jesus essentially said, "I want you to follow me wholeheartedly, and to fulfill your mission to lead people to me." When you make a commitment to Christ, it isn't just for you and it isn't just to him. You commit to making his chief aim yours as well. And that's to be a fisher of men—to point people to God. If you love Christ, you will love others and help others find a relationship with Him.
What Is the Cost of Following Jesus Today?
As we've learned, to follow Jesus is to:
1. Deny self and interests to seek God first.

2. Conform to the example of Christ.

3. Follow him in all righteousness.
How does this play out today? It won't be easy, but if you commit to following him, there is a great reward for you on the other side of this life: eternity in his presence! So, when the world and your flesh beckon you to serve your own self-interests, do the opposite and direct that energy to seeking God first and the caring for others. This doesn't mean you sacrifice self-care or allow others to walk over you like a doormat, but it does mean get the focus off yourself. Your life should be committed to serving and loving God and others.
Steps for Following Jesus If You Never Have
If you don't have a personal relationship with Jesus, let's take a moment and chat about that. I want you to know that you don't need the perfect moment to come to Christ. You don't need to get yourself cleaned up before following him. Jesus will take care of the sin; you simply come to him as you are. To follow Christ is to have a simple, honest conversation with him. A conversation that confesses sin, apologizes for the sin you've engaged in, asks for forgiveness, invites Jesus into your life, and commits to follow him. It's essentially turning away from your sins and proclaiming to truly follow Jesus the rest of your life.
Will you follow him? Will you deny yourself, your flesh, and temporary pleasures for a relationship with God and eternity in his presence? Following him isn't promised to be easy, but he does promise time and again in Scripture that he will be with you. Trust your life into the hands and care of a loving God.
Pray with me,
Jesus, you are good and perfect; there is no one like you in all of creation. I know I haven't always gotten it right, and I apologize for that. I'm sorry for every thought, word, and deed that originated from my flesh and went against what you have taught us. Will you please forgive me? I'm so sorry. I commit to turning away from sin—to deny my flesh—in order to follow and serve you. I invite you into my life and seek to serve you first, allowing everything else to flow from that posture of surrender. Please God, help me to live as you did, empowered by the Holy Spirit working in and through me. My life is yours and I will go wherever you call me to go, to share your truth with as many as I can. In the name of Jesus, I pray, amen.
©GettyImages/mbolina
---
Brittany Rust has a passion to see people impacted by the power of God's Word and His abundant grace through writing and speaking. She is the founder of Truth and Grace Ministries, Truth x Grace Women, and is the author of five books. Brittany lives with her husband, Ryan, and son, Roman, in Castle Rock, Colorado. Learn more at www.brittanyrust.com.