What Mary, Martha, and a Flock of Sheep Teach Us about Being with Jesus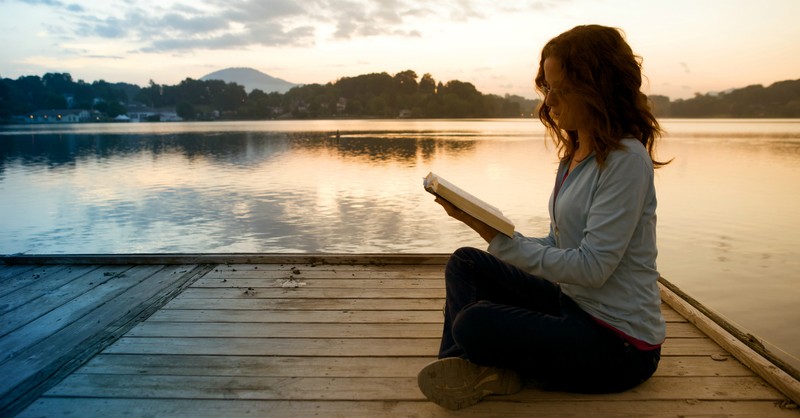 He tends his flock like a shepherd: He gathers the lambs in his arms and carries them close to his heart; he gently leads those that have young (Isaiah 40:11).
As a little girl, I really did have a little lamb whose fleece was white as snow. I can remember the day my mother showed me the lamb and explained that she did not have a bottle with which to feed the stray lamb. I did. I agreed to let the lamb have my bottle if I could have the lamb. I have been fascinated by the unique relationship between sheep and their shepherd ever since.
A Character of a Shepherd and His Sheep
Shepherds live with their sheep, finding places for them to eat and drink, providing shelter from the storms and protection from the heat. Sheep must eat the right amount of the right kinds of grass at the right times…or they will die.
If the sheep eat too little one day and too much the next day, some of the bacteria that live in the stomach of the sheep will reproduce at abnormal levels, creating toxins that cause sudden death. This problem was even more complicated for the shepherds of the Bible.
The type of shepherding referred to in the Bible is not the farming of fenced pasture lands. It is nomadic grazing. The shepherd must carefully plan the path and lead the way, so the sheep have neither too little nor too much grazing and are able to get to the water hole on time.
Pastures are often lost to extreme heat which means the shepherd has to scour the countryside in search of green grass. Several flocks of sheep are gathered together at night in a sheltered place so shepherds can share the watches of the night, protecting the sheep from wild animals and thieves. Good shepherds are always willing to risk their lives to save their flocks from any harm, any enemy and even from themselves.
Sheep are dumb, can never be left alone and often stray, requiring the shepherd to leave his flock and find them. A shepherd never pushes his sheep but rather leads his sheep, going before them, making sure they are not walking into danger.
The needs of sheep, compared to the needs of other animals, are greater because of their instinct to be afraid. When sheep are confronted with a fearful situation, they run. Without a shepherd to care for the sheep, they will not last long.
I Am Definitely a Sheep
Personally, I definitely fit the profile of a sheep. I can't count the number of times I have stubbornly stuck to my plan, foolishly thinking that it was better than His plan, only to end up in some pit somewhere, calling for help. Psalm 40:1-3 has become my life maxim--with one exception. I rarely wait patiently! Remember, I am a sheep!
"I waited patiently for the LORD; he turned to me and heard my cry. He lifted me out of the slimy pit, out of the mud and mire; he set my feet on a rock and gave me a firm place to stand. He put a new song in my mouth, a hymn of praise to our God. Many will see and fear and put their trust in the LORD" (Psalm 40:1-3).
I sometimes allow fear to drive me to a place where I am trapped by doubts and darkness… until He rescues me. I try to satisfy my hunger by eating the wrong things found in the wrong places at the wrong times. The result is always the same; my soul remains ravenous for what is good while stuffing my heart and mind with what is bad.
Like every sheep, I don't like to be pushed. Good shepherds do not push, no matter how great the temptation. A good shepherd stands in front of his sheep, gently calling their names, leading them to a place where he has already been, positioning himself between danger and his sheep. When I am tired and ready to give up, I tend to withdraw from the other sheep and even from my Shepherd.
Many of us have somehow bought into the lie that we can make it on our own or that the rules, the commandments of God, do not necessarily apply to us… just those other sheep. The longer I serve God, the more I realize just how much we need each other and how much we need Him. When will I learn that I cannot do life on my own?
It's Time to Sit Down
A good shepherd is willing to lay down his life for his sheep, just as Jesus Christ laid down His life for you and for me. I am so glad He was willing to lay down His life for every single sheep – the cute, fluffy ones as well as the dirty, broken lambs like me.
Maybe it is time for us all to stop, listen for His voice, seek His plan and remember that we are indeed needy sheep who are called to love and lead other needy sheep to the Good Shepherd, Jesus Christ. It is so easy to become a Martha who is bound by her schedule, finding her worth in what she does--instead of who she is.
But Martha was distracted by her many tasks; so, she came to Him and asked, 'Lord, do You not care that my sister has left me to do all the work by myself? Tell her then to help me.' But the Lord answered her, 'Martha, Martha, you are worried and distracted by many things; there is need of only one thing. Mary has chosen the better part, which will not be taken away from her' (Luke 10:40-42).
I had a list of things to get done. Yes, my back was killing me. I was tired, but that list kept me hurrying around the house like the proverbial Energizer Bunny. When my husband walked in from work, I gave him a quick hug and resumed my almost frantic pace.
"What are you doing, honey?" Dan asked.
With one of my famous sighs, I responded, "I just need to get a few things done."
"How is your back?" Dan persisted.
With growing irritation, I answered, "It hurts!"
Dan watched me for a few minutes and then calmly stated, "You don't know how to sit down, do you?"
My first response was irritation, which quickly escalated into anger – until I heard the unmistakable prompting of the Holy Spirit affirming the truth Dan had spoken. I needed to learn how to stop and sit down – and rest. But that list held me captive to unrealistic expectations in a ridiculous effort to prove my worth through what I did. It is an ongoing battle in my life. And I am not alone.
We all struggle with balance and the stress that struggle creates. When we refuse to balance the demands of work, home, family, friends, and personal growth, stress happens. What we really need is a holy balance only God can bring. The story of Mary and Martha, two very different women, offers valuable truths about balance.
Finding a Holy Balance
A balanced life is focused on right things. Focus is always found at the feet of Jesus. Mary lived out this truth. In fact, Mary, more than any other person in the New Testament, is associated with sitting at the feet of Jesus.
To sit at the feet of Jesus demands action on our part. First, we must stop. I know--a novel idea for most of us. Mary stopped what she was doing--helping Martha in the kitchen--and came to sit at the feet of Jesus.
Of course, Martha immediately began complaining that she had been left to do all the work while her sister wasted time sitting at Jesus' feet. I've learned that there will always be someone who will misunderstand or complain when you choose to obey God and do what Jesus told Martha was "the better part." Mary made a choice, and so must we.
Choosing to sit at the feet of Jesus requires decisive planning, purposeful scheduling, and a willful determination. God wants relationship-building time with us, which means time at His feet--in His presence. Jesus gently rebuked Martha because she had forgotten what was most important.
It is amazing to me how I can squander away the best part of my day, leaving God with the leftover scraps of time and then have the audacity to complain that my life is void of power and purpose. Distractions come from every side. Some of those distractions are good and wonderful things, but they are still wrong things if they keep us from stopping to spend time with God.
Waiting Is Active Spiritual Obedience
We make daily choices about where we invest our time as we head to work, run errands, plan meals, deal with children, clean house, and do laundry--but fail to schedule the most important activity of all, spending time with God.
I absolutely hate to wait and tend to view waiting as a thief that robs me of control and forces me to face the unknown. Waiting is not a passive loss of time. Waiting is active spiritual obedience. In each waiting room of my life, God is at work preparing me for the circumstances ahead.
Listen to my voice in the morning, LORD. Each morning I bring my requests to you and wait expectantly (Psalm 5:3, NLT).
Are you desperate for the peace and a balance only God can provide?
Are you a stubborn sheep that is running from your Shepherd?
Then it's time to stop, take inventory of the demands upon your time, and begin investing the best part of your day sitting at His feet.
Being wrapped up in God's work can easily become a shabby substitute for being wrapped up in His presence, and we can only be wrapped up in God's presence when we learn to sit at His feet and wait on Him.
Photo Credit: ©GettyImages/jjneff
Mary Southerland is also the Co-founder of Girlfriends in God, a conference and devotion ministry for women. Mary's books include, Hope in the Midst of Depression, Sandpaper People, Escaping the Stress Trap, Experiencing God's Power in Your Ministry, 10-Day Trust Adventure, You Make Me So Angry, How to Study the Bible, Fit for Life, Joy for the Journey, and Life Is So Daily. Mary relishes her ministry as a wife, a mother to their two children, Jered and Danna, and Mimi to her six grandchildren – Jaydan, Lelia, Justus, Hudson, Mo, and Nori.