What Moms Today Can Learn From The Mother of Jesus, Part 6
Eva Marie Everson

Author & Speaker

2003

31 Jan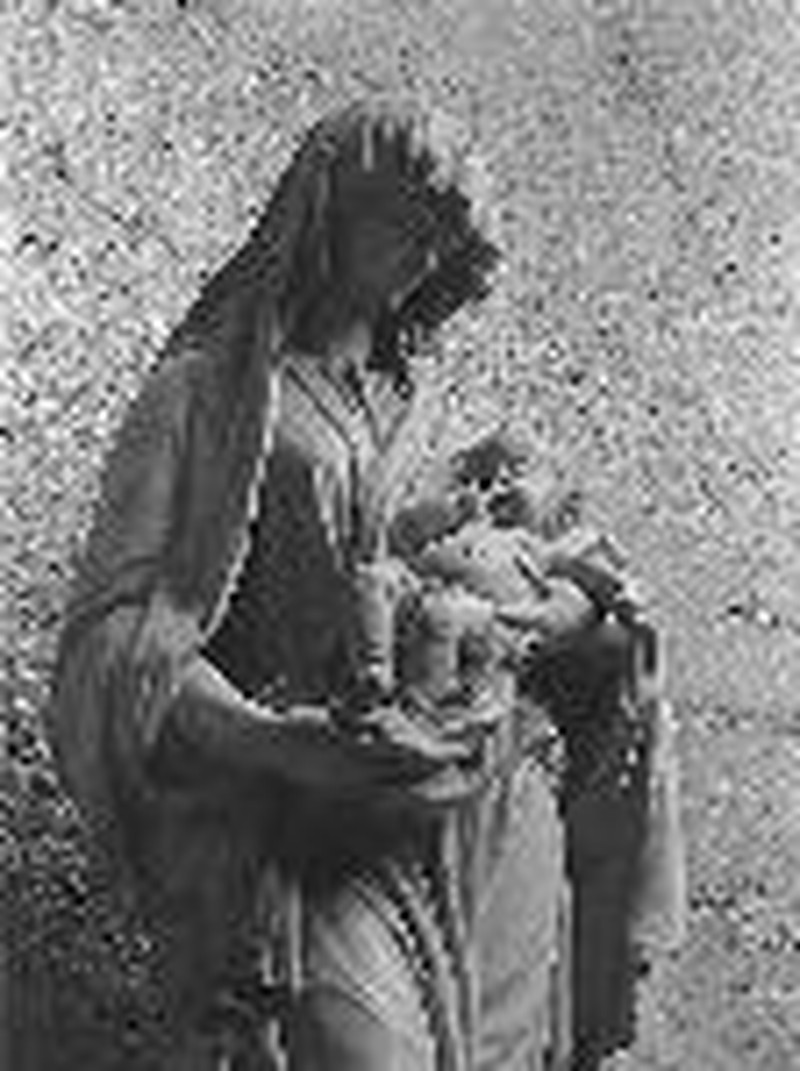 According to the ancient Jewish way of life, Mary could not have been more than 12 or 13 years of age when she was engaged to be married to Joseph.
Think about that for a moment. At an age when today's young adolescent girls are experimenting with cosmetics, standing in line for the next "hot" CD, and thinking about things like training bras and panty hose, Mary was preparing for wedlock. Furthermore, she was hearing from the angel Gabriel that she would be the mother of the Messiah and that she was "favored." (Luke 1:28)
As stated in previous articles, upon receiving this news, Mary immediately left her home in Nazareth for the village of En Karem where her relative Elizabeth lived. As soon as she arrived and the older Elizabeth saw Mary, she said, "Blessed are you among women, and blessed is the fruit of your womb! But why is this granted to me, that the mother of my Lord should come to me? For indeed, as soon as the voice of your greeting sounded in my ears, the babe leaped in my womb for joy. Blessed is she who believed, for there will be a fulfillment of those things which were told her from the Lord." (Luke 1:42b-45)
It was at this time Mary spoke words that have come to be known as The Magnificat (thus called because the Latin Vulgate translation begins with the word "Magnificat," which means "glorifies.")
This past summer, when I traveled through Israel with a group of Christian journalists, we were taken to the "hill country" of En Karem. We arrived by van, got out, and then trekked up incredibly steep and life-altering hills toward the Church of the Visitation, which commemorates the timely visit of Mary to Elizabeth. 
I have to be honest for a moment; I made several stops on the way to the top of the hill in order to catch my breath and at one point seriously considered telling everyone to be sure and take lots of photos for me so that at least I could "see" where I should have been. "And when you're done," I thought to say, "I'll be waiting on you right here as you make your way back to the van."
But I didn't. I persevered, huffing and puffing to the top where we then rounded a corner to see the impressive basilica and an L-shaped wall covered in plaques, which hold the words to The Magnificat in more languages than I knew existed. 
When we went inside the basilica, our guide retold the precious story of the young girl who had made her way up the hill (without a van to even get her partway), to the home of her relative, and who had originally spoken the wisdom-filled words. 
At one point I sat on the floor in the coolness of the chapel and, as my tour-mates listened, read Mary's words from the Bible. It was a very deep moment for me, for I realized that these were far more than a quick response or poem to be engraved on a stone wall.  Mary's words were a prayer.

Another Pregnancy
Years ago, when my OB/GYN told me I was expecting a baby, the news came just a few weeks after-having had some exploratory surgery-I had been told that the probability of my getting pregnant was slim. 
But now with the news that I was, indeed, pregnant, he said that the probability of carrying the child to term was equally as slim. However, I left the medical office completely elated and unfettered. You see what the doctor didn't know was that between the surgery and the "news," I had prayed. "Lord," I had said, "if it is your will that I get pregnant and carry a child to term, then let it be so. If not, give me the understanding as to why not." (I had miscarried before and, quite honestly, had a host of medical problems.)
And here I was...pregnant.
During the pregnancy I continued to pray. I prayed about the health of my baby.  I prayed about the life she would have. I prayed I would be a good mother and that my husband would be a good father. I prayed I would know the difference in a cry for food and a cry of pain. (Which I was particularly worried about.) I prayed that our child would be the welcomed sibling of the children my husband had gifted me with upon my becoming his wife and that we would be a strong and loving family. 
Quite simply, I prayed!
When I went into labor (exactly nine months to the day after I was told I probably wouldn't have children) I prayed that it wouldn't be "too bad." (It wasn't. Not really.) After the delivery I prayed I would be able to nurse my newborn daughter without difficulty. (I nursed her for 16 months.) 
From the time she was a tot I prayed over her life. Sometimes she and I prayed together; other times I prayed alone in the silence of my "closet" over the important issues of her life.
When she became a rebellious teenager (She now says it was simply a period she HAD to get through...or die trying...) I prayed like I never knew I could pray.  I reminded God that she was HIS gift to me. How I had raised her had been MY gift back to Him. "So then, Lord, I have to trust you...have to believe that you have great plans for her and will keep her safe until she comes to her senses."(He did and eventually she did. Nothing thrills my "mother's heart" more than to have my daughter say, "Mother, can we pray about thus and such?")
I can promise you this; I will continue to pray for her. Till the day I die, prayers over my children (and grandchildren) will forever flow from my lips.  I can't even begin to imagine trying to raise a human being without the power of prayer.
Prayer Power
As an author, speaker, Bible teacher and book reviewer, I have had scads of opportunity to hear or read stories about the power of prayer when it comes to parenting. However, there is one that has stuck with me for some time. 
It is the story of a little girl who had been reared by unbelieving parents.  When she became an adult-and had seen her parents and extended family come to know Jesus as Lord and Savior-she learned that her grandparents (whom she had not known) had been fervent servants of Christ. 
It was then that she realized the probability of her grandparent's prayers being the catalyst that led to the family coming to the Lord one by one. As I read this short testimony, I began to understand a fundamental truth about prayer:  we may not see the results of the prayer-seeds we sow, but history will. After all, Mary prayed for her Son...and just look at the results of His life!
Have you ever read a scripture about a gazillion times and not noticed something key within it? Then, one day, your eyes just happen to come to rest there and then...almost as if a veil were lifted...you SEE it? 
That's what happened to me about two years ago as I read-for the umpteenth time-Acts 1:12b-14. "Then they returned to Jerusalem from the mount called Olivet, which is near Jerusalem, a Sabbath day's journey. And when they had entered, they went up into the upper room where they were staying: Peter, James, John, and Andrew; Philip and Thomas; Bartholomew and Matthew; James the son of Alphaeus and Simon the Zealot; and Judas the son of James. These all continued with one accord in prayer and supplication, with the women and Mary, the mother of Jesus, and with His brothers."
Why had I never realized that Mary the mother of Jesus was in the room with the disciples when the Holy Spirit came upon them? (I should have known; after all, Mary was told by her Son to stay with John.) Why had I completely missed this important lesson?
You see, in Scripture this is the last we hear of our Lord's mother and the bottom line of it is that she was in prayer. (Can you imagine the results of the remaining years of her life as the mother of God, then filled with the Holy Spirit?)
What we know about Mary is book-ended in prayer. Just after she hears the news of the coming of the Messiah through her very womb, she lifts up The Magnificat.  When the course of her Son's life, death, and resurrection has come to completion, she is in prayer with the men who had followed Him.
But think about this: in doing so-by praying-she would forever be with her Son, in constant communication with her firstborn, and on a course set to change the history of the world.
In Conclusion
So, let's wrap up what we've learned in these past six articles:
Blessings often come in the surprise "packages" known as our children.
As a mother, you will often be misunderstood, not only by those you gave birth to, but those who interact with them.

As a mother, you won't always be able to see the "big picture" concerning your child's life, but you can rest assured God does.

As a mother, it's imperative to make Jesus Lord of your life so that your children will have a fine example to do the same within their lives.

As a mother, you will be required to "let go" of your little chicks, but in doing so you will release them to God's perfect order for their lives.

Whatever you do, be sure to bookend your role as a "mom" in prayer.  It is the only way you can "stay with" your babies as they grow, and in doing so be the best mother (and eventual friend) to the precious gifts God has given you in the lives of your children.

Eva Marie Everson is the author of Shadow of Dreams & Summon the Shadows and an award-winning national speaker.  She can be contacted for comments or for speaking engagement bookings at Bridegroomsbride@aol.com or you can go to www.evamarieeverson.com


Other Articles in this series:
What Moms Today Can Learn From The Mother of Jesus, Part 5
What Moms Today Can Learn From the Mother of Jesus, Part 4
Part 3: What Moms Today Can Learn From The Mother of Jesus
What Moms Today Can Learn From The Mother of Jesus, Part 2
What Moms Today Can Learn From The Mother of Jesus