Where are You, God?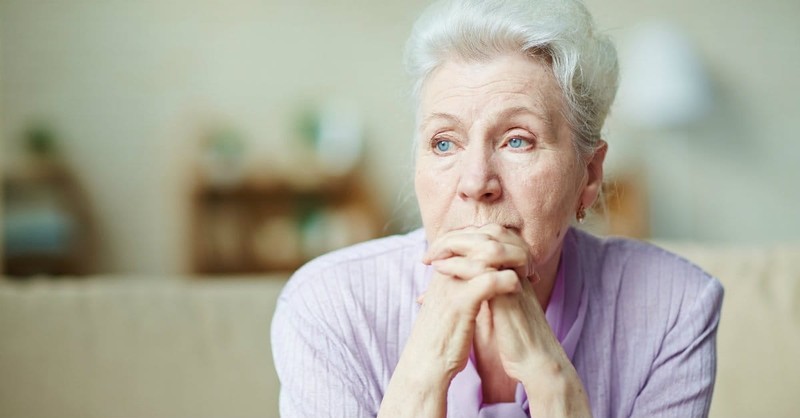 God, where are You? I need You now.
Why? Mom can't find Jesus today. She's "lost" Him. At 93, it hurts to see the woman who taught me to "hold His hand – you are NEVER alone" be lost, lonely and forlorn.
I'm torn Lord. I know she knows You. Scripture is so deeply embedded in her heart, it springs forth from her when I begin a verse. Oh glory – Your word resides deep within her, Lord!
Yet she immediately clasps her silver clad head in despair, saying, "Oh why have you come? It is so hard. Please go while you can – or they will get you too."
And her mind wanders to another place. Lost. And my heart breaks. For her. For her family to see her in distress. For every elderly – or young – person in the throws of confusion, senility, dementia, Alzheimer's, or whatever it is named.
Do you have family members or friends dealing with something similar? My heart goes out to you, each one of you.
Yet this is truth. God is good and will take what the enemy intends for evil to produce something good from it according to Genesis 50:20. I hang onto His promise, trusting God and reminding Him that He has – and is – the solution.
The words remember and remind are in the Bible many, many times. May I ask you to remember to remind God of His Biblical promises by praying scripture over your loved ones?
Six weeks ago, Mom was smiling, correcting our English, walking 1 mile and riding the stationery bike about an hour each day. We did not anticipate decline nor dementia – nor despair.
"They don't feed me enough. They feed me too much." One breath apart, the words roll, dripping out as her head droops. Doomed. Despondent. In despair.
Oh, don't go there! For there is a Name I know…
The Name above all names. Even despair, despondency, old age dementia – and doting sons and daughters taking it personally.
Is she saved? God's Word is glorious and is the final answer. Some theologians say yes, others say no. Oh Lord, only You know the answer to that question. My job is to intercede on her behalf and trust You, Father God.
I pray peace, hope, love and the Name of Jesus pierce the darkness encompassing Mom's mind. That darkness is like a steel trap – biting. Caught, tattered, bloody, down, out – old but not cold.
47 We are filled with fear,
    for we are trapped, devastated, and ruined."
48 Tears stream from my eyes
    because of the destruction of my people!
49 My tears flow endlessly;
    they will not stop
50 until the Lord looks down
    from heaven and sees.
51 My heart is breaking
    over the fate of all the women of Jerusalem.
Lamentations 3:47-51 (NLT)
Oh Lord, my heart is breaking over the fate of all the women (and men!) caught in despair. Over Mom – my heritage.
7 For God has not given us a spirit of fear and timidity, but of power, love, and self-discipline.
2 Timothy 1:7(NLT)
Power. The power of God's love. Oh God, You love us so much you gave Your only Son – Jesus – that we who believe in Him would not perish but have eternal life. I believe. And Mom introduced me to You, Lord God Almighty, and to Your only begotten Son…
Self-discipline is a gift from You too. To remember our loved ones. The discipline to learn and remember the Bible is where true power comes from, especially when we pray Your word over our situations! Your word resides deep within my mom. Raise it up from the depths of her Lord.
30 I looked for anyone to repair the wall and stand in the gap for me on behalf of the land, so I wouldn't have to destroy it. But I couldn't find anyone.
Ezekiel 22:30(CEB)
Lord, I will stand in the gap for my mother. Find me now, Lord, I pray. I can do all things through Christ who strengthens me – not all by myself. I will not sing that song! No Lord, I will sing this song:
Jesus loves me this I know
For the Bible tells me so
Little ones to Him belong
They are weak but he is strong.
Old ones too, Lord?
Lord, You are my strength and my portion. You chose to lift the scales from my eyes so I know You. You know me, by name, for You formed me long ago in my mother's womb, as You did all Your children.
May God our Father and the Lord Jesus Christ give you grace and peace, Mom. That verse comes from Romans 1:7b(NLT). I pray it for Mom and every person dealing with chaos in their mind. Grant them peace Lord - the peace of God that passes all understanding is my heartfelt prayer for Your children, Lord God Almighty.
13 He has delivered us from the power of darkness and conveyed us into the kingdom of the Son of His love, 14 in whom we have redemption through His blood, the forgiveness of sins.
Colossians 1:13-14 (NKJV)
Deliver her Lord. Thank You for this glorious promise of redemption through the blood of Jesus for the forgiveness of our sins.
As long as Mom has breath, I'll pray to my Lord God in Heaven whom I love and worship. Lord, hold her in Your mighty, healing hands.
See, I have inscribed you on the palms of My hands; 
Your walls are continually before Me.
Isaiah 49:16 NKJV
Your word tells us her image is carved in the very palm of Your glorious hand, Lord. I cried the first time I read that verse. Oh! God knows me, Mom – and you too.
So I lift Mom's name to You, Lord, to remember her. Remember Elizabeth. Elizabeth means "oath of God" or "God is satisfaction". Satisfy her Lord with Your presence. You are the Light in the darkness, so pierce the darkness Father. Her oath to You? Her very name – Elizabeth.
Oh, there You are Lord. I found You! Right there in Mom's name. Yes, Elizabeth. God is satisfaction.
Yes, indeed, God is satisfaction.
Meet Susan:
With over 2 million airline miles under her belt, an MBA hanging on the wall and 2 Christian Literary Awards on the shelf, Susan B Mead shares her expert teachings on business, grief and relationships. A master storyteller and award winning, best selling author, Susan leaves audiences motivated to live a life free of regrets even though she has done the hardest thing any parent can do - bury her youngest son, Kyle.
Susan has been described as a solid, comforting voice in a messy world. Whether speaking to business professionals, women's conferences, industry leaders or writer's workshops, Susan's insightful wisdom inspires audiences, empowering them to make healthy mental u-turns to help them find calm in the chaos.
Connect with Susan on her website where she writes each Friday, on Facebook and Twitter where she posts scripture graphics and daily inspiration or on Amazon where her award-winning book, Dance With Jesus: From Grief to Grace, is available.
Image courtesy: ©Thinkstock/shironosov
Publication date: June 7, 2017