Where to Look in Troubling Times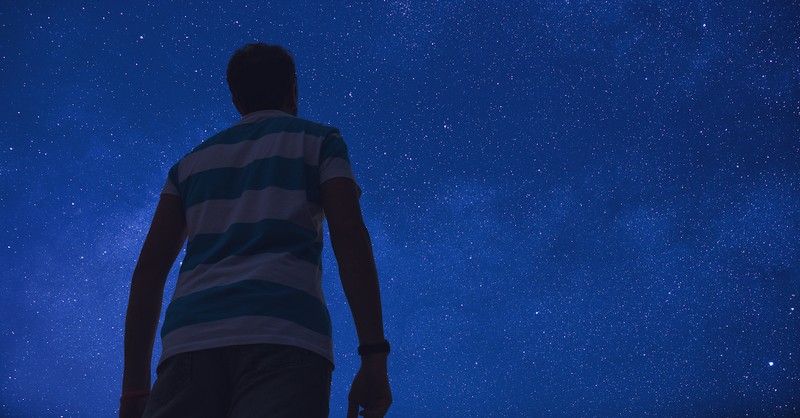 When our life is in upheaval what are we to do? Often what we do is determined by what we are focusing on. Whatever we put in our minds will determine how we are doing. That's why it's important to ask ourselves, where should we look in times like these?
1. Look Out, for the Enemy Is Around
Time and time again, we hear about the enemy of our souls. Satan used to be a beautiful angel, Lucifer, who was in charge of worship. One day Lucifer decided he wanted to be higher than God. Pride is like that. Lucifer was cast out of heaven (Isaiah 14:12-15). We are warned the enemy prowls about like a roaring lion seeking someone to devour (1 Peter 5:8). My Bible teacher explained that Satan may be like a lion, but he is toothless. God tells us to resist the devil and he will flee from us (James 4:7).
2. Look inside Yourself
First, do we know God personally? Have we accepted what God's Son did on the cross? It's one thing to know about Jesus with our intellect, and quite another to accept him in our hearts. God tells us if we have the Son we have life (1 John 5:12). If we've accepted what Jesus did on the cross as payment for our sins, we have the Son. Furthermore, we are sealed with God's Holy Spirit (Ephesians 1:13-13). When someone wants to protect their valuables in a box, they lock it up. The Holy Spirit is God's lock.
Secondly, if we trusted in what Jesus did, we have the Holy Spirit within us, and God assures us the Holy Spirit is greater than Satan (1 John 4:4). We need to memorize that verse because Satan tries to tell us he is more powerful. We need to remember he's the father of lies and we need to trust God's Word.
3. Look Back and Remember What God Has Done
David would remember what God had done for him in the past when he faced new challenges. As he stood ready to face Goliath, David remembered how God had been there when David fought a lion and a bear (1 Samuel 17:34-36). David knew in his own strength he could not face Goliath, but he didn't go in his own strength. When I am fearful about what I'm facing, the Holy Spirit reminds me of times God helped me in the past. He also reminds me that God doesn't change. If God helped me before, he'll help me again.
4. Look in God's Word
Whenever we have struggles, we can look in God's Word, his love letter to us There we'll find the strength we need for whatever we face. David tells us God's Word is a lamp unto our feet and a light unto our path (Psalm 119:105). God's Word will not pass away (Matthew 24:35). God tells us to listen to his words, to hear his sayings, and to not let them escape from our sight, but to keep them in our hearts (Proverbs 4:20-21). When Jesus was being tempted in the wilderness, he didn't face that temptation in his own strength, but he kept telling the devil, "It is written…" (Matthew 4:4,7 & 10). If God's own Son used the Word of God, how can we turn to anything else?
5. Look Around
God made us for community. He tells us to love one another (1 John 4:11). Loving each other means we look out for their needs. God said we are a family, members of one body (Romans 12:4-5). As we look around, we will notice how others are doing. They may need to be encouraged or built up (1Thessalonians 5:11). We are to be present with those around us, to rejoice with those who are glad and weep with those who mourn (Romans 12:15). When Jesus visited his friends, Mary and Martha, when their brother, Lazarus died, Jesus wept (John 11:35). And Jesus knew what he was about to do, but he commiserated with his friends.
We're told to consider others better than ourselves (Philippians 2:3). That will help us recognize when they have needs. We're told to submit to one another (Ephesians 5:21) And we can only do that with God's help. And when we do hurt each other, God tells us to forgive one another (Colossians 3:13). We're told to forgive as we were forgiven. We're not to measure the offense or try to determine if the person is truly sorry. We're to forgive as Christ forgave us. We didn't deserve forgiveness, but he still forgave us.
6. Look Up
When things look dark, we are to look up as Jesus did. He lifted his eyes to heaven when he spoke to God (John 17:1). Isaiah tells us to lift our eyes on high and think about the one who created the stars and calls them by name (Isaiah 40:26). I know when I realize God is the one who named each star and hung them in place, I am humbled at God's greatness. And yet, God is also the one who knows when even a sparrow falls (Matthew 10:29). We're told to lift our eyes up to the mountains because that's where our help comes from (Psalm 123:1). Nebuchadnezzar raised his eyes toward heaven and he blessed the Most High and praised God (Daniel 4:34).
7. Look unto Jesus
Lastly, we need to look unto Jesus, the author and finisher of our faith, the one who endured the cross (Hebrews 12:2). Did you know when Jesus endured the cross, he was looking at the joy set before him? That's those of us who would believe. We're told to look unto Jesus and in his greatest hour of need, he was thinking about us!
God started a work in us when we first accepted Jesus, and Paul tells us God will keep working until we are complete in Christ. God tells us to fix our eyes not on what is seen, which is temporary, but what is unseen, which is eternal (2 Corinthians 4:18). And that takes faith. And when we do that, we know that God is pleased because without faith it is impossible to please God (Hebrews 11:6).
In troubling times, if we look at the way things are, we will get discouraged. If we look at the things that look impossible, we may lose hope. But as we continue to look unto Jesus, we will wait on him and God will renew our strength. We will soar on wings like eagles, run and not grow weary, walk and not be faint (Isaiah 40:31.
What we focus on determines how we'll do in our circumstances. What are you looking at? God wants us to keep our eyes on him.
Keep Your Eyes on Me
My Child, I see your struggles
as you walk with me each day.
And when your trials get difficult,
you trust me anyway.
Peter walked on water
when he kept his eyes on me,
and when I saw him slipping down,
I pulled him from the sea.
No matter what you face today,
remember that I care.
Just try to keep your eyes on me,
the one who's always there.
Anne Peterson © 2020
A Prayer for Us in Troubling Times
Father, we need your help. We want to keep our eyes on you, but sometimes we end up looking at what's happening around us. You are God Almighty, we know the things impossible with men are possible with you. You provide for all our needs. We thank you that you are available to us night and day. Lord, help us always look to you. And when we falter, lift us up. We pray this in your Son's precious and Holy name. In Jesus' name, Amen.
Photo credit: ©GettyImages/m-gucci
---

Anne Peterson is a poet, speaker, and published author of 16 books. Her most recent book is Always There: Finding God's Comfort through Loss. Anne has published 42 Bible Studies and numerous articles with christianbiblestudies.com. She has been a regular contributor to Crosswalk for seven years. Visit Anne's website at annepeterson.com and sign up for a free eBook or visit her Facebook page. You can also subscribe to Anne's YouTube channel where you can watch her recite her poems and share her heart.