Why Christians Need to be Unified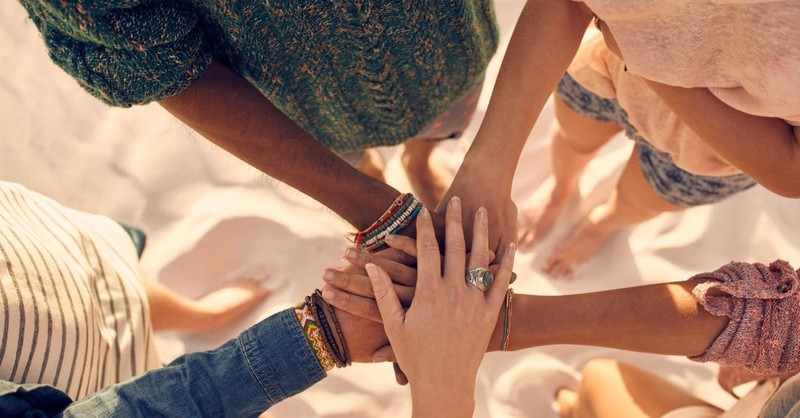 We are in the throes of disunified chaos. Governmental lines drawn, concentrated shouting matches toward laws being written and altered, religious beliefs and life choices now considered due cause for immediate fear against neighbors… Struggle in our everyday society is ever so very present.
And in all of this, where is the Church – the unified body of Christ followers commissioned to share the Good News that God's work in the world means the lion will in fact one day lie down next to the lamb, disunity no longer a disruption within the New World to come?
This is no grand manifesto to be nailed on the door of one holy, catholic and apostolic Church. This is a challenge to the individuals who have taken up the Good News of the Gospel, those who call themselves members of this Body; let us examine ourselves. For, in these perilous days, are we truly living out the calling outlined in Ephesians 4 to which we have been commissioned?
Are we not, within the book of Ephesians, commanded to live out our faith in ways that are counter-cultural, crushing our selfish natures and demanding intentional approaches toward Love?
I want you to get out there and walk—better yet, run!—on the road God called you to travel. I don't want any of you sitting around on your hands. I don't want anyone strolling off, down some path that goes nowhere. Ephesians 4:2-3
As a fellow Believer, I urge my brothers and sisters in Christ to check our thought processes, our motivations, and our subsequent actions and ensure alignment with the following formidable, authoritative text.
"Be completely humble and gentle; be patient, bearing with one another in love. Make every effort to keep the unity of the Spirit through the bond of peace." (Ephesians 4:2-3)
1. Humility
This term is often misevaluated as weakness or lowliness. "Being humble" has eliminated from mainstream rhetoric the Bold Truth of how amazing our God truly is and the reflection which He has graciously given to shine in and through us. HE (the Great 'I AM that I AM') is the creator of Love; therefore, we have been given the capacity to love. He IS Mercy; therefore, we may embody mercy. He is Grace and Beauty and Life, and we have been given such things with which we may paint and dance and breathe in wonder.
And yet what have we done? We have displaced our gifts and abilities as well as the incredible freedom we have been given. We have taken up instead the ridiculous notion of hanging our heads low, nodding "okay" to the most commanding voice in the given room. How can it be that so many of us have rejected our calling to embrace others in time of need, steering them to the Hope that can only come from Him? We have defiled even the recognition that we could have such capacities by relenting to our own distractions, suffering, abuse, insecurities, and unfulfilled desires.

Rise up, Church Family! For this word humility in original Greek holds no identification with the weak classification we now hold to it. True humility recognizes we as followers of Christ were once enslaved by past mistakes and embittered by things done to us. Through the lens that we too were once lost, our calling is that of GPS system for those who have gone off path, crying, "U-turn!! You've turned off the path! Come back! I know because I took that wrong turn too!"
Truth, righteousness, peace, faith, and salvation are more than words. Learn how to apply them. (Ephesians 6:15-16)
2. Gentleness
The term "gentleness" (prautés) is much less about blithely patting someone's hand in times of trial and much more about displaying the right blend of force and reserve[1]. This prautés, and its sister term praótēs, demands that we avoid unnecessary harshness even while we remain uncompromising to our faith in Christ. Our current act of spouting cocky, arrogant statements does nothing for those who do not yet believe in an all sufficient, every lasting, ever loving Father.
Yes, we believe that a good father must discipline His children (Hebrews 12:6), but have we forgotten that we are in fact blessed to be guided by a Perfect Parent, and it is in fact us who are being disciplined? Those who have lost their way are not living under the blessing of this Father (and therefore need our love all the more).
Members of the United Church of the Everlasting God, take your place! Remember that our God is named "a man of war" – He is involved in not only our spiritual but our physical lives as well. How much more than are we to be involved not only on our knees, but also at the beck and call of our physical neighbors in need of a helping hand?
"The Lord is [our] strength and song; He has become [our] salvation; This is [our] God, and [we] will praise Him; [our] Father's God, and [we] will extol Him. The Lord is a man of war; Yahweh is His Name." (Exodus 15:3)
Gentleness offers us the maintaining of an inward peace of mind and calmness even in the most harrowing of situations and affronts, knowing that God is Lord of all. Let us choose to love above all grievances. Let us cast off the fiery demons of self-reliance.
Our faith in Jesus Christ is an everyday affront to Death, for we recognize that because Christ overcame the grave, even Death itself cannot diminish God's Kingdom from being established. Hope as though victory has already been won.
Hang my locket around your neck,
wear my ring on your finger.
Love is invincible facing danger and death.
Passion laughs at the terrors of hell.
The fire of love stops at nothing—
it sweeps everything before it.
Flood waters can't drown love,
torrents of rain can't put it out.
Love can't be bought, love can't be sold—
it's not to be found in the marketplace.
My brothers used to worry about me:
"Our little sister has no breasts.
What shall we do with our little sister
when men come asking for her?
She's a virgin and vulnerable and we'll protect her.
If they think she's a wall, we'll top it with barbed wire.
If they think she's a door, we'll barricade it.
(Song of Solomon 8:9)
3. Patience
Fellow brothers and sisters, let us throw off this idea that patience means waiting on God to show us a Great Big Sign before we love, act, give, and do. Too often, "I'm still waiting because I'm not sure what God's will is" is our decreed excuse for not taking action. And while some have direct orders from God to wait on a specific movement, far too many of us hide behind a lack of Signs in order to not be uncomfortable by giving of ourselves and our resources.
Forget the need for nudge, Christian People - we need a full out, unkempt shaking to wake up and take up the bond of patience. Forget waiting until you feel like it or get the results you think you want or need; embody patience by not seeking revenge. Quit yielding resentment but maintain an essence of peace. And get moving on what you know you need to do – use your gifts to bless somebody else. Are you a good cook? Start blessing that single mom down the street even if she cannot repay you (in money, affirmation or otherwise). Overhear a conversation of someone struggling? Tell them you couldn't help but overhear and you are so sorry to hear that, as you've been through pain too; tell them you'll be praying for them, and then ACTUALLY DO IT!
For the light makes everything visible. This is why it is said, "Awake, O sleeper, rise up from the dead, and Christ will give you light." (Ephesians 5:14)
4. Bearing with One Another in Love
Pettiness oft has become our get-out-of-jail free card. Annoyances, gossip, uncomfortable stares across the room – what has happened to our family? Far too much work is waiting to be done in an aching world grievously weeping for those with the antidote to waste away within petty disputes. If you cannot get along within the confines of your locally chosen faith community, then check yourself and your actions (for only you can only control you), and if you must, attend services within a different building. Come now, Church Members – let us not blame God and His Bride, the Communal Church, for our actions and the actions of others who were once lost in their own sin and may fall back to their past lifestyle even now.
Let's get earnest: ensure unity by denouncing our differences and exert love over all else. We are a Family of massive numbers. Surely we have the weird uncles and strange cousins among us (judge not lest you be the odd duck), but let us embrace and be loyal to our family members rather than being the broken family throwing accusations, names, and plates at the dinner table.
Sing songs from your heart to Christ. Sing praises over everything, any excuse for a song to God the Father in the name of our Master, Jesus Christ. Out of respect for Christ, be courteously reverent to one another. (Ephesians 5:20-21)
5. And Finally, be Eager to Maintain Unity of the Spirit in the Bond of Peace
Fellow Christ followers, above all other callings in our lives is our calling to be united. The entire book of Ephesians is a calling to the Church of Jesus Christ to forgo differences of opinion and be united through One Lord, one faith, one baptism, one God and Father of all, who is Lord of all.
Each of us hope on earth, but this often conflicts with someone else's hope of heaven. Yet we are instructed to be unified in the Spirit. Let us adhere to our Core Values, but become comfortable in the "not knowing" – for is this not sincere faith? The Good News of Christ's Gospel is that we are FREE! Free to be in harmony, free to be peaceable, kind, and have an affectionate disposition toward one another.
To each of us was His grace given – grace given as a proven entity to the Whole Church, and separately, individually offered to each soul, in as much to the amount to which each soul-filled person is willing to receive it (Romans 12:3).
During this season of chaos and confusion, may we, Church Members, become united through the Good News that we share.
"Jesus's resurrection is the
beginning of God's new project,
not to snatch people away from earth to heaven
but to colonize earth with the life of heaven.
That, after all, is what the Lord's Prayer is about." (N.T. Wright)
[1] http://biblehub.com/greek/4236.ht
This article was originally published on learningtobecome.com. Used with permission.
Julie Langford and her best friend (and husband) Andrew love living in Portland, Oregon where she enjoys practicing ballet, exploring outdoor adventures, and inventing a new kind of wheel (or enjoying reinventing the old one). You can learn more about her and Learning to Become at www.learningtobecome.com.
Publication date: June 30, 2016