Why We Need to Stop Whining about Being in Different Places on Our Faith Journey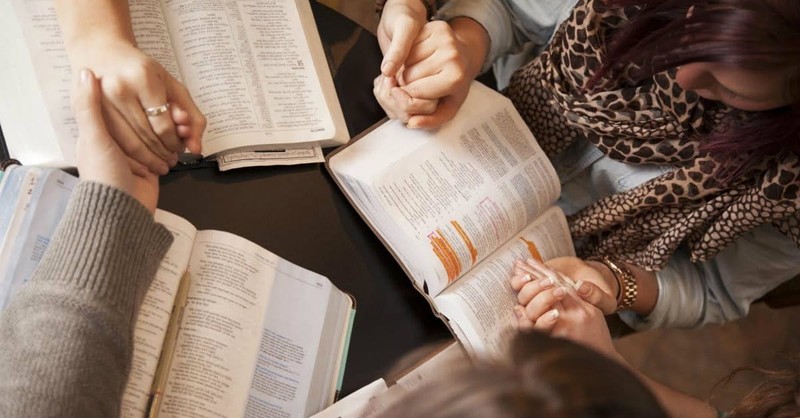 I took a second helping of a delicious Greek salad, only one of the many dishes at the table. Celebrating birthdays with good food and yummy desserts was a way for our women's Bible study members to deepen our bond. We spent weeks lifting layers of God's Word, examining and exploring what message we could take with us.
But one night I took home a bad case of spiritual indigestion. A woman who was visiting was distraught. And as diligent prayer warriors, we jumped to our feet, surrounded her and placed our hands upon her. Lovely prayers slipped from our lips. But without warning, the leader's prayers caught my attention. Blushing a bit, I confess, my mind wondered. Where in the world does she get those beautiful words? And how can she remember the precise Bible verses that grip the heart?
Was it bad to desire that level of spirituality for me? Of course not. Having the desire to grow wasn't bad, but my attitude in the process of growing needed adjustment. I tried, but when the same feelings of inferiority visited again, they brought guilt. I was a mess.
And adding to my restlessness, the real self-examination came when they asked me to lead the class. Gulp. How would they trust me? I had no deep insight, no profound knowledge, and no memorized verses as most of them had.
I set off to work hard. I was determined to be versed in biblical truths. So much so I'd even impress the Holy Spirit.
But the only impressive thing was the way I invited the enemy in. I had put a placemat before him, put myself on the plate. And with a malicious grin, he grabbed fork and knife, ready to eat me for lunch. I was marinating myself in self-doubt, feelings of inadequacy and insecurity. To make it tastier, I had sprinkled a bit of resentment.
God must have been watching this ugly scene because He spoke through a friend. She said, "I love how you don't let your limitations get in the way. You laugh, you enjoy life more than some who don't have any sight problems. I admire you."
Did she say she admired me? I gave a grateful smile. How very kind of her to say that, but was it true? I reflected on her comment. What was true was that I didn't allow my blindness block my view of joy.
My lack of sight had been an inconvenience more than anything. I had not considered it a disability. But rather the ability to cling to God, to look for His Words of grace and to follow His footsteps for the rough terrain of life.
And that same terrain might have been where the Corinthians also walked. That's why Paul gave this instruction: "Now finish the work, so that your eager willingness to do it may be matched by your completion of it, according to your means. For if the willingness is there, the gift is acceptable according to what one has, not according to what he does not have" (2 Corinthians 8:11-12).
That became the antacid for my spiritual indigestion. God didn't expect me to give what I didn't have. Or to reach levels according to others' feats. With reassurance, maybe this blind gal could help others see life through Christ's eyes.
Equipped with this new mindset, I took on the task to lead and to teach. As weeks turned to months and then to years, I saw the levels of our Christian journey. They mimic the grades in education. We start out in pre-school and grow into higher levels. The only difference is that we never graduate. We're always learning. Always aiming to get an "A" in pleasing, obeying and honoring God. And with each attempt, as the divine teacher, He pours His grace when we fall. When we fail tests. When we're spiritually absent. And when we miss finishing some tasks because of adversity.
No matter where we are in our faith journey, He has a promise. He has a path. And He has the perfect lesson for each stage, for each of us. And should whining barge in, we can be certain He's at work in five areas: He's caring, comforting, considering, creating and calling.
1. He cares about the desires of our heart. He is aware of our longing, of our level of dedication. And while we're biting our nails because we've not reached that level of spiritual maturity, He cares enough to calm our heart and free us from that fretting: "Cast all your anxiety on him because he cares for you" (1 Peter 5:7).
2. He comforts when our faith journey has taken a destructive detour. That's when He offers a better way, free from condemnation as Jesus did when the adulterous woman's faith journey sunk into the mud of sin. "With the woman still standing there Jesus straightened up and asked her, 'Woman, where are they? Has no one condemned you?' 'No one, sir,' she said. 'Then neither do I condemn you,' Jesus declared. 'Go now and leave your life of sin'" (John 8:10-11).
3. He considers all our ways. He watches our efforts, our level of discipline, and our commitment to persevere. "Does He not see my ways and count my every step" (Job 31:4).
4. He's creating a new way, asking us not to look back, not to carry our past flaws. And should we be in the desert of our faith journey, He's promising the new, the better and the refreshing. So "Forget the former things; do not dwell on the past. See, I am doing a new thing! Now it springs up; do you not perceive it? I am making a way in the desert and streams in the wasteland" (Isaiah 43:18).
5. He's calling with a whisper our soul can pick up. He's calling with the voice unique to us, to our situation, to the stage we're in. Often, it's different from the person beside us. His calling is personalized for each of us. The Lord says, "I will guide you along the best pathway for your life. I will advise you and watch over you" (Psalm 32:8).
When others seem to have reached the pinnacle of holiness, appear to hold the gold medal of spirituality or recite Bible verses with the faith of Hannah, we can sigh with relief. That's their stage of faith. We have our own. Secure in this truth, we can celebrate with the banquet of His promises. Taking a second helping, insecurities are replaced by His delicious approval.
Janet Perez Eckles is an inspirational speaker and author of four books. Her latest release Contagious Courage: Your 30-day Journey to Overcoming Stress and Anxiety is a daily companion that invites you to be set free from fear and worry in order to embrace a triumphant life.
Publication date: February 24, 2016