3 Ways to Pursue God While You Wander in the Wilderness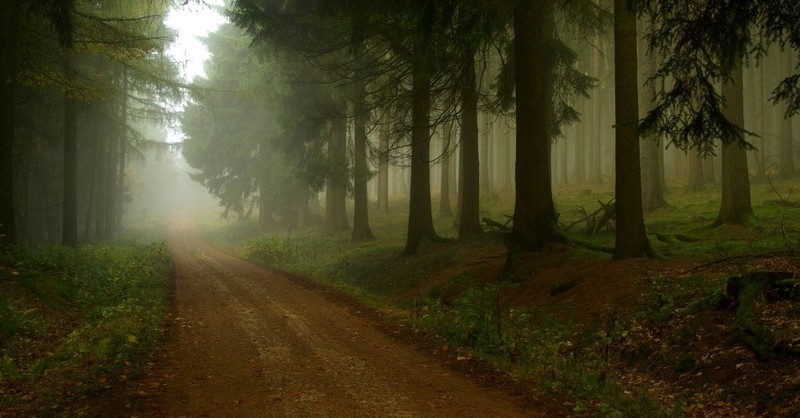 When's the last time you rode a roller coaster?
For me, it was four summers ago. The kids and I spent the day at Six Flags pushing the limits of gravity and our ability not to vomit. They came home hyper and happy, ready for another visit. I came home queasy and sad that my stomach no longer belonged to a twelve-year-old.
The cool thing about a roller coaster is its ups and downs and twists and turns. Climbing to the big drops spikes adrenaline and builds anticipation.
The bad thing about a roller coaster is its ups and downs and twists and turns. Just when I'm flying high, my stomach dips and punishes me for everything I've eaten.
Even though the adventure only lasts for minutes, I cycle through the entire scope of the tracks. Some parts I love. Some I clench my jaw to ride out.
Roller coasters mirror life. Our lives are filled with seasons. Seasons of blessings and joy. Seasons of hardship and grief. No matter who we are, whether we're believers or not, there's one thing that's sure about life—the bumpy ride.
Most of us cling to the good seasons and fight to escape the bad. None of us like to wander the wilderness. The worst for me seems to be when the bad seasons feel like they've become a forever thing.
It doesn't matter why those seasons hang on. It could be I'm not listening to God or he's not done molding my character or even that, for whatever reason, I've chained myself to the wilderness. The why of wandering is another topic.
Let's talk about the while.
I've had plenty of while-I'm-wandering moments. Some short. Some endless. Currently, I'm going on eighteen months. In addition to the daily drain of keeping up with two active teenagers, my oldest had to drop out of college, give up his life, and move back home to fight his second long-term battle with cancer. And I'm his primary caretaker. Three months ago, I broke my ankle in a way that's kept me in a wheelchair. The injury has definitely cramped my caretaker-style. Some days I'm completely useless to him and to the rest of my family.
Take those three issues—teens, cancer, broken ankle—and picture them as an outline. Under each, add a lengthy list of sub-issues. One problem breeds a hundred more, until each of them sit on your chest and you can't breathe. That's what this wilderness feels like for me—being a chained-up claustrophobic in the dark.
I'm tired of this season of hardship and grief. I long for my season of blessing and joy. I can't remember what it feels like to be light instead of heavy. But I'm still waiting. And I'm a lousy waiter. I want to fix myself and move on. But sometimes, I can't. I can't fix teen issues. I can't cure cancer. I can't heal my ankle.
A few sermons ago, our pastor made an interesting statement. He said, "You can deliver yourself out of your situation, but you can never deliver yourself into God's plan."
So what can I do while I wander? Here are three ways I'm waiting out my wilderness.
1. Prayer
One of the hardest things for me to do when I'm in pain—mental, physical, or spiritual—is pray for myself or my situation. The words don't come. But I can prayer for other people. My list of others who need help never runs dry.
"Therefore confess your sins to each other and pray for each other so that you may be healed. The prayer of a righteous person is powerful and effective" (James 5:16 NIV).
When I can't pray for me, I pray for someone else.
2. Fasting
After my son relapsed with leukemia, when I wasn't trying to be his one-woman pep squad, I sunk into myself. I spent a month watching entire seasons of TV shows on Netflix. Curled on the couch with a warm blanket, hot tea, and my favorite pillow, I let TV people transport me to worlds I could deal with.
That was my escape.
But my Netflix binge didn't help. Reality always lurked beyond my flat screen and when I clicked the remote off, my real life clicked back on.
Fasting doesn't have to be about food. It can be about giving up the thing you run to instead of running to God.
"Even now," declares the Lord, "return to me with all your heart, with fasting and weeping and mourning" (Joel 2:12).
When I need comfort, I can fast my earthly fix and return to God instead.
3. Giving
The wilderness drains me and turns me inward. I'm so wrapped up in a minute-by-minute struggle to survive it's hard to look outside of myself.
It doesn't make sense in any kind of non-spiritual way, but when I force myself to reach out to someone else, I'm energized.
"A generous person will prosper; whoever refreshes others will be refreshed" (Proverbs 11:25).
When I'm exhausted of my wilderness, I can sit with someone else in theirs.
What we do while we wander matters. The three things I shared above made a huge impact on my attitude. If you're in a wilderness place right now, I hope they help yours too.
Article originally ran on lafreeland.com. Used with permission.
Lori Freeland is a freelance author from Dallas, Texas with a passion to share her experiences in hopes of connecting with other women tackling the same issues. She holds a bachelor's degree in psychology from the University of Wisconsin-Madison and is a full-time homeschool mom. You can find Lori at lafreeland.com.
Publication date: April 23, 2015