4 Ways to Stop Comparing Yourself to Others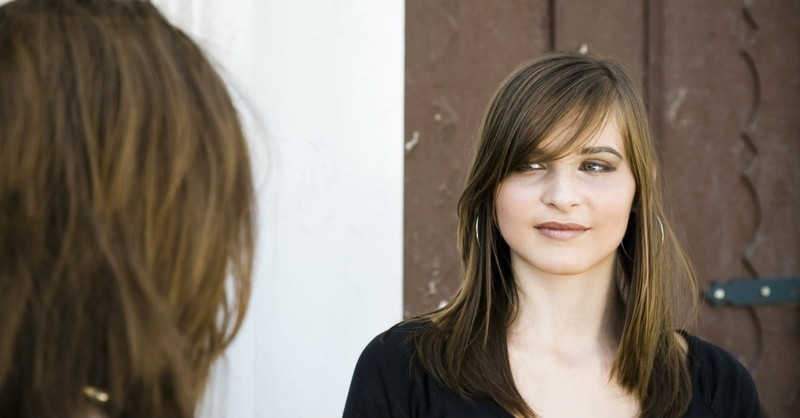 Why do you constantly compare yourself to others?    
If you're like me, you don't intentionally play the comparison game. It just happens. Before you know it, you've sized yourself up, measured someone else by your own standards, or concluded – after observation and the collection of a few facts – that you're inferior or superior to someone else. 
Comparison is an ugly game. Jesus warned us not to get caught up in it, especially when it came to how we "look" religiously. 
In Luke 18:9-14, Jesus told a parable to "some who were confident of their own righteousness and looked down on everyone else." He told of a Pharisee who thanked God he wasn't like other people (particularly a tax collector he saw enter the temple) but was one who fasted twice a week and gave a tenth of all he received. But Jesus said "I tell you that this man, [the tax collector who pleaded for God to have mercy on him] rather than the other, went home justified before God. For all those who exalt themselves will be humbled, and those who humble themselves will be exalted."
I don't believe we set out to exalt ourselves when we compare ourselves to others. But certainly we don't play the comparison game with the aim of feeling inadequate as a result. 
You and I compare ourselves to others out of our insecurity. We hope to feel better about ourselves if we end up ahead. We also compare because of our competitive or perfectionist nature – we have the desire to be right, perfect, or just better than another. But comparison rarely leads to humility, which pleases God and saves us the stress of constantly running our measuring stick over others in front of us.  
Here are four ways to stop comparing yourself to others (and find peace and contentment in being yourself): 
1. Remember that you are fearfully and wonderfully made. 
Psalm 18:30 tells us God's ways are "perfect" and Psalm 139:14 tells us that we are "fearfully and wonderfully made." Therefore you are God's unique creation. As you surrender your heart and will to Him, He can mold you and transform you into exactly what He wants you to be. So when you begin to feel inadequate and feel the temptation to compare, quietly whisper a prayer of thanks to God for making you the way you are. 
2. Realize we all have different strengths and weaknesses. 
I once heard my father jokingly say to someone, "There will always be someone thinner, richer, and better looking, so get used to it." I realize now that his advice is true. No matter how hard you and I try, someone will always be better at something than we are. So when we start feeling the need to compare, we must recognize our opportunity to practice humility. This, too, can come through a simple prayer: Thank You, Heavenly Father, that in my weakness, You are strong (2 Corinthians 12:9-10). Help me rely on You and Your strength, rather than seek out someone who appears weaker than me to make myself feel stronger. 
3. Choose compliments over comparison. 
When you notice a mom who is able to manage her many kids in public better than you can, don't start thinking of the many reasons she's probably able to do that (she doesn't work, she's rich, she has a husband who dotes on her). Instead, compliment her on it. I once saw a woman in a store wearing the same top I had… only she looked better in it. She was shorter, thinner, and younger. Rather than dwell on that (and begin to hate her for it) I quickly said "I have that same top, but you look so much better in it. Good job." The sincere smile on my face killed the self pity that could have arisen in my heart that I'm not younger, thinner or more able to rock that top. Genuinely complimenting others outwardly keeps us from complaining inwardly and  cultivating a critical spirit. 
4. Rely on God's opinion rather than the opinion of others. 
Our own insecurity often causes us to compare ourselves with others, looking for a way to feel superior. But what if you and I relied on God's opinion of us before we had a chance to listen to our own, or others' opinions. If someone is praising a woman who hasn't done half of what you've done, quietly thank God that He sees your heart and actions and He knows the real story. If someone is bragging about her own abilities, don't start comparing her talents with yours. Instead, quietly whisper "This doesn't matter, God. Help me to be content with Your evaluation of me over anything else." Sometimes we have to tell ourselves what to think in order to keep our minds from going in the wrong direction. Not only are you and I fearfully and wonderfully made, but when we are in Christ, He sees us as perfect in Christ. That means we have God's measuring stick, not our own or that of others to live by. 
Please pray with me:
Lord, please help me to find my security in You and Your view of me, not in sizing myself up against others and trying to come out ahead. Give me a humble heart that is focused on pleasing You and help me to remember that apart from Jesus, there is nothing I can do to impress You or anyone else. Instead of comparing myself to others, help me to compare myself only to Jesus and then rely on Your strength to make me more like Him, not anyone else. In Jesus' name, Amen. 
Cindi McMenamin is a national speaker who helps women strengthen their walk with God and their relationships. and She is the author of 15 books including, When Women Walk Alone (more than 125,000 copies sold), When a Woman Overcomes Life's Hurts, When God Sees Your Tears, and God's Whispers to a Woman's Heart, a devotional for those who long to hear God's voice. Her newest book, Drama Free, releases in April. For more on her speaking ministry, or free articles to strengthen your soul, marriage, or parenting, see her website www.StrengthForTheSoul.com.
Photo courtesy: Thinkstockphotos.com
Publication date: February 21, 2017