5 Questions to Ask if That 'Open Door' Looks Uncertain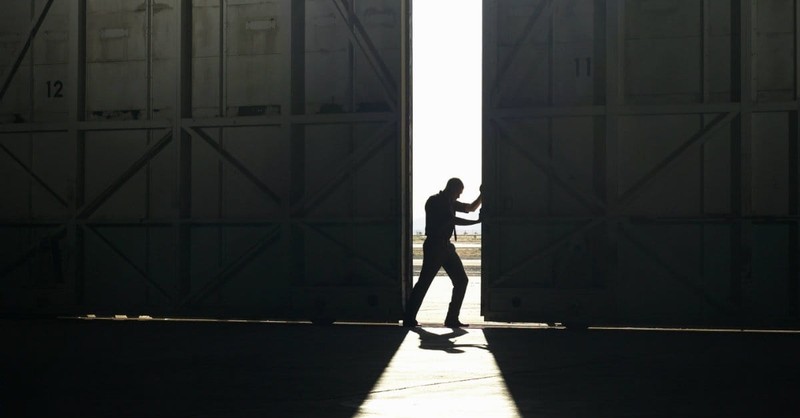 (This is Part 4 in a 6-Part Series on "Discerning an Open Door.") 
Read Part 1: 3 Ways to Know if An Open Door is From God
Read Part 2: 3 Questions to Ask Before You Take That Open Door
Read Part 3: 4 More Questions to Ask Before You Take That Open Door
Is God holding open a door for you that you are hesitating to walk through? 
Life is full of uncertainty. But life is also full of doors that God swings wide open for us to walk through… if we would just trust Him.
The older I get, the more I realize that God wants my faith to be extraordinary… not a faith that follows Him as long as I can see exactly where that open door or path leads. In fact, that isn't faith at all. That is simply following directions. Yet, many times, God's "direction" is as sketchy as the one He once gave Abraham when He was about to extraordinarily bless Him:  
"Go (from all that is familiar to you)... to the land that I will show you" (Genesis 12:1, ESV). 
There wasn't much detail in that set of directions. Talk about being in a situation where you have no idea where you're going! 
If you're like me, you want more specifics. But, you also want to grow in your faith, experience God at work, and live your purpose before Him. Sometimes that requires being okay without having all the specifics. I wonder how many times God opens a door for you and me and we stand there, stare into the dark void, wait awhile for specifics, and when we realize the clearer directions aren't coming, we finally say, "No thank you; I can't see where that leads."
That kind of hesitation reminds me of a story in the Old Testament. When Moses was on Mount Sinai receiving the law, the people of Israel were down in the camp frightened because God was demonstrating His power there on the mountain. The people were apparently afraid to go where God was. It was too uncertain. Too mysterious. Too scary.
Look for yourself at their fearful response to the incredible door that opened on Mount Sinai:
"When the people saw the thunder and lightning and heard the trumpet and saw the mountain in smoke, they trembled with fear. They stayed at a distance and said to Moses, 'Speak to us yourself and we will listen. But do not have God speak to us or we will die.' Moses said to the people, 'Do not be afraid. God has come to test you, so that the fear of God will be with you to keep you from sinning'" (Exodus 20:18-20). 
And what follows is one of the saddest lines in Scripture: 
"The people remained at a distance, while Moses approached the thick darkness where God was" (Exodus 20:21).
How sad that the people never got to see the glory that Moses saw. And it's because they remained at a distance. They had no intention of getting outside their safe comfort zone to experience the true glory of God. They didn't want to go through that "scary" door. They weren't comfortable with the uncertainty of what lie ahead.
I'm not sure what your open door looks like. Could it be: 
a new opportunity or job and you're unsure of your ability to succeed at it? 
an opportunity to serve in a ministry and it's still not completely clear to you what's involved?
a leap of faith God is asking you to take but you just can't see what is waiting on the other side? 
Or, maybe it's simply a "trust Me" situation and you're fearing the worst.
As God stands there with that door open, are you staying at a distance where it's safe, familiar, comfortable? Are you hesitating to walk through because you think God might ask you to do something risky? Are you keeping your distance out of fear? Or are you, like Moses, willing to approach the "thick darkness" where God is? Are you willing to go where it's mysterious and uncertain – where you have to trust that He is good and He will take care of His own?
When Moses entered the "thick darkness" it was there that He saw God's glory.
If you want to be willing to go where God is and to see His glory, it takes courage. It also takes prayer, a careful listening ear that comes from a quiet heart, and some God-given discernment.  
Here are three questions to consider before walking into that situation. 
1. Does the situation require faith on your part? I don't believe God calls us to situations where we can be completely comfortable and not have a care in the world. He calls us, instead, to situations that will exercise our faith muscles. He wants us to learn how to rely on Him in ways we haven't before. If you're thinking "This would be a test of faith" or "This requires blind faith" perhaps God is the One inviting you into that faith adventure. Sometimes the greater the test, the more assurance we have that He is the One presenting it.
2. Does the situation line up with the character of God? Another way to ask this is "Will you be able to glorify God by entering this situation?" God will not ask you to do anything that contradicts His character or His Word. So, if there is any deceit, dishonesty, cutting corners, or broken commitments involved, you can be certain the opportunity is not from God. It is, rather, a temptation. God will never present a situation to you that tempts or forces you to compromise your values or His Word. He is not the One bringing that man – or woman – into your life if one of you is already married, or one of you is not a believer. Take the situation through the litmus test of Philippians 4:8 and see if it is true, honorable, just, pure, lovely, commendable, excellent, and worthy of praise. All of those words describe Christ's character. Only an opportunity consistent with His character is really from Him. 
3. Does the situation look a little bigger than you? If one of your first reactions is "No way. I could NEVER do that" but then as you think about it you begin to see that perhaps you could if God enabled you and if He caused everything to line up just right, then I would say that's an opportunity God might be presenting. God often wants to do through us what is beyond us so that He can show us – and the world around us – that He "is able to do immeasurably more than we can ask or imagine according to His power that is at work within us" (Ephesians 3:20). 
4. Have you prayed about it and sought godly counsel? When we pray, God answers. But sometimes He shows us the answers through the wisdom and advice of godly people. Have you talked to your pastor, a trusted Christian friend, and a spiritual mentor about this "open door"? If you're married, have you discussed it with your spouse and experienced unity between the two of you in this regard? When there is a consensus among praying believers backing up what you sense in your spirit, it can serve as confirmation that the opportunity is truly is from God. 
5. Do you have complete peace about the situation? God is not going to lead you toward a situation that causes unrest, confusion, or stress. Yes, He will lead you toward the unknown, at times, but there will always be peace if He's behind it. Philippians 4:6-7 promises us that we will experience peace – either way – if we have first prayed about the situation and presented our request, with thanksgiving to God. 
If you can answer "yes" to all five of the questions above, it's very possible God is holding that door open for you. Be willing to proceed even if it looks scary, even if it looks uncertain, even if you're not entirely sure what the outcome will be. If He's the One inviting you on this journey, He'll be right there alongside you every step of the way. And I'm pretty sure you'll be amazed at what you experience as you trust Him and take the journey. Like Moses on the mountain, it may be there (on the other side of that door) that you "see" God's glory. 
Watch for Part 5 Next Week: 7 Scriptures to Consider Before Entering that Open Door
Cindi McMenamin is a Bible teacher and national speaker who helps women and couples find strength for the soul. She is the author of 15 books, including When Women Walk Alone, When Couples Walk Together, God's Whispers to a Woman's Heart, and her newest, 10 Secrets to Becoming a Worry-Free Mom.  For more on her books, ministry, or free resources to strengthen your soul or marriage, see her website: StrengthForTheSoul.com
Publication date: May 13, 2016