5 Women in the Bible Who Saved the Day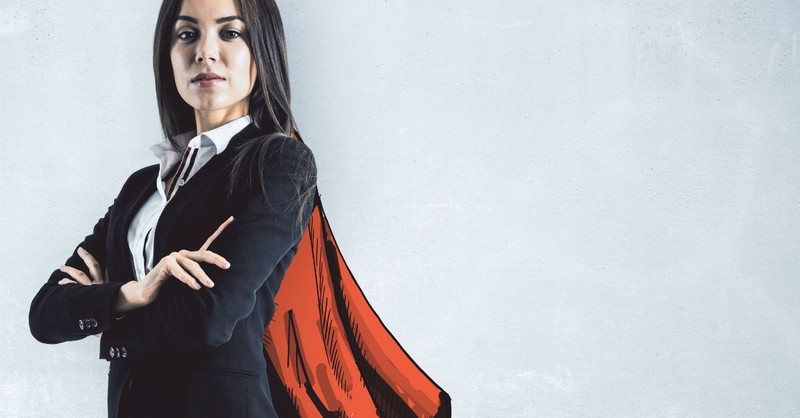 When I hear the term "heroes of the faith," names like Mother Theresa, Corrie Ten Boom, and Joan of Arc come to mind. Add "women of the Bible" to that title, and people like Sarah, Hannah, and Deborah top my list. Their stories all remind me that long before Captain Marvel or Wonder Woman became household names, brave females were stepping up and saving the day.
Yet intertwined within the stories of these real life superwomen, a few young ladies stepped out of unseen roles and briefly took center-stage. Their willingness to risk it all combined with reliance on their faith made them unlikely heroes who still inspire us today. Let's take a look at 5 young women in the Bible who saved the day.
1. Rahab, a Woman of Bold Faith
The time had come for Joshua to lead the Israelites into the land God promised them. (Joshua 1:2) I can only imagine the anticipation of this moment, as they stood at the Jordan River on the verge of long-awaited blessing.
Joshua sent two spies ahead to scope out Jericho. Their first stop - Rahab's home, where they found a woman willing to hide them on her roof. It didn't take long for word to get back to the king, who demanded Rahab's compliance. "Bring out the men who have come into your house…" (Joshua 2:3) Rahab didn't waver. She made a decision and went with it, telling the king's men the spies already left. She even encouraged them to follow by saying, "If you hurry, you can probably catch up with them." (Joshua 2:5) What a bold move by our heroine!
What sparked Rahab's act of bravery? What could cause someone to risk her life for strangers? Rahab's conversation with the spies reveals a quality all of our heroes have in common. She believed without seeing.
"For we live by believing and not by seeing." (2 Corinthians 5:7)
Rahab reassured them of her loyalty with this, "For the Lord your God is the supreme God of the heavens above and the earth below." (Joshua 2:11) Not knowing from personal experience the mighty power of God, Rahab still chose to believe. She'd heard all about what God had done for the Israelites. So she put the future of her family in the spies' hands.
If the spies had been captured that day, they wouldn't have been able to report back to Joshua all they learned about Jericho. Rahab saved the day by trusting a God she'd only heard about in stories. Because of her bold faith, God secured Rahab's family, life, and future.
2. Rhoda, a Woman of Pure Faith
It was a treacherous time for believers. King Herod Agrippa ordered James to be killed, then he put Peter in prison. While things looked bleak for Peter, a group of believers met at Mary's house to intercede in prayer. Through a series of miraculous steps, God freed Peter from prison. Peter went straight to the house where he'd find his friends. But would they believe what had just happened?
When Peter knocked on the door, an unassuming girl named Rhoda, Mary's housemaid, knew his voice right away.
"When she recognized Peter's voice, she was so overjoyed that, instead of opening the door, she ran back inside and told everyone, 'Peter is standing at the door!'" (Acts 12:14)
Rhoda didn't doubt herself or question whether or not it might be someone else. She believed. It was Peter, and God had answered their prayers.
Even when many in the house called her names and accused her of being "out of her mind," Rhoda didn't let anything steal her joy. She intended to exclaim God's goodness, regardless of what others said. Why is it that we pray and pray, but when God answers our prayers we struggle to believe it? Lord, help our unbelief. Let's take a lesson from Rhoda about tuning out the nay-sayers in our own lives. Let our faith be pure and our hearts filled with joy as we believe and not doubt God's power!
3. Jael, a Woman of Risky Faith
The Israelites once again had done evil in the eyes of the Lord (Judges 4:1-2). Because of this, they suffered under the hand of a ruthless army leader named Sisera. When the prophet Deborah announced to Barak God's plan to give the Israelites victory over Sisera's army, Barak insisted Deborah come with him into battle.
We shouldn't be surprised by Deborah's quick agreement. She is, after all, someone talked about often and taught about in Sunday school classes. Deborah - the brave, the wise, the leader. But taking a closer look at Deborah's story shows us another woman not to be overlooked. Jael the risk-taker.
When Barak took ten thousand men to battle against the Canaanite troops, their leader escaped. He was the only survivor, but nowhere to be found. Sisera came upon the tent of Haber and his wife Jael. Jael knew who Sisera was and quickly devised a sinister plan. She offered hospitality and a smile, allowing him to rest in her tent. Then, she took his life with a hammer and a tent peg.
Jael no doubt understood the magnitude of the situation at hand. The man responsible for her people's suffering slept in her home. With just the two of them alone, she had a choice. Would she run away in fear? Or would she display the dangerous faith necessary to save the day? Jael chose to take a risk, and that risk made history.
"Most blessed among women is Jael, the wife of Heber the Kenite. May she be blessed above all women who live in tents," (Judges 5:24).
Israel experienced peace for the next 40 years. All because a young wife was willing to risk her own life for the safety of her people. She made a decision that made her a hero in Israel.
4. Esther, a Woman of Patient Faith
Sometimes in our faith journey, God calls us to jump into action. Like in Jael's story, we may feel that instant tugging and know we need to respond immediately. Then there are other times when our faith requires patience. Times when God asks us to wait for just the right moment. Times when He prepares us "for such a time as this," (Esther 4:14).
Esther is well-known for her courage in entering the king's presence during the days when doing so resulted in death. Unless of course, the king extended his golden scepter. Esther loved her people. No doubt she would do whatever her uncle Mordecai and her God asked of her. But how could a woman so young have the wisdom to know the right time to act?
When I see injustice happening in the world, I want to do something. I fear if I wait, it'll be too late. I wring my hands, worry, and fret as I try to figure out how to fix it. Yet in all that agonizing I sometimes overstep. I get in God's way and exchange His plan for my own. But not our Esther! She displayed a patient faith when she found out Haman planned to destroy her people.
First, she told Mordecai to instruct everyone to join her in prayer and fasting for three days. Three days? My go-getter nature would've kicked in and caused me to get ahead of God. Esther chose to seek God and allow Him to lead the way. Even after the three-day preparation when Esther entered the king's presence, she didn't blurt out her request. She instead invited the king and the vile Haman to a banquet later that day. Then, when the time came for them to dine together, Esther once again waited. She asked them to attend another banquet the next day, where she would share her need.
What patience and wisdom our girl displayed! God shows us through Esther's story the value of self-restraint. Her obedience paid off. When the time came to tell the king about the plan against her people, he was more than receptive. Esther saved the day by rescuing her people from genocide.
5. Naaman's Wife's Maid, a Woman of Steadfast Faith
Sometimes being a hero means charging into battle with weapons drawn. Sometimes it means listening and obeying God's voice. Other times, it means simply walking in His ways every day, no matter how mundane it may seem. That kind of steadfast faith can be the most heroic faith of all.
At a time when Israel was at war, the Aramean army had a commander named Naaman. Naaman was respected by his king, but he also had leprosy (2 Kings 5:1). In one of the raids on Israel, Naaman acquired a young slave girl. She served as Naaman's wife's maid in a foreign land after being forced from her home and her own family.
We don't even know her name. But from her story we can learn one of the most powerful lessons of all about following God. "Let your light so shine before men, that they may see your good works and glorify your Father in heaven," (Matthew 5:16).
She must have earned the trust of her mistress because she felt free to speak when Naaman's wife expressed sorrow over her husband's illness. "One day the girl said to her mistress, "I wish my master would go to see the prophet in Samaria. He would heal him of his leprosy," (2 Kings 5:3). In spite of being taken away from all she knew, she still believed in God as Healer. She walked in the ways of the Lord she'd known and revered. Rather than hiding her beliefs, she shined a light in the darkness and proclaimed with gentle assurance. My God can heal him. I believe.
The slave girl from Naaman's house saved the day by sharing her faith with others, and isn't that what we're called to do? Her story inspires me today and reminds me of the power of sharing my faith.
Captain Marvel and Wonderwoman may encourage us to be the best we can be. But these five women remind us being our best means being the unique creations God designed us to be. And that, my friends, brings out the faith-superhero in us all. 
---
Kristine Brown: Dig deeper into the study of Rahab with this resource from Kristine: Walking with Rahab, A 5-Day Challenge to Better Decision Making. You'll find weekly encouragement to help you "become more than yourself through God's Word" at her website,kristinebrown.net. Kristine is the author of the book, Over It. Conquering Comparison to Live Out God's Plan, and the upcoming companion devotional for teen girls.
Photo Credit: ©GettyImages/peshkov