9 Helpful Ways to Have Hard Conversations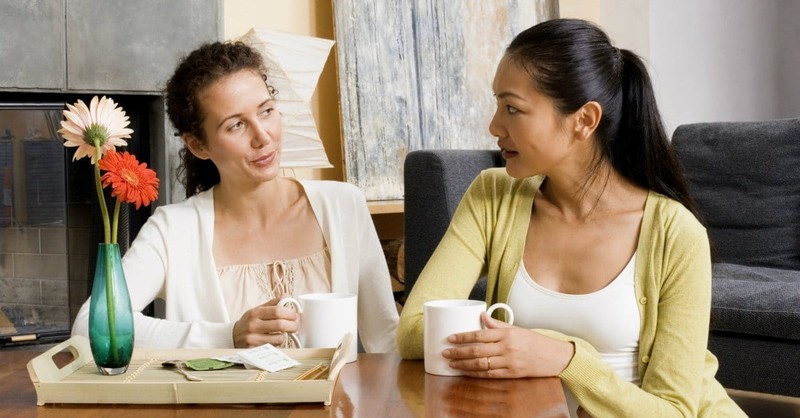 There are times in all of our lives when we have to speak to people about things we would rather not. Maybe it's having to tell someone you hired a few years ago that they don't have a job or telling someone you've been seeing for a while that you don't think it will work out. Personally, I struggle with telling people I've contracted to do housework if I'm not happy with something they've done.
I used to think hard conversations were only confined to office situations or romantic relationships, but the older I get, the more I find these hard conversations happening in friendships. And it's not always the type of conversations that are calling a person out on something. Sometimes it's talking about hard stuff like the passing of a parent or a miscarriage or an affair.
Here are a few things I find helpful when navigating a difficult conversation.
1. Admit you need to have a hard conversation.
I don't know about you but I try to avoid hard conversations. I will redirect conversations, avoid the person or even find a different place to shop if it means I won't have to run into the person and talk about the issue. I've started to realize that when I begin to behave like this, it's a sure sign that I need to set a meeting to have a hard conversation with the person I'm avoiding.
2. Pray about it.
Now is a good time to start praying about the conversation you will be having. Prayer has a way of bringing about things we could never imagine. Pray for the right timing and the right words. Ask God for solutions to the problem. Pray for insight into the situation and ask for a humble heart to admit where you may have played a part. Then keep praying for the situation right until the conversation and even afterwards. Depending on the situation, it might even be appropriate to pray with the other person.
3. Work out what you want to get out of the conversation.
Take the time to think about what your expectations are for the conversation. Ask yourself whether you have any hidden motives. These can be as simple as wanting to be told you are right or receiving an apology. The goal of a hard conversation should always be to grow and change the relationship.
4. Figure out how you want to start.
Sometimes saying the first few words takes pluck. Take the time to figure out how you will invite the person to join the conversation. If it's a hard conversation with a friend about a loss something simple like, "I want to hear more about how you're doing after the funeral; are you ready to talk about it?" might work. If it's a more confrontational talk, with a colleague for example, then try, "I've something I'd like to chat with you about that I think will help us work together more effectively. Do you have some time?" If the person isn't ready to talk then simply ask, "Can I check in with you next week and see if you're in a better place to chat about this then?"
5. Have the talk.
This takes courage. There won't be a perfect place, time, or location. Some are better than others but if you don't want to have the conversation you will keep finding reasons why a particular location, time, or setting doesn't work. Sometimes you just have to take a deep breath and wade in.
6. Be comfortable with silence.
Don't feel like you need to have all the answers. Leave space for gaps in conversation. Instead of spending time while the other person is speaking figuring out how to respond, simply listen to what they have to say. If necessary, pause when they're done and take the time to formulate an answer. There is no need to rush the conversation.
7. Treat each other with respect and dignity.
Hard conversations can often mean strong emotions. Treat the person you're speaking to with respect. If you feel that the situation might be especially tricky, you can try setting some ground rules at the beginning of the conversation. Say something like, "I've got a few things I need to get off my chest. Would you let me share them and then I'll stop and if you want to respond, I'll listen."
8. Know you might be wrong.
If you're anything like me, you will have imaged the conversation over and over in your head. When you come to actually have it in person, you have already decided how the other person will act and respond. I once read somewhere that when you're having hard conversations, you must be prepared to be wrong. Not just about the issue but about the way the person responds, what they say, and what you thought was going on. I'm sometimes surprised by just how wrong I've got a situation and how simple it is to untangle when I have the conversation.
9. Bring solutions.
At the end of the conversation, have a few ideas for how to move on in the relationship. Be specific and practical. Don't leave the conversation without any resolution. You might not be able to solve every problem in the meeting but at least leave with one thing you can each to do to try and resolve the problem.
Wendy van Eyck is married to Xylon, who talks non-stop about cycling, and makes her laugh. She writes for anyone who has ever held a loved one's hand through illness, ever believed in God despite hard circumstances or ever left on a spontaneous 2-week holiday through a foreign land with just a backpack. You can follow Wendy's story and subscribe to receive her free ebook, "Life, life and more life" at ilovedevotionals.com. She would also love to connect with you on Facebook and Twitter.
Publication date: November 30, 2015