Are Christians Trying to Be Too Happy?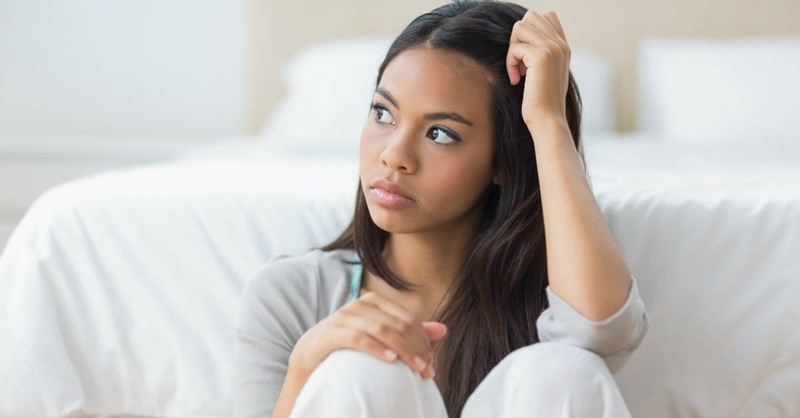 I spent my growing-up years in a conservative Midwestern church during the 70s and 80s. If I had to pick one word to define my experience, I'd chose legalistic. 
Between the Sunday morning sermons, Sunday evening service, Wednesday night youth group, and the Christian parenting style of the moment, I was taught there was a simple formula for happiness. And if I followed that formula, my life would be good. Maybe even perfect. At the very least, nothing too bad would happen to me. 
The formula itself was fairly simple, like a basic set of rules to follow. Love Jesus. Pray for the Lord's direction in your life. Uphold the current Christian standards—don't drink, don't smoke, stay pure before marriage, and chase after God's dreams, not your own. These rules ensured I was "living in His will." Which supposedly offered an instant ticket to the ultimate destination of personal happiness. 
Sounded good to me. And if I was constantly striving to be in God's will, what could possibly go wrong?
Turns out—a lot. 
I had a pretty good childhood. My parents loved me. My sister tolerated me. We lived in a nice house where I had my own room. We did the whole family dinner thing. I excelled in school, had a fun job, dated a few nice guys, and for the most part, didn't get into any trouble. Perfect child. Perfect childhood. 
Yet, I wasn't happy. The few times I was happy always seemed tied to the good and bad things that happened in my life. Things my rule-following choices didn't necessarily play into. 
As I grew up, I kept on with the formula, convinced I wasn't quite getting it. That I wasn't quite in tune with God, or maybe I was missing something. So I tried harder, prayed louder, and sought after the Lord longer, thinking surely that would lead to a state of perpetual happiness. 
I went to a Christian college, didn't drink, dated responsibly, and sought the will of God for my future. 
Still, happiness was fleeing. An hour here. A moment there. But nothing that lasted. 
Then my dad walked out on me and my sister and my mom. I was 19 and just finishing up fall semester as a college sophomore. 
When my dad left, he took more than his stamp collection, the round coffee table from the family room, and the owl painting he'd bought my mom on their honeymoon. He carried off my college tuition, my self-esteem, my security, my happiness, and his unconditional love. And gave them to another woman and her two little boys. 
His decision to tear apart our family tore apart everything I believed about myself, my relationship with God, and my pursuit of happiness. I'd made all the right choices. I'd followed all the rules. But he hadn't. And no matter what I did, I couldn't change the impact his abandonment made on my life.    
It took me a while, but I jumped back in, determined to chase harder after happiness. I finished college. Met a guy. Got married in the church. Prayed for God's blessing on our lives. Did everything right. 
For years, my marriage was a mess. Partially because I let my dad baggage get in between my husband and me. But also because I believed it was now my husband's job to make me happy. 
If you're married, you know how insane that sounds. But I was young, more than a little stupid, and very naïve. 
Three years into our not-so-great marriage, my husband and I had a baby. I stayed at home. Chose my son over grad school and a career. Prayed for God to keep him safe.  
When my son turned 10, he was diagnosed with cancer. We spent four years in and out of the hospital and clinic fighting for his life. Forget happiness, living with a life-threatening illness day in and day out for years steals your ability to strive for more than survival. 
I gave up on ever being happy. I clearly never understood the formula, or my instincts were right and there never had been a formula. Happiness was something dancing off in the distance that I'd never capture, so why bother to try? 
My son beat cancer and got well. We found a new normal. After everything he'd been through, he wanted to serve other kids like him and enrolled in nursing school at a Christian university. 
He went to college. Made the right choices. Followed the rules. And struggled with a learning disability that was a side effect of four years of chemotherapy and some radiation. A learning disability that would cost him his place in the nursing program. 
Then during Christmas break of his sophomore year, he relapsed with cancer, gave up his independence, his school, and his friends to move home and fight another two-year battle. 
And all hope of happiness died for good. 
As Christians, especially if we've grown up in the church believing our positive actions will result in our success or failure to find happiness, we expect life to be easy. We feel we deserve to be happy, simply because God loves us and we've followed the rules. So He owes us, right? 
I don't think that's how God sees things. 
"Consider what God has done: Who can straighten what he has made crooked? When times are good, be happy; but when times are bad, consider this: God has made the one as well as the other. Therefore, no one can discover anything about their future. In this meaningless life of mine I have seen both of these: the righteous perishing in their righteousness, and the wicked living long in their wickedness" (Ecclesiastes 7:13-15)
All those years I spent years chasing happiness amounted to a few days of my life. Some great childhood memories. The day I got engaged. The day I got married. When my kids were born. And a few moments in between where life seemed to be on my side. 
Being happy, staying happy, searching for the new thing that will make me happy is a lot of work. And as long as that remained my ultimate goal, I was always going to be left stewing in disappointment and frustration. There was no magic formula.
But that doesn't mean God has left us hanging. 
What if He's always had something better for me? For you? What if we missed it because we were so busy trying to be happy all the time? What if seeking happiness was never in the plan?  
Happiness is an extreme. And when you try to live in one extreme, you also get shoved to the other. God never asked us to get on an emotional rollercoaster.   
What I've discovered after years of running after happiness is this: no matter if you follow the rules or not, no matter if you love Jesus or not, life happens.
Yes, we should chase after God. Yes, we should pray for His plan for our lives. Yes, we should love Him with everything we have. 
But that's not a formula for happiness. 
That's a formula for having a solid relationship with Christ. Two very different things. Our relationship with Christ is what's crucial and life-changing and what will ultimately lead to what He really wants for us—contentment.  
God never said if we followed Him, we'd be happy. 
Happiness is something we go after ourselves. Contentment is something given to us by God. It's a peace we have about our lives even when we're sad, when we suffer, when we do everything right, and life still happens.    
"The fear of the Lord leads to life; then one rests content, untouched by trouble" (Proverbs 19:23).
So instead of running after something as elusive as happiness, what if prayed this way?
Lord, take away my desire to run after a happiness I may never find. It's exhausting. It's fleeting. Instead, fill me with contentment, no matter where I am in life. Don't let me be shaken by the good or the bad events that happen. Don't let me be pulled between the opposite ends of the emotion spectrum. Fill me with the peace only you can give so that no matter what situation I find myself in, I'm good. I'm good not because of me, but because of You in me.  
Lori Freeland is a freelance author from Dallas, Texas with a passion to share her experiences in hopes of connecting with other women tackling the same issues. She holds a bachelor's degree in psychology from the University of Wisconsin-Madison and is a full-time homeschool mom. You can find Lori at lafreeland.com.
Publication date: April 15, 2016